Criminal justice
Mihaly Csikszentmihalyi - Brain Channels Thinker of the Year - 2000. The Thinker of the Year Award has been awarded to Mihaly Csikszentmihalyi, a professor and former chairman of the Department of Psychology at the University of Chicago who has devoted his life's work to the study of what makes people truly happy, satisfied and fulfilled.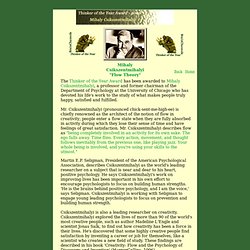 Mr. Csikszentmihalyi (pronounced chick-sent-me-high-ee) is chiefly renowned as the architect of the notion of flow in creativity; people enter a flow state when they are fully absorbed in activity during which they lose their sense of time and have feelings of great satisfaction. Mr. Dr. Mihaly Csikszentmihalyi: Flow with Soul. Flow: What's worth living for? Wondering what happiness is?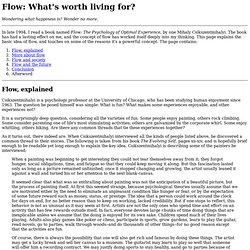 Wonder no more. In late 1994, I read a book named Flow: The Psychology of Optimal Experience, by one Mihaly Csikszentmihalyi. Criminal_law. Criminal_justice. Crime. Criminal_justice. RESOURCES. Statistics. RESOURCES.
---