News
What is Pinterest? Startups Started By Former Yahoo Employees [Graphic] Oh Quora!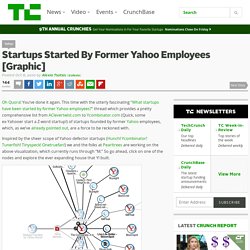 You've done it again. This time with the utterly fascinating "What startups have been started by former Yahoo employees?" On Kickstarter, Designers' Dreams Materialize. Five lessons experienced entrepreneurs have learned. There's certainly no shortage of successful young entrepreneurs in business today.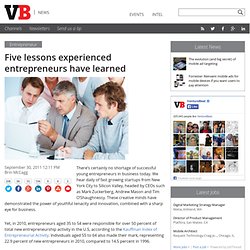 We hear daily of fast growing startups from New York City to Silicon Valley, headed by CEOs such as Mark Zuckerberg, Andrew Mason and Tim O'Shaughnessy. These creative minds have demonstrated the power of youthful tenacity and innovation, combined with a sharp eye for business. Yet, in 2010, entrepreneurs aged 35 to 54 were responsible for over 50 percent of total new entrepreneurship activity in the U.S, according to the Kauffman Index of Entrepreneurial Activity.
Individuals aged 55 to 64 also made their mark, representing 22.9 percent of new entrepreneurs in 2010, compared to 14.5 percent in 1996. Armstrong's Internal Memo To AOLers About The HuffPo Deal. At midnight, AOL announced that it will buy the Huffington Post for $315 million.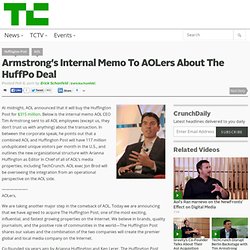 Below is the internal memo AOL CEO Tim Armstrong sent to all AOL employees (except us, they don't trust us with anything) about the transaction. In between the corporate speak, he points out that a combined AOL and Huffington Post will have 117 million unduplicated unique visitors per month in the U.S., and outlines the new organizational structure with Arianna Huffington as Editor In Chief of all of AOL's media properties, including TechCrunch. Exclusive: Ad Tech Startups Banding Together To Take On Google And Microsoft. As the online ad technology industry consolidates, it is becoming tougher for startups to stand out among the giants.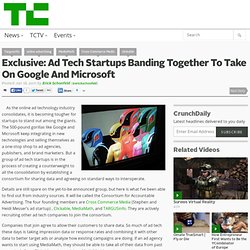 The 500-pound gorillas like Google and Microsoft keep integrating in new technologies and selling themselves as a one-stop shop to ad agencies, publishers, and brand marketers. But a group of ad tech startups is in the process of creating a counterweight to all the consolidation by establishing a consortium for sharing data and agreeing on standard ways to interoperate. Details are still spare on the yet-to-be announced group, but here is what I've been able to find out from industry sources. It will be called the Consortium for Accountable Advertising. The four founding members are Cross Commerce Media (Stephen and Heidi Messer's ad startup) , Clickable, MediaMath, and TARGUSinfo. Twitter: Make that almost San Francisco.
Twitter, the popular messaging site, may be growing out of its startup phase with a possible headquarters move to Brisbane, California, according to brokerage sources in the San Francisco Business Times.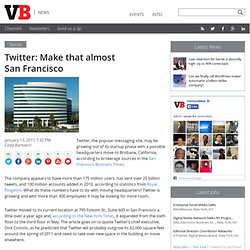 The company appears to have more than 175 million users, has sent over 25 billion tweets, and 100 million accounts added in 2010, according to statistics from Royal Pingdom. What do these numbers have to do with moving headquarters? Twitter is growing and with more than 300 employees it may be looking for more room. Twitter moved to its current location at 795 Folsom St., Suite 600 in San Francisco a little over a year ago and, according to the New York Times, it expanded from the sixth floor to the third floor in May. The article goes on to quote Twitter's chief executive, Dick Costolo, as he predicted that Twitter will probably outgrow its 62,000 square feet around the spring of 2011 and need to take over new space in the building or move elsewhere.
ShopSocial locks down $1.2M for "commerce as a social service" The most recent project of BuzzLogic co-founder-Todd Parsons, ShopSocial lets users share and recommend products and services with their friends via display ads, commerce sites and fan pages.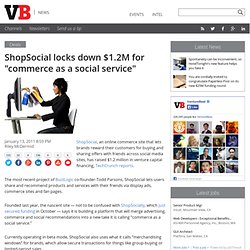 Founded last year, the nascent site — not to be confused with ShopSocially, which just secured funding in October — says it is building a platform that will merge advertising, commerce and social recommendations into a new take it is calling "commerce as a social service." Currently operating in beta mode, ShopSocial also uses what it calls "merchandising windows" for brands, which allow secure transactions for things like group-buying or limited-period sales.
The new platform will include buttons on display ads and product pages that users click to "share" deals that they particularly like on Facebook and other social services. In return, users will rack up reward points or special payouts like gift cards and future discounts. As Rummble's CEO is ousted, the story of a European startup unravels. Rummble, one the UK's oldest location-based reviews and social network which actually pre-dated Foursquare, has had its CEO removed by the board and now faces a radical shift away from it's consumer-facing service of four years towards a Business-to-Business future.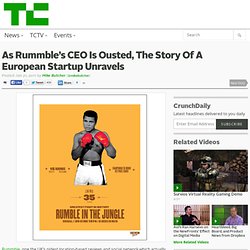 What we know on the ground right now is that CEO Andrew Scott has departed the company; the existing staff remain in place and Rummble, while maintaining its web site and smartphone apps, is set to move forward towards a B2B strategy which is not white-label, but based on leveraging its core technology. Over the past week TechCrunch Europe has been delving into the story of why Rummble ended up in this situation, and where it goes from here. I have been covering Rummble for over 5 years. I had them pitch at startups events even before I joined TechCrunch and I've written about 45 posts mentioning them in the last three years. So I guess I feel I know the company quite well. How I sold my company to Google ($80million) The Number One Key to Innovation: Scarcity - Uri Neren - The Conversation.
By Uri Neren | 9:00 AM January 14, 2011 How should an enterprise go about inventing something novel and useful? Is there a structured thinking process that reliably produces results? Believe it or not, at least 162 different answers have been proposed to that question. That's the number of invention methodologies my colleagues and I have perused in the course of assembling what we call The World Database of Innovation. But only a small subset of these processes for inventing are based on hard evidence. Posterous Founder Leaves Startup, Goes to Y Combinator as Design Guru. Posterous co-founder Garry Tan has bid adieu to his startup and is heading to Y Combinator, where he will serve as designer-in-residence.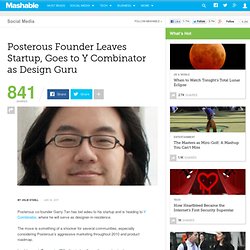 The move is something of a shocker for several communities, especially considering Posterous's aggressive marketing throughout 2010 and product roadmap. In a blog post, Tan wrote, "Effective today, I'm ending my day-to-day development with Posterous and moving into an advisory role. "Though my day-to-day may change, my faith in the team and the product is unchanged and unwavering. Home - Online backup, file sync, and sharing made easy.
---