Startups
A Silicon Bubble Shows Signs Of Reinflating
Andrew Harrer/Bloomberg News Evan Williams, left, who has started several Internet companies, including Twitter, and Fred Wilson, a venture capitalist who says investors are eager to participate in young start-ups. In a memorable scene in the "The Social Network," the actor Justin Timberlake, who portrays the Silicon Valley investor Sean Parker in the movie, leans over the table and tells the founders of Facebook in a conspiratorial tone: "A million dollars isn't cool. You know what's cool? A billion dollars."
score
Threadless , one of the original crowdsourcing sites that pioneered the idea a decade ago and is now paying out more than $1 million a year in artist fees, is not just for T-shirts anymore. Today, the company is introducing a crowdsourcing platform called Threadless Atrium , which is initially targeted at causes and cause-based marketing campaigns. "Threadless Atrium will allow other organization to use community-based design to further their mission and causes," says CEO Tom Ryan. The first two examples of organizations using Atrium can be found on Threadless Causes .
Threadless Is Now Crowdsourcing For Causes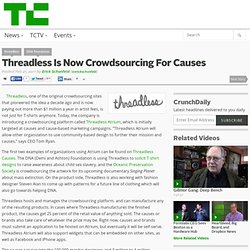 Facebook, Groupon, Twitter & Zynga - Collect All Four! - Venture Capital Dispatch
By Scott Austin Andreessen Horowitz has become the first venture firm to collect all four of the highest-valued (and most hyped?) privately held social-media companies around.
Which 10 worthy startups seeking angel funding and press should we give a free LAUNCH Table to at the LAUNCH Conference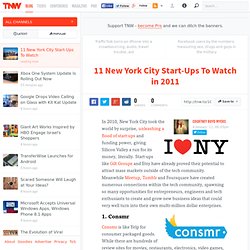 11 New York City Start-Ups To Watch in 2011
In 2010, New York City took the world by surprise, unleashing a flood of start-ups and funding power, giving Silicon Valley a run for its money, literally. Start-ups like Gilt Groupe and Etsy have already proved their potential to attract mass markets outside of the tech community. Meanwhile Meetup , Tumblr and Foursquare have created numerous connections within the tech community, spawning so many opportunities for entrepreneurs, engineers and tech enthusiasts to create and grow new business ideas that could very well turn into their own multi-million dollar enterprises. 1. Consmr Consmr is like Yelp for consumer packaged goods.
A perfect storm for Q&A site Quora | The Social
They are rare moments in the dot-com world: when a service literally seems to burst with usage, real usage rather than just hype, after a period of comparative sleepiness. The launch of Facebook's developer platform in mid-2007 led to a rush of new users on a service that hadn't yet convinced the world it was useful outside college campuses. Several months earlier, a relatively unknown messaging service called Twitter had suddenly become the talk of the technology world when the South by Southwest Interactive Festival in Austin, Texas, proved to be the perfect laboratory for its fledgling growth . It looks like that may be happening yet again: the past week has seen an extraordinary amount of online chatter and new use surrounding Quora , a question-and-answer site co-founded by two early Facebook employees, Adam D'Angelo and Charlie Cheever, with users reporting litanies of new followers that they haven't seen since Twitter's youth.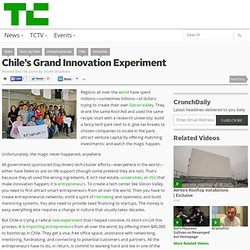 Regions all over the world have spent millions—sometimes billions—of dollars trying to create their own Silicon Valley . They drank the same Kool-Aid and used the same recipe: start with a research university; build a fancy tech park next to it; give tax breaks to chosen companies to locate in the park; attract venture capital by offering matching investments; and watch the magic happen. Unfortunately, the magic never happened, anywhere. All government-sponsored (top-down) tech-cluster efforts—everywhere in the world—either have failed or are on life support (though some pretend they are not). That's because they all used the wrong ingredients.
Chile's Grand Innovation Experiment
Ten Tips to Kick-Start Your Startup With Twitter
It seems like only a few months ago when I wasn't sure if Twitter was relevant to my business, or if it would be a waste of time.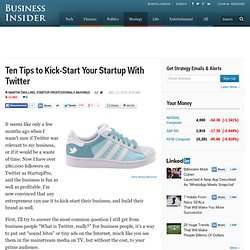 As part of the ongoing Mashable Awards , we're taking a closer look at each of the nomination categories . This is "Entrepreneur of the Year." Be sure to nominate your favorites and join us for the Gala in Las Vegas ! Every year, Mashable covers the launch of hundreds of new companies. While many of these ventures never make it out of obscurity, some of them bubble up and become a regular part of our coverage. Further, these companies become important components to the ever-evolving digital media landscape, with consumers and businesses alike thirsting to take advantage of what they have to offer.
6 Promising New Companies That Emerged in 2010 [Mashable Awards]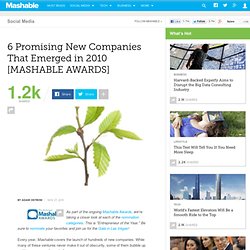 sparrow - The New Mail for Mac
Fashion GPS: digital sample tracking, look books, PR & fashion show management | Contact
Jumo, From a Facebook Founder, to Focus on Charities
A More Organic Way to Organize The Web's Content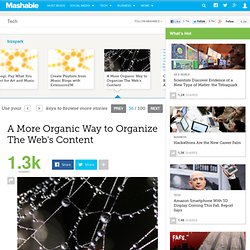 This post is part of Mashable's Spark of Genius series, which highlights a unique feature of startups. The series is made possible by Name: Trailmeme Quick Pitch: Trailmeme is a new kind of web publishing that allows users to create, annotate and walk individually curated trails through web content.
20 Year Old Founder Jessica Mah Gets $1 Million Put Into Banking Startup InDinero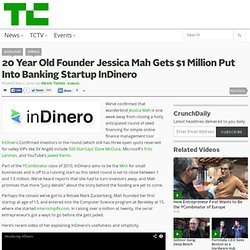 We've confirmed that wunderkind Jessica Mah is one week away from closing a hotly anticipated round of seed financing for simple online finance management tool InDinero. Confirmed investors in the round (which still has three open spots reserved for valley VIPs like SV Angel) include 500 StartUps ' Dave McClure, Microsoft's Fritz Lanman, and YouTube's Jawed Karim. Part of the YCombinator class of 2010, InDinero aims to be the Mint for small businesses and is off to a running start as this latest round is set to close between 1 and 1.5 million. We've heard reports that she had to turn investors away, and Mah promises that more "juicy details" about the story behind the funding are yet to come. Perhaps the closest we've got to a female Mark Zuckerberg, Mah founded her first startup at age of 13, and entered into the Computer Science program at Berekley at 15, where she started internshipIN.com .
Qwiki Just May Be The Future Of Information Consumption. And It's Here Now.
In the late 1980s, Apple created a few concept videos about a device they called the Computer Knowledge Navigator . These videos came up recently when Apple unveiled the iPad, because the machine in the videos is a tablet computer. But that's about all the iPad has in common with this conceptual device. Instead, a new startup launching at TechCrunch Disrupt today, Qwiki , is much more like the futuristic computer in the videos.
Qwiki wants to be the multimedia search engine of the future
Startup Qwiki unveiled a new service today that it calls the future of information consumption. Co-founder Doug Imbruce, who demonstrated Qwiki on-stage at the TechCrunch Disrupt conference in San Francisco, compared the site to what you see in science fiction movies like Wall-E, where users ask a computer a question and then receive an answer with relevant images and narration. Qwiki makes that vision a reality, Imbruce said.
Stephen Ou, 15-year-old student entrepreneur
TwtRoulette
A couple of years ago, Marco Arment, who was then the lead technologist of the social-blog platform Tumblr , became frustrated with the way the web made his ideal reading diet difficult. He couldn't read articles during his commute on the subway because there's no Wifi in the tunnels. And when he was connected, either on a computer screen or a phone, it was taxing to browse through sites designed with seas of links, come-hither slideshow promotion-boxes and "interactive" advertisements and find the articles he actually wanted to read. Anyway, for most of us, moments in which we have time to tame our darting eyes and twitchy mouse clicks seem few and far between. There's an instant message conversation blinking in one tab, a Twitter feed auto-refreshing in another and an inbox screaming to be read next to it. Welcome to the path of most resistance.
Taking time to read on the web: Instapaper gets ready for the big show
Toll Free Numbers & Voicemail for Small Businesses - Grasshopper Virtual PBX
Back in June we previewed a new product by social media search engine Kosmix called TweetBeat . Essentially, it's a way to follow news being discussed on Twitter in realtime. Today during our TechCrunch Disrupt conference in San Francisco, Kosmix is officially releasing the product. Kosmix calls TweetBeat "the end of hashtags". Because they scan all tweets being sent out for all kinds of semantic data, you no longer have to explicitly tag things with hashtag, is their stance.
TweetBeat Wants To Kill Hashtags On Twitter By Making Them Obsolete