Startup
Money
Startups. Top 5 Reasons Why Your Startup Needs an API. There is a long list of things people will tell you that you need as a startup: You need a working product.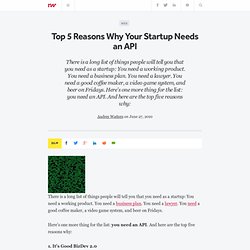 You need a business plan. You need a lawyer. Twitter Fatigue: Rumors of Twitter's Demise May Not Be Greatly Exaggerated. By Neal Wiser.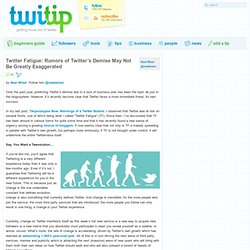 Follow him @nealwiser) Over the past year, predicting Twitter's demise due to a lack of business plan has been the topic de jour in the blogosphere. However, it's recently become clear that Twitter faces a more immediate threat; its own success. In my last post, Twipocalypse Now: Warnings of a Twitter Bubble, I observed that Twitter was at risk on several fronts, one of which being what I called "Twitter Fatigue" (TF). Since then, I've discovered that TF has been around in various forms for quite some time and that it has recently found a new sense of urgency among a growing chorus of bloggers. Shut Up, Twitter: Why Twitter Is the Perfect Startup.
---