STARTUP : Lean Startup, Cust Dev, Boostrapping, ...
What's A Startup? First Principles. Success consists of going from failure to failure without loss of enthusiasm.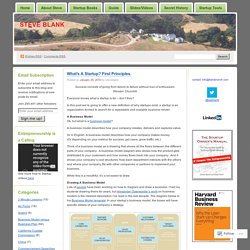 Winston Churchill Everyone knows what a startup is for – don't they? In this post we're going to offer a new definition of why startups exist: a startup is an organization formed to search for a repeatable and scalable business model.
Super successful companies. I spent some time recently thinking about what companies that grow up to be extremely successful do when they are very young.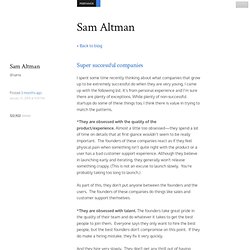 I came up with the following list. It's from personal experience and I'm sure there are plenty of exceptions. While plenty of non-successful startups do some of these things too, I think there is value in trying to match the patterns. *They are obsessed with the quality of the product/experience.
Validate your idea
Customer Dev + Prototyping (Bizspark day mai 2011) 20 ways to validate your startup idea (other than landing pages) I was invited along to do a talk and mentor the teams at last weekend's Lean Startup Machine in London.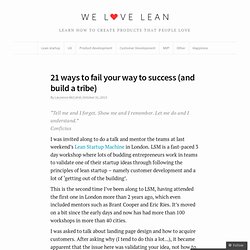 LSM is a fast-paced 3 day workshop where lots of budding entrepreneurs work in teams to validate one of their startup ideas through following the principles of lean startup – namely customer development and a lot of 'getting out of the building'. This is the second time I've been along to LSM, having attended the first one in London more than 2 years ago, which even included mentors such as Brant Cooper and Eric Ries.
Lean Design Thinking. Lean Startup. Business Model. Start With a Business Model, Not a Business Plan - The Accelerators. Problems Don't Exist by. I have long held the belief that entrepreneurs should stop talking about abstract solutions and frame their pitches in terms of solving real problems, but I was wrong.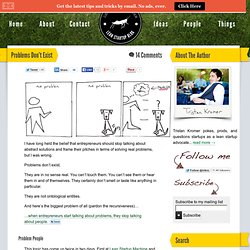 Problems don't exist. They are in no sense real. You can't touch them. « L'actif de la start-up est l'apprentissage qu'elle fait de ses fausses routes » XEnvoyer cet article par e-mail « L'actif de la start-up est l'apprentissage qu'elle fait de ses fausses routes » Nouveau !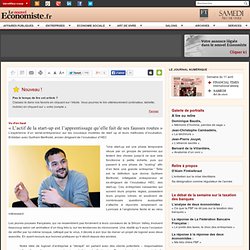 Pas le temps de lire cet article ? Les 36 questions à vous poser lorsque vous démarrez votre projet de création d'entreprise… – Customer Development – Customer discovery. Par Guilhem Bertholet Par où commencer ?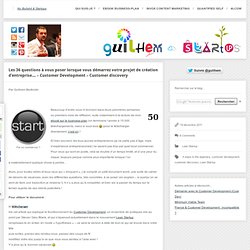 Beaucoup d'entre vous m'écrivent dans leurs premières semaines ou premiers mois de réflexion, suite notamment à la lecture de mon ebook sur le business-plan (on terminera l'année à 15.000 téléchargements, merci à vous tous (pour le télécharger directement, c'est ici) ! Et bien souvent, les tous jeunes entrepreneurs (je ne parle pas d'âge, mais d'expérience entrepreneuriale) ne savent pas trop par quel bout commencer. Pour ceux qui sont en poste, cela se double d'un temps limité, et d'une peur du risque, toujours perçue comme plus importante lorsque l'on a matériellement quelque chose à perdre… Aller à la pêche aux informations chez vos clients – Customer Development.
Par Guilhem Bertholet Comme vous le savez – le suspense est insoutenable, je sais – je remonte une boîte, avec l'équipe et sans l'idée.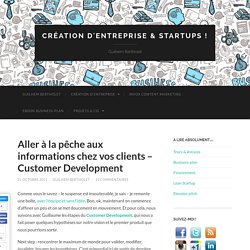 Bon, ok, maintenant on commence d'affiner un peu et on se met doucement en mouvement. Sxsw New Rules for the New Bubble 031211.
---