Start in Paris
Pariez avec vos amis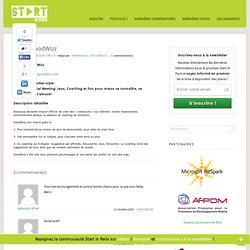 oct Startup: GoodWizz Site: http://www.goodwizz.com Description twitter-style: GoodWizz Social Meeting: Jeux, Coaching et Fun pour mieux se connaître, se rencontrer et s'amuser
Start In Paris | Blog | GoodWizz
myLifeShow, site gratuit de diffusion de photos via internet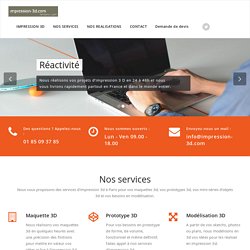 Scanner 3d Grâce à nos technologies de pointe, nous pouvons scanner vos pièces en couleur, pour l'impression 3d. Vous pouvez agrandir, rétrecir, retravailler vos objets avec la technologie d'impression 3d.
At psykosoft we are crazy! We don't believe in cold professional software engineering, we don't believe in traditional marketing, and we don't even believe in money making! (ok Maybe a little bit) We believe in originality, We believe in personality We believe in emotions…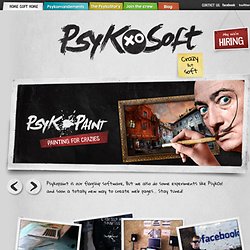 Psykosoft | Creative RIA company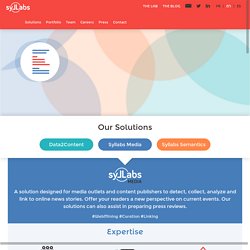 Syllabs, Analyse Sémantique
To bring its vision to fruition, Syllabs developed over three phases: 2006-2009: Syllabs started off as a Private Research Laboratory, providing consultancy services and expertise to numerous companies and public laboratories, while at the same time developing its own technology. From this period, Syllabs developed strong dedication to satisfying its clients and the ability to perceive, understand and adapt to its clients' specific needs. Syllabs gained much experience during this period in all domains related to semantics and earned the status of Technological Research Organization. 2009-2011: As a technological startup offering very innovative, high performance products, Syllabs concentrated its efforts on its technology, selling semantic analyses mainly through its SaaS platform which enables the processing of very high quantities of information in a very short time.
Tous les deals, habituez-vous à payer moins cher !
WatchThis - Start watching good movies
oct Bonjour à tous ! Voila la liste des 15 projets demi-finalistes pour Start In Paris #4. Le choix a été dur, les projets de qualité !
Start In Paris | Blog | Tout nouveau, tout chaud : les 15 demi-finalistes (et le vote) !