Sprites
We need to find free stuff.
Muddymelly on deviantART. Free Graphics for Games. Animated Battlers. Rockin' Indie Games one pixel at a time. Forum Rules and Resource Guide.
Free Stuff. This page offers up free goodies that are related to any ByND games.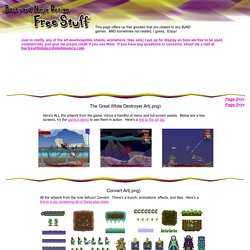 AND sometimes not related, I guess. Enjoy! All site content Copyright 2005 - 2012 Brent Anderson Just to clarify, any of the art assets(sprites sheets, animations, tiles sets) I put up for display on here are free to be used commercially, just give me proper credit if you use them. If you have any questions or concerns, shoot me a mail at backyardninja@dumbmanex.com.
Galleries
Pixels Go Mad: The Celebration Of Pixel Art. Advertisement Pixel art lives both in and beyond computer screen.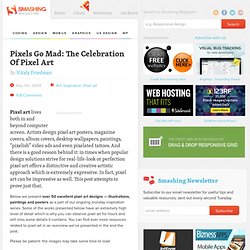 Artists design pixel art posters, magazine covers, album covers, desktop wallpapers, paintings, "pixelish" video ads and even pixelated tattoos. And there is a good reason behind it: in times when popular design solutions strive for real-life-look or perfection pixel art offers a distinctive and creative artistic approach which is extremely expressive. In fact, pixel art can be impressive as well. Sprite Database. Indie Resources. Game creation community. Blade2k » filesDisclaimer We do not endorse resources without proper credit (and permission, if that should be needed) from the original creator.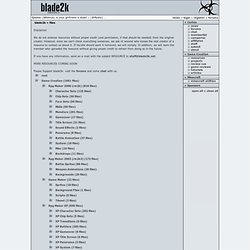 However, since we can't check everything ourselves, we ask of anyone who knows the real creator of a resource to contact us about it. If he/she should want it removed, we will comply. Indie game development. Kendra Schaefer » free icons. IE Icons, AO portraits + buildings. Various items today.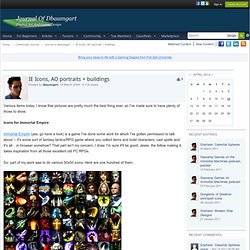 I know that pictures are pretty much the best thing ever, so I've made sure to have plenty of those to show. Icons for Immortal Empire Immortal Empire (yes, go have a look) is a game I've done some work for which I've gotten permission to talk about -- it's some sort of fantasy tactics/RPG game where you collect items and build characters, cast spells and it's all .. in-browser somehow? That part isn't my concern; I draw. TGB 1.7 Gui Tutorial | Torque Game Builder. Hello, I've recently been using TGB and just completed my first game tutorial, the Fish Game.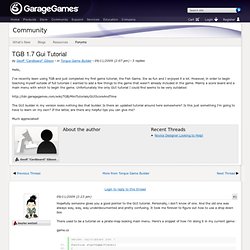 Itw as fun and I enjoyed it a lot. However, in order to begin teaching myself outside of full tutorials I wanted to add a few things to the game that wasn't already included in the game. Mainly a score board and a main menu with which to begin the game. Unfortunately the only GUI tutorial I could find seems to be very outdated: Charas, rpgmaker, the chara generator. Free Art Contracts. Indie-Resource.com. :: ARMY OF TROLLS - Pixelart - Pixel Art :: Dots of Light. Pixel Art. [portfolio] Charles.
Torque 2D | Products | GarageGames.com. Torque 2D is an extremely powerful, flexible, and fast open source engine dedicated to 2D game development.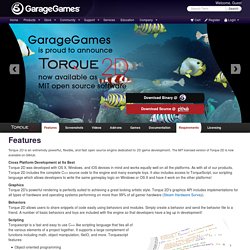 The MIT licensed version of Torque 2D is now available on GitHub. Cross Platform Development at Its Best. Free graphics and sounds for your game! I recently needed to refresh my math a bit in order to detect the intersection of a line and a rectangle, or a line and a point.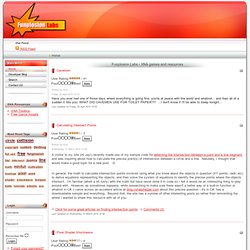 For everything so far, I had been using rectangular bounding boxes and simply using the standard built-in Rectangle .Intersects() functionality: if (bullets[i].Rect.Intersects(zombie.Rect)) zombie.alive = false; bullets[i].alive = false; List of Game Artists. A very large number of game developers come to Lostgarden looking for game art.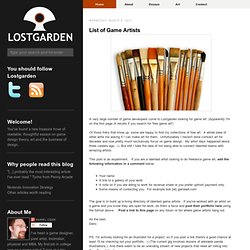 (Apparently I'm on the first page of results if you search for 'free game art') Of those folks that show up, some are happy to find my collections of free art. A whole slew of other write me asking if I can make art for them. Unfortunately I haven't done contract art for decades and now pretty much exclusively focus on game design. My artist days happened about three careers ago. :-) But still I hate the idea of not being able to connect talented teams with amazing artists. Support - Resources. Free Sprites. Free Sprites Many years ago, I drew around 700 fantasy-themed avatar images for a games competition.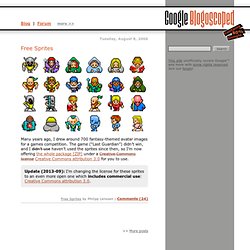 The game ("Last Guardian") didn't win, and I didn't usehaven't used the sprites since then, so I'm now offering the whole package [ZIP] under a Creative Commons licenseCreative Commons attribution 3.0 for you to use. Pixel Art & Sprites 分享區. OpenClipArt. SpriteLib. Overview SpriteLib is a collection of static and animated graphic objects (also commonly known as sprites).
It was created to provide hobbyist game developers with an assortment of images to use in their creations. Because of SpriteLib, developers don't have to waste precious time or money creating graphics from scratch. SpriteLib is officially under the terms of the Common Public License . Free, legal art for open source game projects. OpenGameArt.org is excited to announce that as of April 1, 2014, we have been acquired by Facebook!
As a result of this deal, we promise that absolutely nothing will change even though Mark Zuckerberg now literally owns BartK. We will not, for instance, take away all current license options and replace them with a single license that grants all ownership of your content to Facebook. And we definitely won't start sending all your data to advertisers and government agencies. Furthermore, one thing we in no way have plans to do is frequently "upgrade" our privacy settings and assume that you want all of your private data to be publicly viweable.
---