120_EVOLUCHONE
RÊVE
Des yeux d'animaux. ARBRE. Biomimétisme : Naturellement génial ! (arte) How life begins in the deep ocean. Moral behavior in animals. Boy has cat-like eyes that can see in the dark. AIR.
EAU. TERRE. INTERACTION.
Animals. 0_CARTES. Des animaux capables d'émettre de la lumière - Ces étranges créatures des profondeurs. 5 (nouvelles) créatures dont vous ignoriez l'existence. L'article du 3 juin dernier donnait un modeste aperçu des trésors de bizarrerie que recèle la nature en matière de règne animal.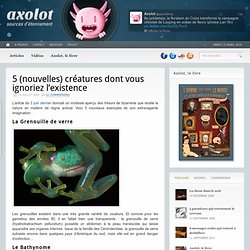 Voici 5 nouveaux exemples de son extravagante imagination : La Grenouille de verre Les grenouilles existent dans une très grande variété de couleurs. Et comme pour les gameboy des années 90, il en fallait bien une transparente : la grenouille de verre (hyalinobatrachium pellucidum) possède un abdomen à la peau translucide qui laisse apparaitre ses organes internes. Issue de la famille des Centrolenidae, la grenouille de verre subsiste encore dans quelques pays d'Amérique du sud, mais elle est en grand danger d'extinction…
---