Spiritual Life
HiddenMysteries Information Central.
Bodycard 0423
The Zodiac-Bible In The Stars. Not many folks have heard about the Bible in the stars.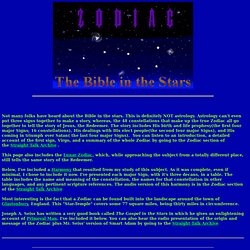 This is definitely NOT astrology. Astrology can't even put three signs together to make a story, whereas, the 48 constellations that make up the true Zodiac all go together to tell the story of Jesus, the Redeemer. The story includes His birth and life prophesy(the first four major Signs; 16 constellations), His dealings with His elect people(the second four major Signs), and His coming in triumph over Satan( the last four major Signs).
You can listen to an introduction, a detailed account of the first sign, Virgo, and a summary of the whole Zodiac by going to the Zodiac section of the Straight Talk Archive . Dratomic. Astrology & the Chakras. In this article I would like to explore the exciting possibility of bridging two of history's greatest psychological systems -- astrology and the chakras.
Conventionally, these two systems have been seen as having little or nothing to do with each other, the former primarily concerning the outer world, or macrocosm, and the latter involving the inner world, or microcosm. In fact, as we shall soon see, these two systems are but two sides of the same coin, each one complementing the other and thus enhancing our understanding of both. Evolve.
Freemasonry
Astrology. Archetypes & Symbols, Crystalinks. Archetypes are visual symbols or energetic imprints that exist in our psyches.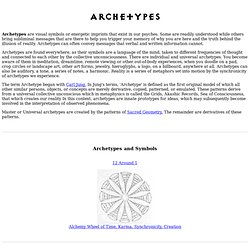 Some are readily understood while others bring subliminal messages that are there to help you trigger your memory of why you are here and the truth behind the illusion of reality. Archetypes can often convey messages that verbal and written information cannot. Archetypes are found everywhere, as their symbols are a language of the mind, taken to different frequencies of thought and connected to each other by the collective unconsciousness.
There are individual and universal archetypes. Maya Magee Sutton: Druid Magic. Druid Magic Many people today think that hardly anything is known about the spiritual traditions of our Druid ancestors and believe that the knowledge of them is all but lost; but this is not true.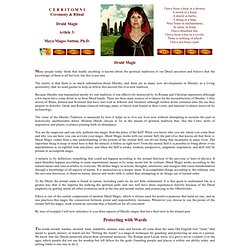 The reality is that there is so much information about Druidry, and there are so many new developments in Druidry, as a living spirituality, that we need guides to help us follow this ancient but ever-new tradition. Because Druidry was transmitted mostly by oral tradition, it was effectively destroyed by its Roman and Christian opponents although a few traces have come down to us from Druid hands. Angels. Spiritual. iGoogle. The Mother. Early years Mirra Alfassa (Paris 21.2.1878 - Pondicherry 17.11.73) was born as the second child of an Egyptian mother and a Turkish father, a few months after her parents had settled in France.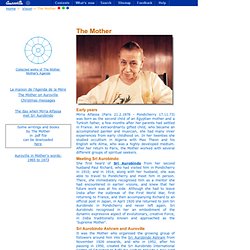 An extraordinarily gifted child, who became an accomplished painter and musician, she had many inner experiences from early childhood on. In her twenties she studied occultism in Algeria with Max Theon and his English wife Alma, who was a highly developed medium. After her return to Paris, the Mother worked with several different groups of spiritual seekers.
Mystic Traditions. Sacred Texts. Esoteric Arts & Sciences.
---