Divinities, Mythologies, Theologies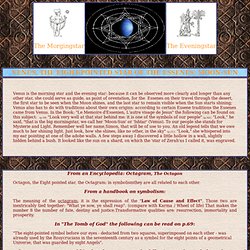 From an Encyclopedia: Octagram, The Octagon Octagon, the Eight pointed star, the Octagram: in symbolismthey are all related to each other. From a handbook on symbolism: The meaning of the octagram: it is the expression of the "Law of Cause and Effect". Those two are inextricably tied together: "What ye sow, ye shall reap".
ShemYaza, Melek Taus, Yezedi, Peacocks
The Magdalene, The Blood, The Grael
Parsons, BABALON, Wormwood, Dee
Goseck circle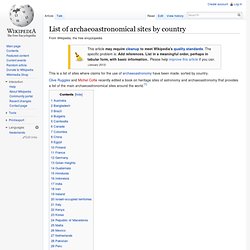 This is a list of sites where claims for the use of archaeoastronomy have been made, sorted by country. Clive Ruggles and Michel Cotte recently edited a book on heritage sites of astronomy and archaeoastronomy that provides a list of the main archaeoastronomical sites around the world.[1] Australia[edit] Ngaut Ngaut oral tradition says these engravings represent lunar cycles.[2]Wurdi Youang, a stone arrangement with possible solar alignments[3]
List of archaeoastronomical sites by country - Wikipedia, the fr
Bible, Christ, Astro-theology
Myth*ing Links' Portal/Epigraph Page
[Art is] a creative emotion provoked far down in the soul by the irritation of an infallibly sensitive eye and a profound imagination. There is a vitality, a life-force, an energy, a quickening that is translated through you into action and because there is only one of you in all of time, this expression is unique. And if you block it, it will never exist through any other medium and be lost. The world will not have it.