SNES
VirtualSuperNES.com is the premier online destination for playing classic Super Nintendo Entertainment System games like Super Mario World, Donkey Kong Country, Super Metroid, LoZ: A Link to the Past, Tecmo Super Bowl, Mega Man X, and many other great SNES games, whether they be imported, homebrew, or even the elusive unreleased games. Unlike similar websites, VirtualSuperNES.com is able to provide classic Super NES games legally. We can only provide you with classic SNES games that we have an original cartridge of, which have either been bought out of pocket or kindly donated by Players Like You™. If we don't have the games in our possession, we can't have them online. VirtualSuperNES.com is powered by the world leader in emulation software, KryptonWare Solutions.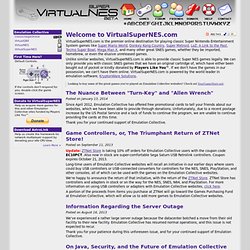 VirtualSuperNES.com
ZSNES
Konsolen-Fans aufgepasst: Dank dem SNES-Emulator ZSNES können Sie die bekannten Spiele des Super-Nintendo-Entertainment-Systems auf Ihrem PC spielen. Wie wäre es mal wieder mit einer Runde "Super Mario", "Bomberman" oder "Street Fighter"? Um ein Spiel starten zu können, muss man so genannte ROM-Dateien - digitale Images der ursprünglich auf Cardridges gespeicherten Daten - der alten SNES-Spiele aus dem Internet herunterladen. Selbstverständlich dürfen dabei keine Copyrights verletzt werden. ZSNES können Sie auf der Webseite des Herstellers auch als SNES-Emulator für Dos und Linux herunterladen. Fazit: Mit ZSNES blühen die Zeiten der Super-Nintendo-Klassiker von damals nochmal auf.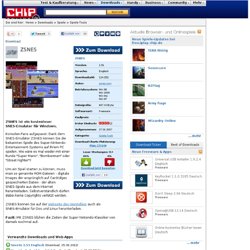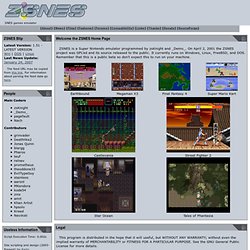 This program is distributed in the hope that it will useful, but WITHOUT ANY WARRANTY; without even the implied warranty of MERCHANTABILITY or FITNESS FOR A PARTICULAR PURPOSE. See the GNU General Public License for more details. The ZSNES Team is not connected or affiliated with any mentioned company in any way.
Snes9X.COM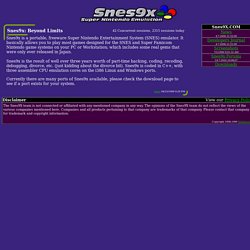 Snes9x is a portable, freeware Super Nintendo Entertainment System (SNES) emulator. It basically allows you to play most games designed for the SNES and Super Famicom Nintendo game systems on your PC or Workstation; which includes some real gems that were only ever released in Japan. Snes9x is the result of well over three years worth of part-time hacking, coding, recoding, debugging, divorce, etc. (just kidding about the divorce bit).