Action & Shooter
Action & Shooter
Das Spiel ist das Ergebnis jahrelanger Fanarbeit. Ein Team von Ego-Shooter-Begeisterten hat den Quell-Code von Quake 1 modifiziert und ihm einen neuen Anstrich verpasst. Die Open-Source-Engine unterstützt Licht-, Schatten-, und Partikel-Effekte in Echtzeit, hochauflösende Texturen und vieles mehr. Für Sie als Spieler bedeutet das: Über 20 Level zum schnellen und simplen Rumballern.
Nexuiz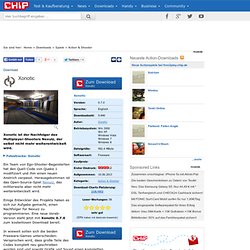 Xonotic
Ein Team von Ego-Shooter-Begeisterten hat den Quell-Code von Quake 1 modifiziert und ihm einen neuen Anstrich verpasst. Herausgekommen ist das Open-Source-Spiel Nexuiz, das mittlerweile aber nicht mehr weiterentwickelt wird. Einige Entwickler des Projekts haben es sich zur Aufgabe gemacht, einen Nachfolger für Nexuiz zu programmieren.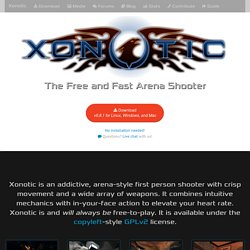 Xonotic
News Xonotic 0.7 is out, so get it while it is hot! Join the discussion about it on the release forum post or on IRC. If you like what you see, please share with your friends. Remember: sharing is caring!
Nexuiz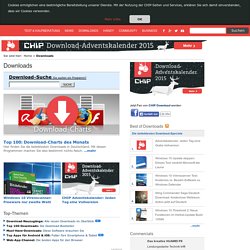 Download-Suche Sie suchen ein bestimmtes Programm? CHIP Online - Überblick Downloads - Überblick Download - Channel von CHIP Online: Die beste Freeware, die coolsten Open-Source-Tools, die spannendsten Demo-Programme und die genialste Software kostenlos downloaden.
untitled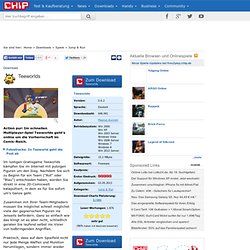 Teeworlds
Im lustigen Gratisgame Teeworlds kämpfen Sie im Internet mit putzigen Figuren um den Sieg. Nachdem Sie sich zu Beginn für ein Team ("Rot" oder "Blau") entschieden haben, werden Sie direkt in eine 2D-Comicwelt katapultiert, in dem es für Sie sofort um's Ganze geht. Zusammen mit Ihrer Team-Mitgliedern müssen Sie möglichst schnell möglichst viele der gegnerischen Figuren ins Jenseits befördern.
Inspired by the Vanilla Revival Initiative, in order to attract more players and improve competitive vanilla. We (devs, support staff and part of the community) proudly present the: Teeworlds Tournaments Series The first tournament will be an 1vs1 DeathMatch - Tournament, taking place on 26th march 2014, 7 P.M (CET)! You will fight several 1vs1 rounds in single elimination mode. Final and Semi-Finals will be best of 5, while all other matches will be best of 3.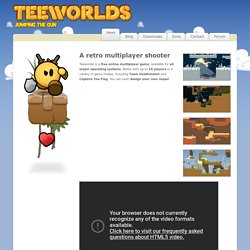 OpenArena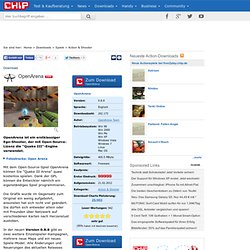 Mit dem Open-Source-Spiel OpenArena können Sie "Quake III Arena" quasi kostenlos spielen. Dank der GPL können die Entwickler nämlich ein eigenständiges Spiel programmieren. Die Grafik wurde im Gegensatz zum Original ein wenig aufgebohrt, ansonsten hat sich nicht viel geändert. Sie dürfen sich entweder allein oder mit Freunden über Netzwerk auf verschiedenen Karten nach Herzenslust austoben.
Due to some certain problems, first with a pair of bugs and then with a non-Free asset, the OpenArena Community Mappack Volume 1 had to be, well, repackaged. The good thing is that this time the 100% of it is still GPLv2-compliant. Server admins who are going to use the pack should delete the old versions of this pack (and if you were using betas, those as well) and use this new version instead. Likewise, people who's going to mirror this pack must use this version and delete the older ones.And, in the name of the OACMP team, sorry for all of the inconveniences! For information about the pack, head this way.We are also gauging interest for the second volume, so if you like to map, we're waiting for you in the Maps subforum!
OpenArena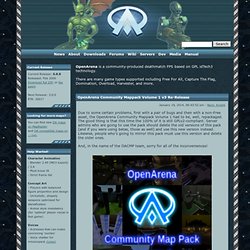 Paintball
.:] Digital Paint [:.:] Paintball 2.0 [:.:] News [:.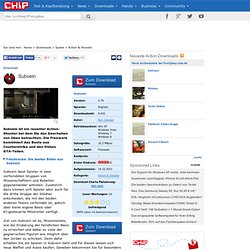 Subvein
Subvein lässt Spieler in zwei verfeindeten Gruppen von Wissenschaftlern und Rebellen gegeneinander antreten. Zusätzlich dazu können sich Spieler aber auch für die dritte Gruppe der Söldner entscheiden, die mit den beiden anderen Teams verfeindet ist, jedoch über keine eigene Basis oder KI-gesteuerte Mitstreiter verfügt. Ziel von Subvein ist es, Missionsziele, wie die Eroberung der feindlichen Basis zu erreichen und dabei so viele der gegnerischen Figuren wie möglich über den Jordan zu schicken.
Subvein
Mutant Factions is a fast-paced and tactical online shooter. You play as a mutant in the city of Subvein, where the only way to grow stronger is to destroy anyone who opposes you! You will mutate as you kill your enemies, giving you skill points that you can invest into a huge selection of unique and crazy skills. There are over 30 weapons and vehicles to choose from and a variety of fun game modes to play such as Team Deathmatch, Capture the Flag, Checkpoint Racing and Zombie Survival! Download and play Mutant Factions now - it takes mere minutes to download and best of all it's 100% FREE!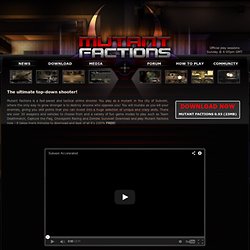 Battlefield Heroes
Battlefield Heroes ist ein Client-basierter kostenloser Ego Shooter. Die Geschichte: Die "Royals" gegen die "Nationals" Battlefield Heroes spielt zur Zeit des zweiten Weltkrieges. Die Story tritt hierbei in den Hintergrund und beschränkt sich darauf einen Konflikt zwischen zwei rivalisierenden Armeen zu erzählen. Im Vordergrund steht hier die überspitzte Comicgrafik, die das Spiel in ein Effektfeuerwerk verwandelt.
World of Tanks
World Of Tanks ist ein Client-basiertes, kostenloses Strategie- und Shooting-Game. Die Besonderheit besteht darin, daß sich die Spieler mit historisch originalgetreuen Panzern bekämpfen. Die Geschichte: Lose an den 2. Weltkrieg angelehnt World of Tanks' historischer Rahmen ist die Zeit kurz vor und kurz nach dem 2.
Action & Shooter - Downloads
Vollversion: F.E.A.R. Combat
FEAR - First Encounter Assault Recon
Starsiege: Tribes
Wolfenstein: Enemy Territory
Der Ableger der Ego-Shooter-Reihe Wolfenstein ist ein reines Multiplayerspiel und sehr stark teambasiert. Bis zu 64 Spieler können sich pro Karte auf den Internetservern auf originalen Karten aus dem Hauptspiel und in zwei Minikampagnen austoben. Eine davon spielt in Europa, die andere in Nordafrika.
FREE Download Download FREE copy of Wolfenstein: Enemy Territory Screenshots Game Overview Wolfenstein: Enemy Territory is a downloadable, free-to-play multiplayer game in which players wage war as Axis or Allies in team-based combat.
Wolfenstein: Enemy Territory Barracks | Splash Damage
America's Army
Um das Image des Militärs zu verbessern und um neue Rekruten zu werben, hat die US-Army offiziell das Computerspiel "Americas Army" herausgebracht. Der Ego-Shooter verwendet dabei die Unreal-3-Grafikengine. In der neuen Version 3.3 hat sich einiges getan. So gibt es nun einen AI Cooperative Mode mit drei AI-Maps und einen neuen Scoreboard. Eine lange Liste aller Neuerungen und Bugfixes finden Sie in der offiziellen Release-Liste.
Soldat
SOLDAT - home page
Soldat :: Homepage
Wolf Team
Wolf Team DE - Wolf Team - Kostenloser MMO Shooter von Aeria Games Europa
Softnyx
Brick-Force
News ‹ Brick-Force.com - Build, Share and Play
S4 League
Shooter Game kostenlos spielen - S4 League - alaplaya.net
World of Tanks
World of Tanks: Generals kostenlos spielen - free2play.chip.de
World of Warplanes
World of Warships
War Rock
Cross Fire
Cross Fire - Free 2 Play Military Shooter
Soldat
Soldat :: Homepage