Special Education
Tech Integration.
Boardmaker - Boardmaker Plus v.6 tutorials. Smart Goals. Best iPad Apps for Autism and Asperger's Syndrome | BookRoom Reviews. I am the mom of a beautiful and amazing son who just happens to have a diagnosis of High Functioning Autism.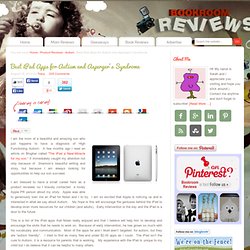 A few months ago I read an article on Blogher called "The iPad a Near-Miracle for my son." It immediately caught my attention not only because of Shannon's beautiful writing and story, but because I am always looking for opportunities to help our son succeed. I am blessed to have a small career here as a product reviewer, so I bravely contacted a lovely Apple PR person about my story. Apple was able to generously loan me an iPad for Nolan and I to try. Special Education Apps. The video is simple, but powerful.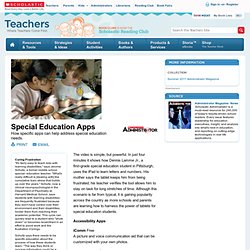 In just four minutes it shows how Dennis Lamme Jr., a first-grade special education student in Pittsburgh, uses the iPad to learn letters and numbers. His mother says the tablet keeps him from being frustrated; his teacher verifies the tool allows him to stay on task for long stretches of time. LD OnLine. Udtechtoolkit - Literacy tools. Udtechtoolkit - Study skills tools. iPhone, iPad and iPod touch Apps for (Special) Education.
ADHD
---