Depression
Major Depression. Major depression is a mental health disorder which causes prolonged feelings of despair, worthlessness, irritability, and fatigue (see a more complete set of depression symptoms below).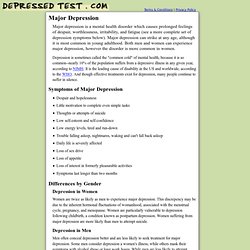 Major depression can strike at any age, although it is most common in young adulthood. Both men and women can experience major depression, however the disorder is more common in women. Depression is sometimes called the "common cold" of mental health, because it is so common--nearly 10% of the population suffers from a depressive illness in any given year, according to NIMH. It is the leading cause of disability in the US and worldwide, according to the WHO. Beat Your Depression | Tips, Facts and Information About Overcoming Depression. On October 25 2007 I made a post entitled, "What Causes The Chemical Imbalances That Lead To Depression?"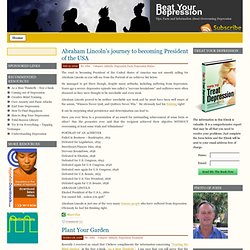 I did not receive any real convincing replies as a result of that article and so I have been doing a lot of research on the claims that depression is, more often than not, caused by a chemical imbalance in the brain of sufferers of depression. The results caused me to have many doubts and genuine concerns about the value and safety of using many of the prescribed medications. In fact, I was made to reflect on the drug, Thalidomide, that was once deemed to be the Godsend for pregnant women to alleviate their pre-natal problems.
Ping with Depression | Fighting Depression. We have seen that sadness, hopelessness, loss, low self-regard, loneliness, guilt, and shame are complex conditions or processes.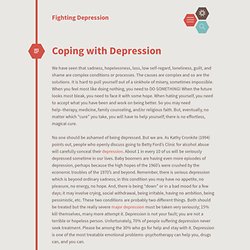 The causes are complex and so are the solutions. It is hard to pull yourself out of a sinkhole of misery, sometimes impossible. When you feel most like doing nothing, you need to DO SOMETHING! When the future looks most bleak, you need to face it with some hope. When hating yourself, you need to accept what you have been and work on being better.
---