March
SOPA and PIPA return… as toilet paper
SOPA's father gets a not-so-subtle warning
Posted by Michelle Paulson on March 9, 2012 After months of deliberation and a complicated transfer, the Wikimedia Foundation domain portfolio has been successfully transferred from GoDaddy to MarkMonitor. The portfolio transfer was formally completed on Friday, March 9th, 2012. The transfers were done seamlessly and our sites did not experience any interruption of service or other issues during the procedure.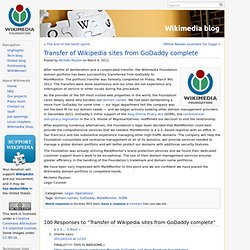 Transfer of Wikipedia sites from GoDaddy complete
Wikipedia says no to Go Daddy Go Daddy, the well-known Internet registry, made a business blunder. The company supported the controversal Stop Online Piracy Act (SOPA).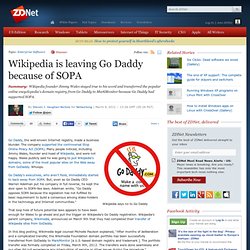 Wikipedia is leaving Go Daddy because of SOPA