March
SOPA and PIPA return… as toilet paper. SOPA's father gets a not-so-subtle warning. Published time: March 15, 2012 19:52 Edited time: March 15, 2012 23:52 Image from www.mashable.com With America's largest Internet providers only weeks from their next attempt at curbing copyright crimes by way of a coast-to-coast anti-piracy campaign, opponents of online censorship are taking their own message to the streets — literally.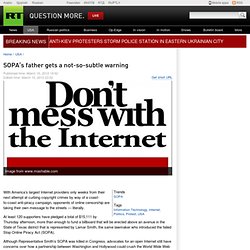 At least 120 supporters have pledged a total of $15,111 by Thursday afternoon, more than enough to fund a billboard that will be erected above an avenue in the State of Texas district that is represented by Lamar Smith, the same lawmaker who introduced the failed Stop Online Piracy Act (SOPA). Although Representative Smith's SOPA was killed in Congress, advocates for an open Internet still have concerns over how a partnership between Washington and Hollywood could crush the World Wide Web through other attempts at censorship. Transfer of Wikipedia sites from GoDaddy complete. Posted by Michelle Paulson on March 9, 2012 After months of deliberation and a complicated transfer, the Wikimedia Foundation domain portfolio has been successfully transferred from GoDaddy to MarkMonitor.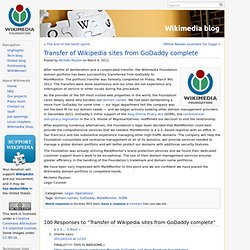 The portfolio transfer was formally completed on Friday, March 9th, 2012. The transfers were done seamlessly and our sites did not experience any interruption of service or other issues during the procedure. Wikipedia is leaving Go Daddy because of SOPA. Wikipedia says no to Go Daddy Go Daddy, the well-known Internet registry, made a business blunder.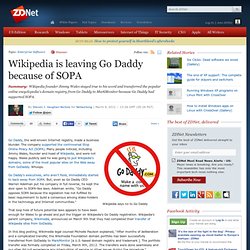 The company supported the controversal Stop Online Piracy Act (SOPA).
---