Sons libres
Latest News Issues with HTTPS March 7th, 2014groma Recently (about a month ago) we have added https to our web server. This was a requirement for the new v2 API, but it also allows us to browse the page securely. You can tell if you are using https … Continue reading →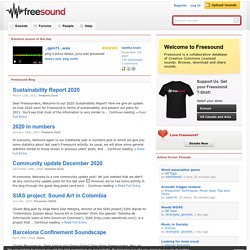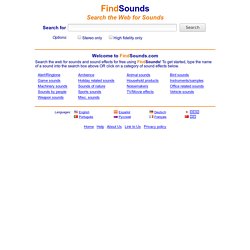 Welcome to FindSounds.com, a free site where you can search the Web for sound effects. Click here to see the types of sounds you can find. On August 1, 2012, FindSounds.com celebrated its 12-year anniversary as the leading Web search engine for sound effects. Using a smartphone or other handheld device?
Sons bruits-divers : banque de sons WAV et MP3
Wave et midi sur 01Wave.com : regroupant plus de 12000 fichiers sonores
FXMania.eu.org - Sons gratuits WAV & MIDI - Effets spéciaux / divers, musiques, voix, animaux ...
News Express >> 17 musiques d'illustration ajoutées le 08/04 : à découvrir parmi les nouveautés musicales. >> 37 bruitages ajoutés les 31/03, 01 et 03/04 : des bruitages d'Inde et Népal.>> 31 bruitages ajoutés le 24/03 : des bruitages cartoon et des bruitages de personnages cartoon.>> 19 bruitages ajoutés le 20/03 : des bruitages de grincement.>> 19 musiques d'illustration ajoutées le 17/03 : dans musique orchestrale et instruments solo. Les derniers bruitages ajoutés Le Club Sound Fishing En plus des 1582 bruitages gratuits, l'abonnement au Club Sound Fishing vous donne accès au téléchargement de 5383 bruitages supplémentaires pour quelques euros.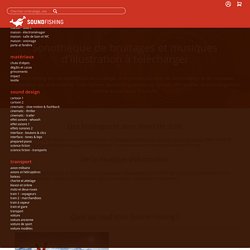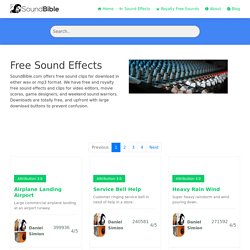 SoundBible.com A few popular free sound effects; fight sounds, car sounds, dog bark, city sounds, gross sounds, bird sounds, scream sounds, whale sounds, ocean sounds, jungle sounds, dog sounds, dj sounds, fart sounds, thunder sounds, animal sounds, human sounds, party sounds,machine sounds, nature sounds, heartbeat sound, gun sounds, wind sounds, storm sounds, funny sounds, red alert sounds, scream sounds, cartoon sounds, laugh sounds, xp sounds, vista sounds, computer sounds, horror sounds, scary sounds, cat sounds, dog sounds,sound bites, pivot sounds, bell sound, beach sounds, war sounds, crowd sounds, game show sounds, sports sounds, military sounds, work sounds, kid sounds, cool sounds, cow sounds, powerpoint sounds, hospital sounds, explosion sounds, see more... SoundBible.com offers free sound clips for download in either wav or mp3 format. We offer free and royalty free sound effects and clips for video editors, movie scores, game designers, and weekend sound warriors.