Solr
Data Analysis with Open Source Tools - O'Reilly Media. • The underlying properties of data• The ways to represent the current status of the data• The criteria to select relevant data and attributes• The algorithms to analyze the selected data and attributes• The ways to report the conclusions of the performed data analysis.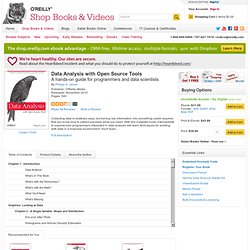 The author Philipp K. Janert takes a designer approach rather than an implementer approach. That means that you will gain important suggestions and tips to propose a plan for data analysis, instead of how to build an entire or partial information infrastructure using open source tools like Python, R, PostgreSQL and Weka. Then, for some developers the lack of full programming constructs may be disappointing. Search results for indekspot on Delicious. Indekspot (indekspot) Solr Lucene implementation and commercial-grade support. Apache Solr hosted search is now live on the site. Acquia Announces Hosted Solr Search Product | Gregory Heller.
Apache Solr Search Integration. This module integrates Drupal with the Apache Solr search platform.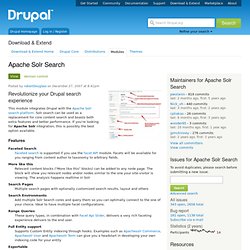 Solr search can be used as a replacement for core content search and boasts both extra features and better performance. If you're looking for Apache Solr integration, this is possibly the best option available. Hosted Solr site search for Drupal is on the way. The search technology area is highly important to people with websites.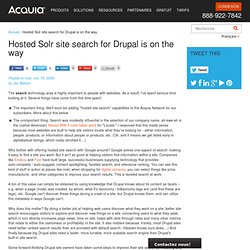 As a result, I've spent serious time looking at it. Several things have come from this time spent: The important thing: We'll soon be adding "hosted site search" capabilities to the Acquia Network for our subscribers. Hosted SOLR or Lucene service | Michael Kimsal's weblog. Just putting the question out to the blogosphere (love that word!)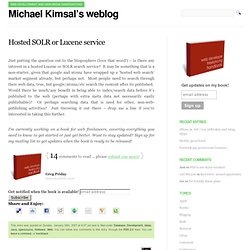 – is there any interest in a hosted Lucene or SOLR search service? It may be something that is a non-starter, given that google and atomz have wrapped up a 'hosted web search' market segment already, but perhaps not. Most people need to search through their web data, true, but google/atomz/etc search the content after its published. Would there be much/any benefit in being able to index/search data before it's published to the web (perhaps with extra meta data not necessarily easily publishable)? Or perhaps searching data that is used for other, non-web-publishing activities? Hosted full text search solutions. Powerful, hassle-free full-text search for your app | websolr. Chromium $50/mo Up to 5 managed indexes Up to 500,000 documents Shared cluster architecture.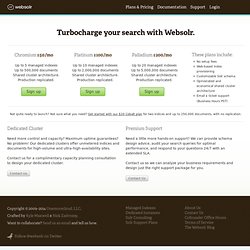 Production replicated. Platinum $100/mo Up to 10 managed indexes Up to 2,000,000 documents Shared cluster architecture. Heroku | Ruby Cloud Platform as a Service.
---