Solidarity & Helping initiatives
Le géantdu prêt-à-porterjaponais au secours de son pays. En partenariat avec le groupe d'édition groupe d'édition de presse magazine américain Condé Nast, Uniqlo a lancé une collection de tee-shirt inédite pour soutenir le Japon, frappé par un séisme et un tsunami meurtriers le 11 mars dernier. La marque créée en 1984 par Tadashi Yanaï s'est associée à dix artistes, chanteurs, acteurs ou designers, pour imaginer une ligne griffée de dessins ou de messages de soutien aux victimes de la catastrophe.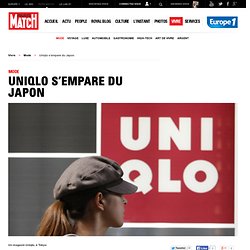 Uniqlo s'est associé avec dix artistes pour créer des tee-shirt afin de soutenir le Japon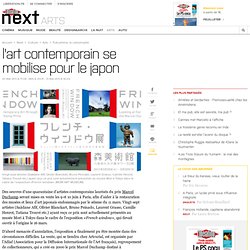 Des oeuvres d'une quarantaine d'artistes contemporains lauréats du prix Marcel Duchamp seront mises en vente les 9 et 10 juin à Paris, afin d'aider à la restauration des musées et lieux d'art japonais endommagés par le séisme du 11 mars.
L'art contemporain se mobilise pour le Japon
"Solidarité Japonais"
Des militaires français au Japon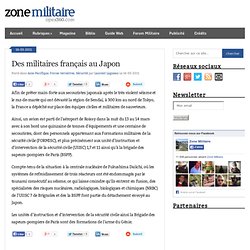 16 mars 2011 – 9:42 Afin de prêter main-forte aux secouristes japonais après le très violent séisme et le raz-de-marée qui ont dévasté la région de Sendaï, à 300 km au nord de Tokyo, la France a dépêché sur place des équipes civiles et militaires de sauveteurs. Ainsi, un avion est parti de l'aéroport de Roissy dans la nuit du 13 au 14 mars avec à son bord une quinzaine de tonnes d'équipements et une centaine de secouristes, dont des personnels appartenant aux Formations militaires de la sécurité civile (FORMISC), et plus précisément aux unité d'instruction et d'intervention de la sécurité civile (UIISC) 1,7 et 11 ainsi qu'à la brigade des sapeurs-pompiers de Paris (BSPP).
5 000 000 Support Japan with a click
2011 Japanese Earthquake and Tsunami
The Crisis Response team is no longer actively maintaining this page so some information may be out of date, or no longer available. On March 11 at 2:46pm JST a massive 9.0-magnitude earthquake occurred near the northeastern coast of Japan, creating extremely destructive tsunami waves which hit Japan just minutes after the earthquake, and triggering evacuations and warnings across the Pacific Ocean. The earthquake and tsunami have caused extensive and severe damage in Northeastern Japan, leaving thousands of people confirmed dead, injured or missing, and millions more affected by lack of electricity, water and transportation.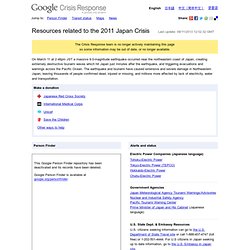 【日本赤十字社】寄付・献血・ボランティア|ホームページ
Activités Soka Gakkai de secours, Message du président de SGI | Nouvelles
Distributing water and food early in the morning of March 12 at the Tohoku Culture Center In response to the massive earthquake and subsequent tsunamis which devastated parts of northern Japan on March 11, the Soka Gakkai central emergency communications center at the Soka Gakkai Headquarters in Tokyo is coordinating closely with local emergency centers set up by Soka Gakkai in the prefectures concerned to gather information, contact those in affected areas and initiate relief efforts. Fire trucks on standby in the parking lot of the Tohoku Culture Center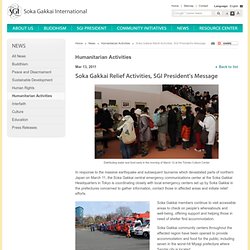 Aide PicBadges «JAPON
Catastrophes naturelles au Japon: Skype devient gratuits | wifeee.fr
URGENT: Amis japonais recherchent location sur IDF. | Console
Nous profitons du site pour lancer une annonce. Notre amie Julie est de retour sur Paris suite aux événements tragiques au Japon et recherche d'URGENCE un studio ou une sous location pour elle et sa petite famille (3 personnes en tout dont un enfant en bas âge). Si vous avez des amis d'amis sous louant une location sur une courte durée (1 mois peut-être) veuillez nous contacter à l'adresse: contact@console-toi.fr. Merci d'avance à tous ceux qui diffuseront ce message.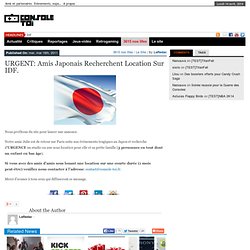 100 Artists Offer 100 Songs for Download to Raise Money for Japan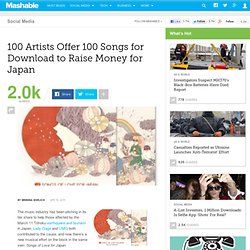 The music industry has been pitching in its fair share to help those affected by the March 11 Tōhoku earthquake and tsunami in Japan. Lady Gaga and UMG both contributed to the cause, and now there's a new musical effort on the block in the same vein: Songs of Love for Japan. Songs of Love for Japan is a 100-song compilation packed with music from the likes of Sara Bareilles, Tori Amos, The xx, The Submarines and Ani DiFranco, as well as several other bands both signed and unsigned.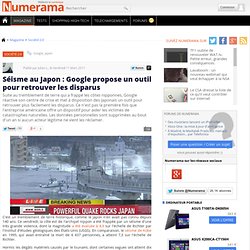 Séisme au Japon : Google propose un outil pour retrouver les disparus
C'est un tremblement de terre historique, comme le Japon n'en avait pas connu depuis 140 ans. Ce vendredi, la côte est de l'archipel nippon a été frappée par un séisme d'une très grande violence, dont la magnitude a été évaluée à 8,9 sur l'échelle de Richter par l'institut d'études géologiques des États-Unis (USGS). En comparaison, le séisme de Kobe en 1995, qui avait entraîné la mort de 6 437 personnes, a atteint 7,3 sur l'échelle de Richter. Hormis les dégâts matériels causés par le tsunami, dont certaines vagues ont atteint dix mètres de haut, le Japon déplore pour le moment 26 morts et plusieurs dizaines de disparus. Le pays, qui se trouve au croisement de trois plaques tectoniques (eurasienne, nord-américaine et philippine), pourrait rapidement voir le bilan humain s'alourdir d'heure en heure. Tandis que de nombreux pays ont apporté leur soutien au Japon, proposant l'envoi d'équipes spécialisées pour aider le travail des secours, Google veut aussi donner un coup de main.
Fon has decided to open our WiFi network in Japan to all for free