Mobile
Frameworks
Responsive Web Design. The English architect Christopher Wren once quipped that his chosen field "aims for Eternity," and there's something appealing about that formula: Unlike the web, which often feels like aiming for next week, architecture is a discipline very much defined by its permanence.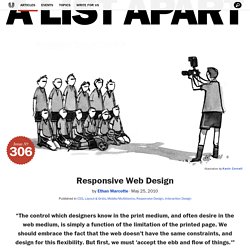 A building's foundation defines its footprint, which defines its frame, which shapes the facade. Each phase of the architectural process is more immutable, more unchanging than the last. Creative decisions quite literally shape a physical space, defining the way in which people move through its confines for decades or even centuries.
iOS
Mobile JavaScript Framework for Developing HTML5 Web Apps | Sencha Touch. Building Mobile Web Apps the Right Way: Tips and Techniques. Mobile web apps are useful alternatives to native apps for mobile devices.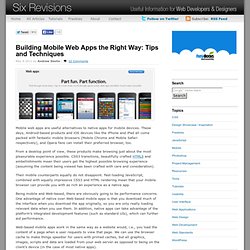 These days, Android-based products and iOS devices like the iPhone and iPad all come packed with fantastic mobile browsers (Mobile Chrome and Mobile Safari respectively), and Opera fans can install their preferred browser, too. From a desktop point of view, these products make browsing just about the most pleasurable experience possible. CSS3 transitions, beautifully crafted HTML5 and embellishments mean their users get the highest possible browsing experience (assuming the content being viewed has been crafted with care and consideration). Their mobile counterparts equally do not disappoint. Fast-loading JavaScript, combined with equally impressive CSS3 and HTML rendering mean that your mobile browser can provide you with as rich an experience as a native app.
Mobile-friendly: The mobile web optimization guide - Opera Developer Community. By Bruce Lawson Updated April 2012 to modernise references, eg "will be supported in IE9" and to change the default assumed width in Opera Mobile from 850 to 980 pixels.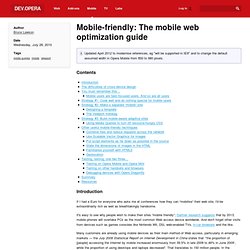 Contents. Mobile Strategy, Data Visualization, and Design Process - Big Challenges, Big Rewards. By Jared M.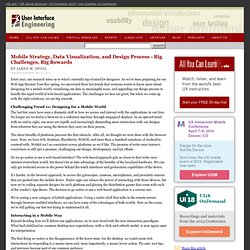 Spool Originally published: Apr 22, 2011 Every year, our research turns us to what's currently top of mind for designers. As we've been preparing for our Web App Masters Tour this spring, we uncovered three hot trends that everyone wants to know more about: designing for a mobile world, visualizing our data in meaningful ways, and upgrading our design process to handle the rapid world of web-based applications. The challenges we face are great, but when we come up with the right solutions, we see big rewards. DHTMLX - JavaScript Ajax Library - Components for Rich Web UI - Complete Suite of Ajax Controls, File Uploader, Scheduler, Gantt. Mobile UI Patterns ? Splash Screens. PhoneGap.
---