Sociology - USA
Ford Foundation. New York headquarters The Ford Foundation is a New York headquartered, globally oriented private foundation with the mission of advancing human welfare.[3][4][5][6] Created in 1936[7] by Edsel Ford and Henry Ford, it was originally funded by a US$25,000 gift from Edsel Ford.[8] By 1947, after the death of the two founders, the foundation owned 90 percent of the non-voting shares of the Ford Motor Company.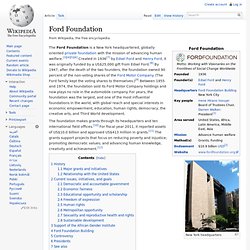 (The Ford family kept the voting shares to themselves.)[9] Between 1955 and 1974, the foundation sold its Ford Motor Company holdings and now plays no role in the automobile company. For years, the foundation was the largest, and one of the most influential foundations in the world, with global reach and special interests in economic empowerment, education, human rights, democracy, the creative arts, and Third World development. Margaret Mead. Margaret Mead (December 16, 1901 – November 15, 1978) was an American cultural anthropologist, who was frequently a featured author and speaker in the mass media throughout the 1960s and 1970s.[1] She earned her bachelor degree at Barnard College in New York City, and her M.A. and Ph.D. degrees from Columbia University.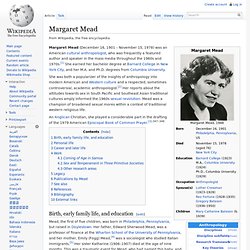 She was both a popularizer of the insights of anthropology into modern American and Western culture and a respected, sometimes controversial, academic anthropologist.[2] Her reports about the attitudes towards sex in South Pacific and Southeast Asian traditional cultures amply informed the 1960s sexual revolution. Mead was a champion of broadened sexual mores within a context of traditional western religious life. Rockefeller Foundation. The Rockefeller Foundation is a philanthropic organization and private foundation based at 420 Fifth Avenue, New York City.[3] The preeminent institution established by the six-generation Rockefeller family, it was founded by John D.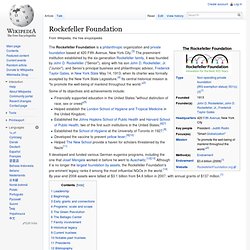 Rockefeller ("Senior"), along with his son John D. Rockefeller, Jr. University of Chicago. The University of Chicago (U of C, UChicago, or simply Chicago) is a private research university in Chicago, Illinois, United States.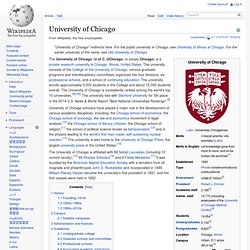 The university consists of the College of the University of Chicago, various graduate programs and interdisciplinary committees organized into four divisions, six professional schools, and a school of continuing education. The university enrolls approximately 5,000 students in the College and about 15,000 students overall. The University of Chicago is consistently ranked among the world's top 10 universities.[6][7][8] The university tied with Stanford University for 5th place in the 2014 U.S. News & World Report "Best National Universities Rankings".[9] The University of Chicago is affiliated with 89 Nobel Laureates (including 10 current faculty),[15] 49 Rhodes Scholars[16] and 9 Fields Medalists.[17] It was founded by the American Baptist Education Society with a donation from oil magnate and philanthropist John D.
National Opinion Research Center. NORC at the University of Chicago is one of the largest independent social research organizations in the United States, established in 1941.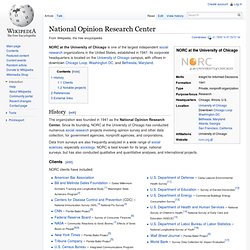 Its corporate headquarters is located on the University of Chicago campus, with offices in downtown Chicago Loop, Washington DC, and Bethesda, Maryland. History[edit] James Samuel Coleman. James Samuel Coleman (May 12, 1926 – March 25, 1995) was an American sociologist, theorist and empirical researcher, based chiefly at the University of Chicago.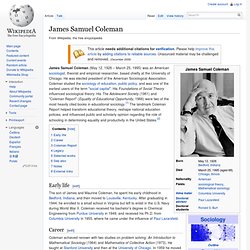 He was elected president of the American Sociological Association. Coleman studied the sociology of education, public policy, and was one of the earliest users of the term "social capital". Deutsche Hochschule für Politik. The Deutsche Hochschule für Politik (DHfP), or German Academy for Politics, was a private academy in Berlin, founded in October 1920.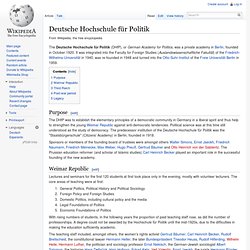 It was integrated into the Faculty for Foreign Studies (Auslandswissenschaftliche Fakultät) of the Friedrich-Wilhelms-Universität in 1940, was re-founded in 1948 and turned into the Otto-Suhr-Institut of the Freie Universität Berlin in 1959. Purpose[edit] The DHfP was to establish the elementary principles of a democratic community in Germany in a liberal spirit and thus help to strengthen the young Weimar Republic against anti-democratic tendencies. Chicago school (sociology) In sociology and later criminology, the Chicago School (sometimes described as the Ecological School) was the first major body of works emerging during the 1920s and 1930s specialising in urban sociology, and the research into the urban environment by combining theory and ethnographic fieldwork in Chicago, now applied elsewhere.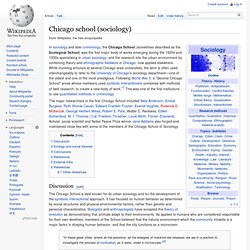 While involving scholars at several Chicago area universities, the term is often used interchangeably to refer to the University of Chicago's sociology department—one of the oldest and one of the most prestigious. Following World War II, a "Second Chicago School" arose whose members used symbolic interactionism combined with methods of field research, to create a new body of work.[1] This was one of the first institutions to use quantitative methods in criminology.
The Chicago School is best known for its urban sociology and for the development of the symbolic interactionist approach. Ernest Burgess. Scholarly Work[edit] Burgess conducted influential work in a number of areas.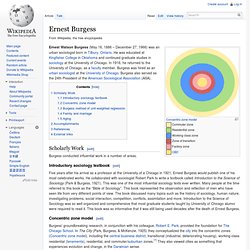 Introductory sociology textbook[edit] Five years after his arrival as a professor at the University of a Chicago in 1921, Ernest Burgess would publish one of his most celebrated works. He collaborated with sociologist Robert Park to write a textbook called Introduction to the Science of Sociology (Park & Burgess, 1921). This was one of the most influential sociology texts ever written. Robert E. Park. Life[edit] Robert E.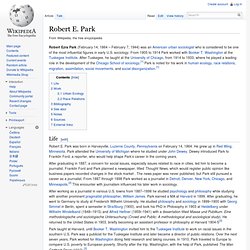 Park was born in Harveyville, Luzerne County, Pennsylvania on February 14, 1864. Princeton Univ. - Woodrow Wilson School of Public and International Affairs. Robertson Hall, which houses the Woodrow Wilson School. The Woodrow Wilson School of Public and International Affairs is a professional public policy school at Princeton University. The school grants undergraduate AB degrees, graduate Master of Public Affairs (MPA), Master of Public Policy (MPP) and Ph.D. degrees. Radio Project. The Radio Research Project was a social research project funded by the Rockefeller Foundation to look into the effects of mass media on society. In 1937, the Rockefeller Foundation started funding research to find the effects of new forms of mass media on society, especially radio. Several universities joined up and a headquarters was formed at the School of Public and International Affairs at Princeton University.
The following people were involved: Among the subjects of the Project's first studies were soap operas, known as radio dramas at the time. Paul Lazarsfeld - Wikipédia, a enciclopédia livre. Origem: Wikipédia, a enciclopédia livre. Paul Felix Lazarsfeld (13 de Fevereiro de 1901, Viena, Áustria - 30 de Agosto de 1976, Nova Iorque, Estados Unidos) Biografia[editar | editar código-fonte] Influências[editar | editar código-fonte] O pai de Lazarsfed, um advogado de classe média, era um socialista ativo e a casa dos Lazarfeld era um ponto de encontro de intelectuais e artistas de correntes políticas diversas como Max Adler, Victor Adler, Friedrich Adler, Otto Bauer, Karl Renner, os poetas Rilke, Stefan George e a educadora Eugenie Schwarzwald entre outros. O ambiente cultural em Viena durante a juventude de Paul Lazarsfeld era intenso e criativo. Theodor W. Adorno. Theodor W. Adorno (/əˈdɔːrnoʊ/;[6] German: [aˈdɔʀno]; born Theodor Ludwig Wiesengrund; September 11, 1903 – August 6, 1969) was a German sociologist, philosopher and musicologist known for his critical theory of society.
He was a leading member of the Frankfurt School of critical theory, whose work has come to be associated with thinkers such as Ernst Bloch, Walter Benjamin, Max Horkheimer and Herbert Marcuse, for whom the work of Freud, Marx and Hegel were essential to a critique of modern society. He is widely regarded as one of the 20th century's foremost thinkers on aesthetics and philosophy, as well as one of its preeminent essayists. Harvard University. Harvard University is a private Ivy League research university in Cambridge, Massachusetts, whose history, influence and wealth have made it one of the most prestigious universities in the world.[6][7][8][9][10] The University is organized into eleven separate academic units—ten faculties and the Radcliffe Institute for Advanced Study—with campuses throughout the Boston metropolitan area:[15] its 209-acre (85 ha) main campus is centered on Harvard Yard in Cambridge, approximately 3 miles (5 km) northwest of Boston; the business school and athletics facilities, including Harvard Stadium, are located across the Charles River in the Allston neighborhood of Boston and the medical, dental, and public health schools are in the Longwood Medical Area.[5] Eight U.S. presidents have been graduates, and some 150 Nobel Laureates have been affiliated as students, faculty, or staff.
Talcott Parsons. Columbia University. Franklin Henry Giddings. Bureau of Applied Social Research. Paul Lazarsfeld - Wikipédia, a enciclopédia livre. Robert K. Merton. C. Wright Mills. University of Chicago. Social Science Research Council. Marcel Mauss: a biography. Beardsley Ruml. London School of Economics.
---