Sociocratie équipe
Gouvernance
2020 : 35 millions de zettabytes d'information disponibles selon les uns (1.2 zettabytes pour 2010), cela fait beaucoup ! Illustration extraite du livre 24-hour consumer ( En 2020, nos journées feront toujours 24 heures et comme nous (moi, et vous ?) ne souhaitons pas a priori consacrer tout notre temps à «parcourir» le vaste monde des données, il va falloir travailler et mettre en oeuvre les outils de contrôle du volume mais également du débit des flux d'information. ...
Mobilisation de l'intelligence collective
1. The holon 1.1 The organism in its structural aspect is not an aggregation of elementary parts, and in its functional aspects not a chain of elementary units of behaviour. 1.2 The organism is to be regarded as a multi-levelled hierarchy of semi-autonomous sub-wholes, branching into sub-wholes of a lower order, and so on. Sub-wholes on any level of the hierarchy are referred to as holons. 1.3 Parts and wholes in an absolute sense do not exist in the domains of life.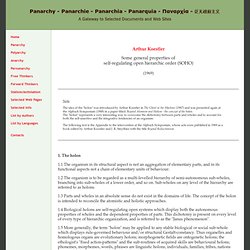 Arthur Koestler, Some general properties of self-regulating open hierarchic order (1969)