Sociocratie équipe
A l'origine de la sociocratie, les quakers - Integral Personality. Quand on démarre une nouvelle activité, lui trouver un nom est une étape indispensable et difficile.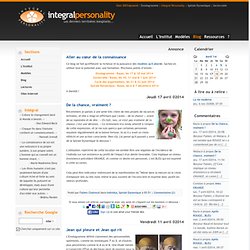 En flânant sur l'Internet, je découvre régulièrement des dénominations du genre "Chabreuil & Associates International". Cela fait une forte impression ! Cependant quand on va sur la page contact du site, on trouve une adresse postale qui, de toute évidence, est celle d'un particulier. Sociocratie. Gouvernance. Mobilisation de l'intelligence collective. Arthur Koestler, Some general properties of self-regulating open hierarchic order (1969) 1.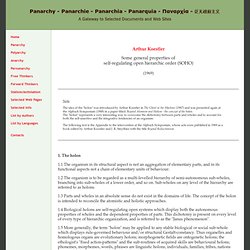 The holon 1.1 The organism in its structural aspect is not an aggregation of elementary parts, and in its functional aspects not a chain of elementary units of behaviour. 1.2 The organism is to be regarded as a multi-levelled hierarchy of semi-autonomous sub-wholes, branching into sub-wholes of a lower order, and so on. Sub-wholes on any level of the hierarchy are referred to as holons. 1.3 Parts and wholes in an absolute sense do not exist in the domains of life.
---