Whysomefbgoogleappsnotsuccess
Facebook Finds Quieter Ways to Complain About Google's Search+ - Liz Gannes - Social. While Twitter led the charge this week in publicly and unequivocally blasting Google's new promotion of Google+ in its search results, Facebook stayed quieter.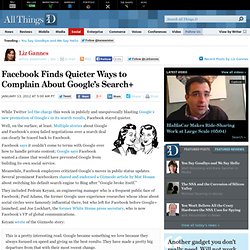 Well, on the surface, at least. Multiple stories about Google and Facebook's 2009 failed negotiations over a search deal can clearly be traced back to Facebook. Facebook says it couldn't come to terms with Google over how to handle private content; Google says Facebook wanted a clause that would have prevented Google from building its own social service. Meanwhile, Facebook employees criticized Google's moves in public status updates. Beware Facebook Timeline: There's no going back. Facebook's Timeline feature went live worldwide earlier this week, in both your regular browser and in the Android and mobile web versions, but beware, once you activate the stream of memories, there's no going back.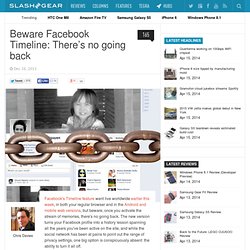 The new version turns your Facebook profile into a history lesson spanning all the years you've been active on the site, and while the social network has been at pains to point out the range of privacy settings, one big option is conspicuously absent: the ability to turn it all off. Developers and early adopters who have tried Timeline using the pre-launch test workaround were able to deactivate the page and return to the regular profile layout, but that option has disappeared since the official launch. Those turning on Timeline now have seven days to preview and tweak what details, photos, likes, interests and videos are included on the page, before it automatically goes live.
Is Google+ Really a Social Media Game Changer? Google+ may be less than a year old, but New York Times bestselling author Chris Brogan is ready to crown it a game changer.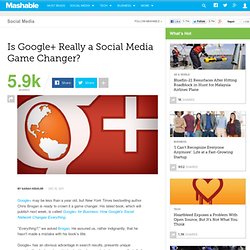 His latest book, which will publish next week, is called Google+ for Business: How Google's Social Network Changes Everything. "Everything? Why Google gets no respect (from developers) — Cloud Computing News. Google+ Was Never a Facebook Competitor. The social web is a well reported topic within the media today, and for good reason.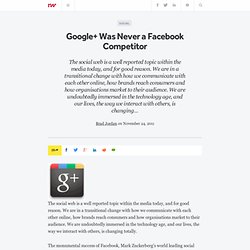 We are in a transitional change with how we communicate with each other online, how brands reach consumers and how organisations market to their audience. We are undoubtedly immersed in the technology age, and our lives, the way we interact with others, is changing totally. The monumental success of Facebook, Mark Zuckerberg's world leading social platform, has enticed brands, consumers, investors alike, and the world is continually awaiting for that 'next big thing'. A likely reason therefore that the majority of news stories, magazine articles and blog posts on Google's latest foray into the social web repeatedly draw up comparisons to Zuckerberg's global giant.
Why Facebook and Google+ Pages Are Useless.
---