InnovativePlatformEvolution
How General Electric uses salesforce.com to power GE Share. Domino's tests out pizza ordering through Facebook. Is Browsing a Catalog More Fun on a Tablet? - Katherine Boehret - The Digital Solution. Unsolicited catalogs take up a frustratingly large amount of space in my snail mail, and I can't remember the last time I ordered from one.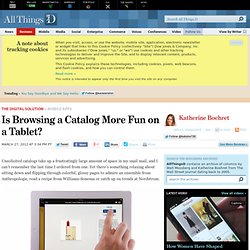 Yet there's something relaxing about sitting down and flipping through colorful, glossy pages to admire an ensemble from Anthropologie, read a recipe from Williams-Sonoma or catch up on trends at Nordstrom. Catalogs are ideally suited to a device that encourages people to sit back and relax while using it: the tablet. And in the past year, digital versions of catalogs—and more specifically, apps that pull together many free catalogs in one place—have found a home on iPads, Android tablets and Kindle Fires. Taxis and technology: Dispatching the middleman. Crossfy, a Bridge Between Print and Digital. If you have attended Campus Party Brazil this week, you may have noticed a new name among the event sponsors: Crossfy.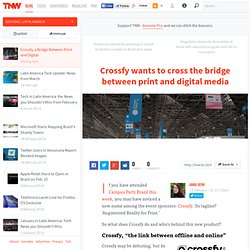 Its tagline? 'Augmented Reality for Print.' So what does Crossfy do and who's behind this new product? Crossfy, "the link between offline and online" Crossfy may be debuting, but its creators aren't. CEO Invests Another $500K In CrowdOptic's "New Social Medium" Jon Fisher, co-founder and CEO of startup CrowdOptic, just told me that he has invested another $500,000 so that the company can build out what it's calling a "new social medium."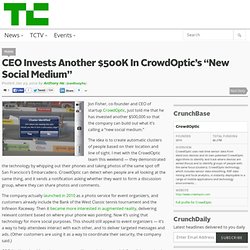 The idea is to create automatic clusters of people based on their location and line of sight. I met with the CrowdOptic team this weekend — they demonstrated the technology by whipping out their phones and taking photos of the same spot off San Francisco's Embarcadero. CrowdOptic can detect when people are all looking at the same thing, and it sends a notification asking whether they want to form a discussion group, where they can share photos and comments. The company actually launched in 2010 as a photo service for event organizers, and customers already include the Bank of the West Classic tennis tournament and the Infineon Raceway.
Then it became more interested in augmented reality, delivering relevant content based on where your phone was pointing. 10 Creative Ways to Use QR Codes for Marketing. Ekaterina Walter is a social media strategist at Intel.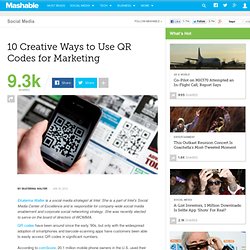 She is a part of Intel's Social Media Center of Excellence and is responsible for company-wide social media enablement and corporate social networking strategy. She was recently elected to serve on the board of directors of WOMMA. QR codes have been around since the early '90s, but only with the widespread adoption of smartphones and barcode-scanning apps have customers been able to easily access QR codes in significant numbers. According to comScore, 20.1 million mobile phone owners in the U.S. used their devices to scan a QR code in the three-month average period ending October 2011. Hands-on: Tobii and Windows 8 Gaze interface. Opinion: What will it take to drop jaws and eclipse Apple at CES 2012?
Top 10 most-exciting tech of CES 2012 (so far) The 2012 Consumer Electronics Show, which runs throughout next week, will showcase many of the gadgets, and technologies that will dominate the marketplace for the foreseeable future.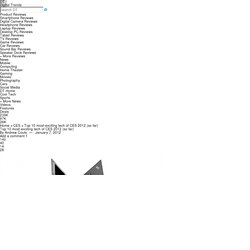 Companies will unveil more than 20,000 products during CES, and we'll be there to show you the good, the bad, and the totally nutty of CES 2012. Luckily for us all, we already know there are a few products that we're just itching to get our mitts on. Here, our top 10 most-anticipated products of CES 2012. Foreign Countries Cash In On Obscure Domain Extensions. Ads will possess your phone using subliminal sound waves. Er, we don't want to sensationalize this or anything, but your phone could soon be at the mercy of inaudible sound pulses that trigger location-specific ads, sales promotions and other potentially demonic notifications.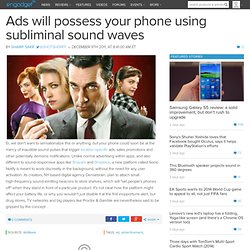 Unlike normal advertising within apps, and also different to sound-responsive apps like Shazam and Shopkick, a new platform called Sonic Notify is meant to work discreetly in the background, without the need for any user activation. Its creators, NY-based digital agency Densebrain, plan to attach small high-frequency sound-emitting beacons to store shelves, which will "set people's phones off" when they stand in front of a particular product. It's not clear how the platform might affect your battery life, or why you wouldn't just disable it at the first inopportune alert, but drug stores, TV networks and big players like Proctor & Gamble are nevertheless said to be gripped by the concept.
Comments. Quora Gamifies: Credits And "Ask To Answer" Suggestions Live For Everyone. After five months of beta testing, Quora has made its Quora Credits and "Ask to Answer" User Suggestions live for everyone today.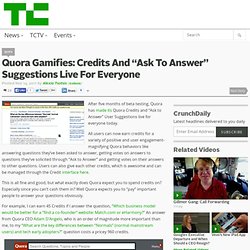 All users can now earn credits for a variety of positive and user engagement-magnifying Quora behaviors like answering questions they've been asked to answer, getting votes on answers to questions they've solicited through "Ask to Answer" and getting votes on their answers to other questions. Users can also give each other credits, which is awesome and can be managed through the Credit interface here.
---