TVEngagementTraditionalorSocial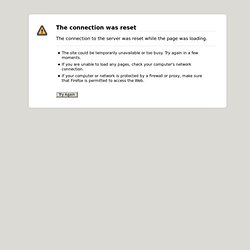 Detailed on the official YouTube blog earlier this week, Google software engineer Ullas Gargi announced a new feature that combines the viral nature of YouTube videos with interaction among friends within Google+ Hangouts. A new application within Hangouts allows Google+ users to queue up YouTube videos and allow everyone in the Hangout session to watch the video at the same time. Friends can watch reactions and everyone can provide commentary about the video while it's playing.
Google launches YouTube viewing parties on Google+ Hangouts | Digital Trends
The Ikea TV Is Coming — and We Should All Take It Seriously | Gadget Lab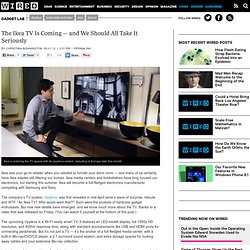 Ikea was your go-to retailer when you needed to furnish your dorm room — and many of us certainly have Ikea staples still littering our homes. Ikea media centers and bookshelves have long housed our electronics, but starting this summer, Ikea will become a full-fledged electronics manufacturer competing with Samsung and Sony.
Home Screen: Will Apple's 'iTV' Make Our Living Rooms More Social Again?
Announced on the official Hulu blog earlier today, the company launched a redesigned user interface that includes an upgrade to the size of the video player.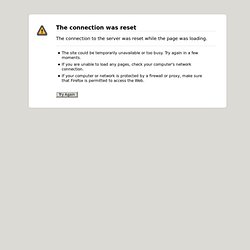 Hulu increases size of Web video player by 55 percent, improves Face Match
BBC developing iTunes clone to sell television programming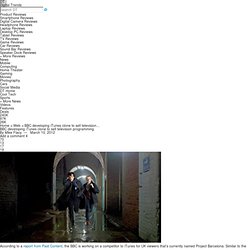 According to a report from Paid Content , the BBC is working on a competitor to iTunes for UK viewers that's currently named Project Barcelona. Similar to the pricing found on iTunes, new television shows could be downloaded for £1.89 per episode which comes to approximately $2.98. While only seven percent of the BBC's current content library can be found through online sources, Project Barcelona would allow the BBC to sell access to the massive archive of content that's currently unavailable.
Apple's rumored iTV 'the biggest thing since the smartphone,' says analyst
Few people on this planet currently know whether Apple plans to release its own television set. And Piper Jaffray's in-house Apple analyst Gene Munster claims to be one of them.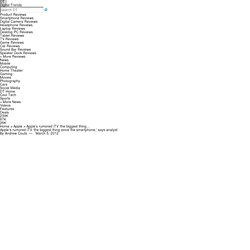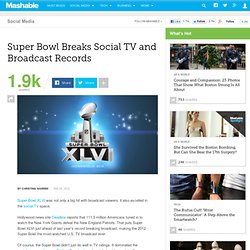 Super Bowl Breaks Social TV and Broadcast Records
Super Bowl XLVI was not only a big hit with broadcast viewers, it also excelled in the social TV space. Hollywood news site Deadline reports that 111.3 million Americans tuned in to watch the New York Giants defeat the New England Patriots.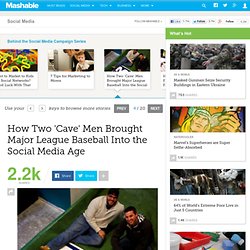 How Two 'Cave' Men Brought Major League Baseball Into the Social Media Age
The Behind the Social Media Campaign Series is supported by Oneupweb , a relentless digital marketing agency focused on search, social, and design for mid-to-enterprise level brands. Learn how to track your social media conversions with our new technology, ROSI trax™.
How Social Media & Social TV Will Change Super Bowl 2012
Nuance Announces Voice-Controlled Dragon TV [VIDEO]
This CES Video is presented by Wendy's , where $1 gets you more.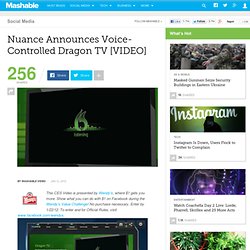 Lenovo's K91 is not your normal 55-inch television.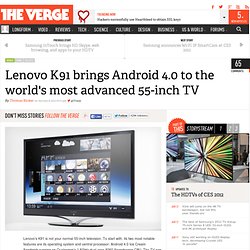 Lenovo K91 brings Android 4.0 to the world's most advanced 55-inch TV
Is There A Future For Social TV?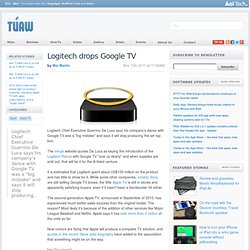 Logitech drops Google TV, leaving Apple TV as dominant player
Logitech Chief Executive Guerrino De Luca says his company's dance with Google TV was a "big mistake" and says it will stop producing the set top box.
Technology is changing entertainment for better and for worse, according to TV Guide's general manager and executive vice president, Christy Tanner, who spoke at the Mashable Media Summit . SEE ALSO: Social TV: How Content Producers Can Engage Their Audiences in New Ways TV Guide launched Watchlist , a social feature that lets users search online to see where they can find their favorite shows on TV or on other connected devices.
The Future of Social TV [VIDEO]
Occupy Wall Street could be occupying your television this weekend. Supporters chipped in more than $6,000 to a crowdfunding campaign that will put a video of protesters explaining their objectives in the commercial lineup of cable television channels.
Occupy Wall Street Ads Hit TV This Weekend
Is Facebook the way to go for new web originals? — Online Video News
Social TV Just Got Real With Hulu On Facebook
Hulu does TV shows better than just about everyone. In fact, other than YouTube, Hulu attracts the highest level of engagement of any web video platform (with the average web viewer watching an average of 3.2 hours a month). That being said, Hulu has never done social particularly well.