TVEngagementTraditionalorSocial
Google launches YouTube viewing parties on Google+ Hangouts. The Ikea TV Is Coming — and We Should All Take It Seriously | Gadget Lab. Ikea is entering the TV space with its Uppleva system, debuting in Europe later this month.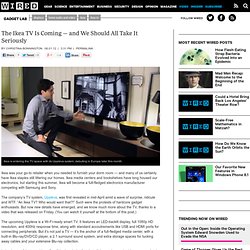 Ikea was your go-to retailer when you needed to furnish your dorm room — and many of us certainly have Ikea staples still littering our homes. Ikea media centers and bookshelves have long housed our electronics, but starting this summer, Ikea will become a full-fledged electronics manufacturer competing with Samsung and Sony. Home Screen: Will Apple's 'iTV' Make Our Living Rooms More Social Again? Hulu increases size of Web video player by 55 percent, improves Face Match. BBC developing iTunes clone to sell television programming. Apple's rumored iTV 'the biggest thing since the smartphone,' says analyst. Super Bowl Breaks Social TV and Broadcast Records. Super Bowl XLVI was not only a big hit with broadcast viewers, it also excelled in the social TV space.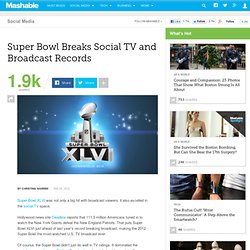 Hollywood news site Deadline reports that 111.3 million Americans tuned in to watch the New York Giants defeat the New England Patriots. That puts Super Bowl XLVI just ahead of last year's record breaking broadcast, making the 2012 Super Bowl the most-watched U.S. TV broadcast ever. Of course, the Super Bowl didn't just do well in TV ratings. It dominated the social conversations on Twitter, Facebook and social checkin services like GetGlue. How Two 'Cave' Men Brought Major League Baseball Into the Social Media Age. The Behind the Social Media Campaign Series is supported by Oneupweb, a relentless digital marketing agency focused on search, social, and design for mid-to-enterprise level brands.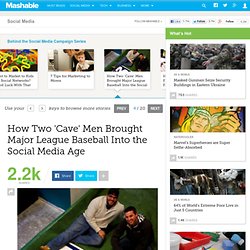 Learn how to track your social media conversions with our new technology, ROSI trax™. Watch the demo. When it comes to capturing the attention of young people, baseball suffers from the same problem that plagues all forms of entertainment — infinite competition. "You used to go outside and play sports, which put you on that path," says Terry Lefton, editor-at-large for Sports Business Journal and Sports Business Daily. "Now there are more things to do. How Social Media & Social TV Will Change Super Bowl 2012. This year's Super Bowl will be more social than ever before.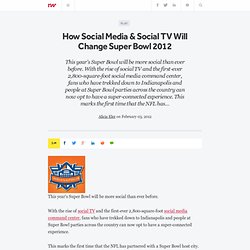 With the rise of social TV and the first-ever 2,800-square-foot social media command center, fans who have trekked down to Indianapolis and people at Super Bowl parties across the country can now opt to have a super-connected experience. This marks the first time that the NFL has partnered with a Super Bowl host city. Like a Midwestern truck stop that has a restaurant, convenience store, bathrooms, random coin-operated claw games (that you can't ever win) and gas, the Super Bowl social media command center seeks to be all things to all football fans.
Nuance Announces Voice-Controlled Dragon TV. This CES Video is presented by Wendy's, where $1 gets you more.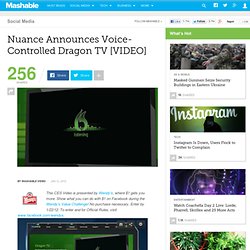 Show what you can do with $1 on Facebook during the Wendy's Value Challenge! No purchase necessary. Enter by 1/22/12. To enter and for Official Rules, visit www.facebook.com/wendys. Lenovo K91 brings Android 4.0 to the world's most advanced 55-inch TV. Lenovo's K91 is not your normal 55-inch television.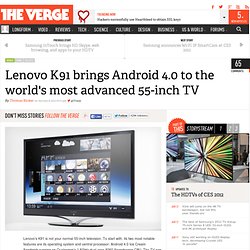 To start with, its two most notable features are its operating system and central processor: Android 4.0 Ice Cream Sandwich running on Qualcomm's 1.5GHz dual-core 8060 Snapdragon CPU. The TV can be controlled with your voice using natural language processing and recognition, and even includes video interaction (with facial recognition) thanks to a 5 megapixel webcam that's integrated into the bezel. Otherwise, the K91 remote control is up to the task thanks to a touchpad, 5-way d-pad, and motion sensor. The display is no slouch either incorporating 3D FPR technology into a "flicker-free," LED backlit, full HD IPS panel with 240Hz refresh. Is There A Future For Social TV? People today are sharing to social networks while they're watching TV.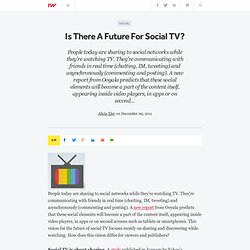 They're communicating with friends in real time (chatting, IM, tweeting) and asynchronously (commenting and posting). A new report from Ooyala predicts that these social elements will become a part of the content itself, appearing inside video players, in apps or on second screens such as tablets or smartphones. Logitech drops Google TV, leaving Apple TV as dominant player. Logitech Chief Executive Guerrino De Luca says his company's dance with Google TV was a "big mistake" and says it will stop producing the set top box.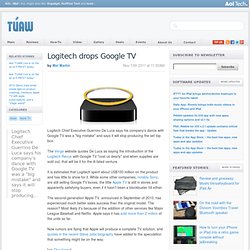 The Verge website quotes De Luca as saying the introduction of the Logitech Revue with Google TV "cost us dearly" and when supplies are sold out, that will be it for the ill-fated venture. It is estimated that Logitech spent about US$100 million on the product and has little to show for it. While some other companies, notably Sony, are still selling Google TV boxes, the little Apple TV is still in stores and apparently satisfying buyers, even if it hasn't been a blockbuster hit either. The Future of Social TV. Technology is changing entertainment for better and for worse, according to TV Guide's general manager and executive vice president, Christy Tanner, who spoke at the Mashable Media Summit.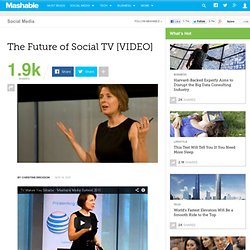 SEE ALSO: Social TV: How Content Producers Can Engage Their Audiences in New Ways TV Guide launched Watchlist, a social feature that lets users search online to see where they can find their favorite shows on TV or on other connected devices. Occupy Wall Street Ads Hit TV This Weekend. Occupy Wall Street could be occupying your television this weekend.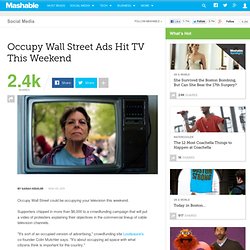 Supporters chipped in more than $6,000 to a crowdfunding campaign that will put a video of protesters explaining their objectives in the commercial lineup of cable television channels. "It's sort of an occupied version of advertising," crowdfunding site Loudsauce's co-founder Colin Mutchler says. "It's about occupying ad space with what citizens think is important for the country. " The video was produced free by David Sauvage, who uploaded it to YouTube October 12.
The Loudsauce campaign to put it on television started the same day. Is Facebook the way to go for new web originals? — Online Video News. Social TV Just Got Real With Hulu On Facebook. Hulu does TV shows better than just about everyone. In fact, other than YouTube, Hulu attracts the highest level of engagement of any web video platform (with the average web viewer watching an average of 3.2 hours a month). That being said, Hulu has never done social particularly well.
---