VideoEngagementOnDevices
Is a Tablet the Only TV You Need? - By Kevin Sintumuang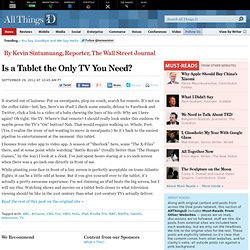 It started out of laziness: Put on sweatpants, plop on couch, search for remote. It's not on the coffee table—but, hey, here's an iPad! I check some emails, detour to Facebook and Twitter, click a link to a video of a baby chewing the bars of his crib.
Who killed YouTube on the iPhone -- Apple or Google? | The Social Analyst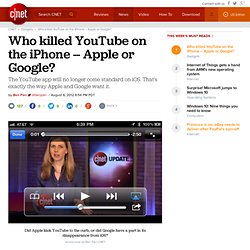 Did Apple kick YouTube to the curb, or did Google have a part in its disappearance from iOS?
Viddy Opens Up Its APi
Today, social video sharing site Viddy has made a huge leap towards becoming a powerhouse.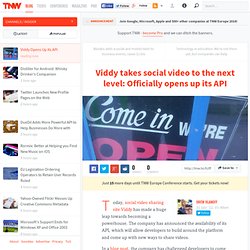 Joanna Montgomery gave birth to her first child, a healthy baby girl, at age 44. Though her pregnancy was high-risk because of her age, her daughter Magnolia was born in an emergency C-section in December 2011. That is, until her doctors discovered a tumor on her fallopian tube while she was in labor.
New Mom Battling Cancer Tells Her Story in YouTube Series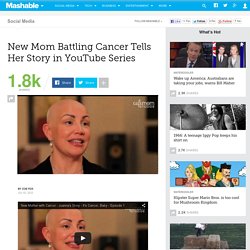 Entrepreneur Mark Cuban once said " only a moron would buy YouTube, " the implication being that Google was exactly that for purchasing the popular video site. That was back in 2006.
YouTube's Salar Kamangar on Building a Video Channel Ecosystem - John Paczkowski - Dive Into Media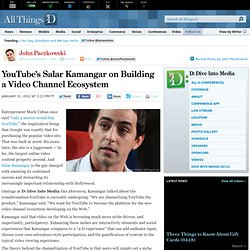 YouTube tests redesign highlighting Google+ videos, subscriptions etc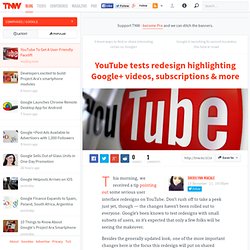 This morning, we received a tip pointing out some serious user interface redesigns on YouTube. Don't rush off to take a peek just yet, though — the changes haven't been rolled out to everyone.
Hulu does TV shows better than just about everyone.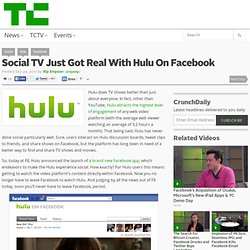 Social TV Just Got Real With Hulu On Facebook
Exclusive: Majority of YouTube views from Non-English audience — Online Video News
YouTube Reportedly Forking Out $100M For TV-Esque Content
The world's foremost video-sharing playground may be more or less enough for its users, who want nothing more than to put their freestyles and kitten videos online, but it's still on its way to becoming the money-making machine Google wants it to be. And while hamsters eating popcorn garner millions of views, they're not the easiest to sell targeted ads for, and that's where the money is. So according to the Wall Street Journal and its mysterious "people familiar with the matter," YouTube is finalizing a big content push with studios and networks, laying out $100 million to get some exclusive and high-quality content.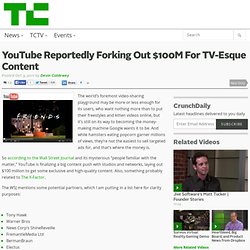 Exclusive: Majority of YouTube views from Non-English audience — Online Video News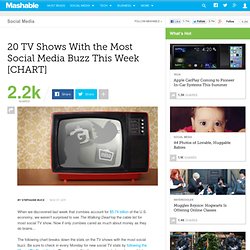 When we discovered last week that zombies account for $5.74 billion of the U.S. economy, we weren't surprised to see The Walking Dead top the cable list for most social TV show.
20 TV Shows With the Most Social Buzz This Week [CHART]
In a bid to build out its media offerings on its consoles and handheld gaming devices, Nintendo has announced it has struck a partnership with Hulu to deliver Hulu Plus TV shows and movies to the Wii and the 3DS by the end of the year.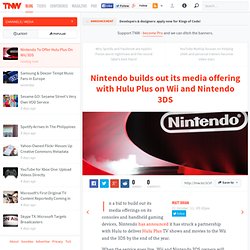 Hulu Plus coming to Nintendo Wii and 3DS by the end of the year
Panasonic's new Social TV app puts Twitter and Facebook next to your TV shows
Consumers Will Be Able To Access Social Media Apps While Watching Other Content On Their VIERA HDTV SECAUCUS, NJ (November 1, 2011) – Panasonic, a leader in Full HD 3D technology and built-in TV web entertainment, today announced the launch of a new Internet Social Network application, Social TV, that will be available on VIERA Connect1-equipped 2011 VIERA HDTVs and subsequent models.