HabitsObsessionsTimeofSocialNetworks
Children reliant on electronic devices could develop "internet-use disorder". Photo: Dallas Kilponen Children addicted to using electronic devices 24/7 will be diagnosed with a serious mental illness if a new addiction, included as ''internet-use disorder'' in a worldwide psychiatric manual, is confirmed by further research.
Screen-addicted children may have newest mental illness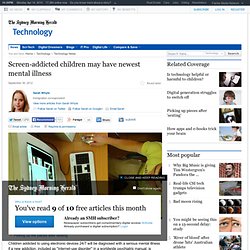 Multi-screen mania: how our devices work together
The reality of our multi-screen world is that consumers are increasingly turning to different devices throughout the day to accomplish tasks.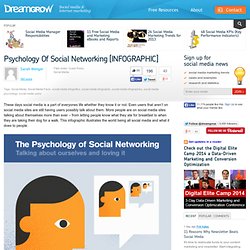 Psychology Of Social Networking [INFOGRAPHIC]
These days social media is a part of everyones life whether they know it or not.
Many colleges are concerned about providing enough bandwidth to students | Digital Trends
According to data collected by Online Colleges , approximately 76 percent of all colleges view bandwidth demands as a significant issue when attempting to provide students with high-speed Internet access.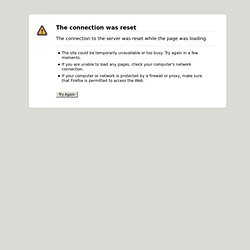 Brits with mobiles now text more than talk | Digital Trends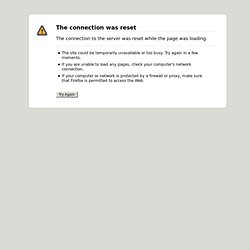 When it comes to using their handsets to communicate with friends and family, Brits are now more likely to text than talk, the results of a study by the country's telecoms regulator have revealed. Forming part of its wide-ranging annual Communications Market Report, published Tuesday, Ofcom's study into the mobile phone habits of UK citizens revealed that while 58 percent of handset owners texted on a daily basis in 2011, only 47 percent made a daily call from their device.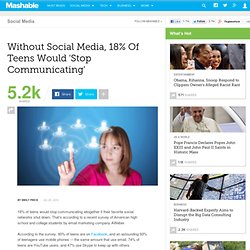 18% of teens would stop communicating altogether if their favorite social networks shut down.
Without Social Media, 18% Of Teens Would 'Stop Communicating'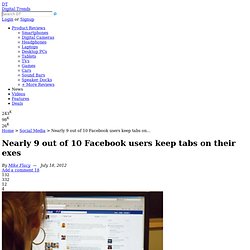 Nearly 9 out of 10 Facebook users keep tabs on their exes | Digital Trends
According to a study conducted by a Western University student completing her Masters' thesis, approximately 88 percent of Facebook users that went through a relationship breakup in the last twelve months use the social network to keep an eye on their ex-boyfriend or ex-girlfriend. Veronika Lukacs, the student conducting the study, wanted to see how distress caused by the end of a relationship is related to Facebook use.
Screen Time: How Much is Too Much for Your Kids?
A decade from now it will seem ordinary for a two-year-old child to be an iPad whiz or for a newborn to practice tummy time in front of a bright screen.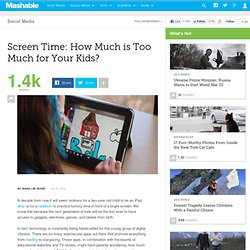 We're All Internet Addicts, And We're All Screwed, Says Newsweek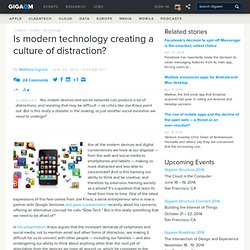 Is modern technology creating a culture of distraction?
Are all the modern devices and digital conveniences we have at our disposal — from the web and social media to smartphones and tablets — making us more distracted and less able to concentrate?
Do You Share Too Much on Social Media? [INFOGRAPHIC]
Sharing is the basis of social media , and it can be a beautiful thing.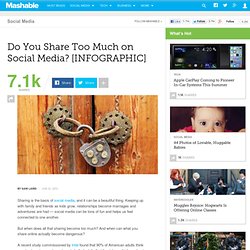 'Hamlet's BlackBerry': To Surf Or Not To Surf?
Do You Suffer From These 4 Tech Afflictions?
Quick: How many devices do you have on-hand at this very moment? How often have you checked your social media accounts in the last hour?
'My Last Wish' Is a Social Network Based on Death
A new social network has an interesting premise: connecting people around the world based on what they want to do before they die.
Half Of Americans Think Facebook Is A Passing Fad
All those minutes reading your news feed in bed, messaging friends over lunch, and browsing photos on the bus really add up. Time spent on Facebook's mobile site and apps per month (441 minutes) has finally surpassed usage of its classic website (391 minutes) — for Americans who use both Facebook interfaces according to the latest report from comScore . And that's actually a big problem for the social network.
Americans Now Spend More Time On Facebook Mobile Than Its Website
The front door of Facebook headquarters in Menlo Park, Calif. (Associated Press / Paul…) Researchers at Harvard have gotten to the bottom of why so many of us are compelled to share our every thought, movement, like and want through mediums like Twitter, Facebook, Foursquare, Instagram and Pinterest.
Study helps explain why we over-share on Facebook, Twitter
Lots Of Facebook Users Are Idiots, Says Consumer Reports
Is Too Much Tech Bad for the Modern Teenager? [INFOGRAPHIC]
Is tech saturation good or bad for the modern teenager? Arguments can be made either way, but there's no debating that today's teens are more wired than ever. And digital permeates the lives of young people in general, too.
Five ways Facebook can be bad for your mental health
Danah Boyd Warns of Fear in a Networked Society at SXSW - Liz Gannes - Social
Catching A Mood On Facebook
[STUDY] Your Facebook Friends Influence How You Feel
Most Adults Go Online for No Particular Reason [STUDY]
Study: Half of UK kids feel 'sad' without Internet, while many feel 'lonely'
William Shatner Addresses "Star Trek" Vs. "Star Wars" [VIDEO]
My Life Without Facebook: A Social Experiment
Social Media Trumps Driving Among Today's Teens
Are we on information overload?
Nielsen: U.S. teens exchange 7 text messages per waking hour
What happens on the Internet in 60 seconds
Twitter reaches 3 million tweets per day in South Korea
CultureLab: I want to be connected. But why?
Poll: Over 50 percent of users are worried about Facebook Timeline
Why People Have Fake Facebook Profiles
Study: Why Facebook is making people sad
The Internet Isn't Just Another TV Pipe
Teens Don't Live in Public on Social Media Sites
Social Media's Slow Slog Into the Ivory Towers of Academia - Josh Sternberg - Technology
Social Media is a Waste of Time
Social Media: The Three Big Myths
We're bored of social networking
Social Media: Leveraging Opportunity vs. Wasting Time
Social Networking Habits: 54 Percent of Users are Addicted, Webroot Research Finds -- BROOMFIELD, Colo., Aug. 16