PlatformsCrowdSourcing
Get flash to fully experience Pearltrees
A gym that lets humans generate energy for a Spanish city; open data about obesity levels in the Netherlands; a smart bus network navigation system in Japan, and a wireless network to control street lights; monitor car parking spaces and more in San Francisco. These are just some of the solutions being asked for by cities around the world as part of the Living Labs Global Award . Living Labs Global is a non-profit association which promotes new technologies and services in cities.
Mashable's third annual Social Media Day is on Saturday, June 30, 2012! Social Media is quickly changing our world by bringing people closer together. So, in true Mashable style, we celebrate it!
The idea behind Amazon's Mechanical Turk is pretty simple - break programming work down into bite-sized chunks, and put it in front of a large workforce that can do the work quickly and cheaply. Part of the challenge of that is making it easy for requesters to create the bites that workers are chewing on. The new categorization app from Amazon removes some of the hurdles of creating HITs (Human Intelligence Tasks) that ask workers to pick the best category for items. The result could make the crowdsource coding marketplace even more usable and popular.
Developer Workshop is a series of profiles exploring the current state of the mobile marketplace from the point of view of the software developers mapping out its future. Each profile focuses on a developer with a compelling story to tell, and offers their perspective on what the industry's doing right, what it's doing wrong and how to make it better. Check out our previous workshops on Shazam , InfoMedia , Viigo , Meet Now Live , Shortcovers , Pint Sized Mobile , Geodelic , Spark of Blue Software , Tarver Games , People Operating Technology , Booyah , Bolt Creative , Thwapr , Monkeyland Industries , Rocket Racing League , Vlingo , Advanced Mobile Protection , PapayaMobile , Taptu , GameHouse , Avatron and aisle411 . Sign up for our FREE newsletter for more news like this sent to your inbox! This week FierceDeveloper profiles social networking vendor Crowdstory.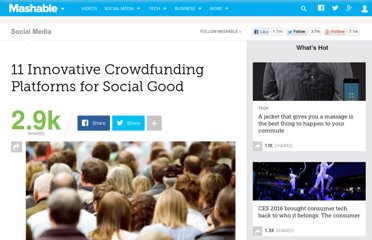 The Commerce With a Conscience Series is supported by Fedex . FedEx does more than shipping. They offer solutions like transporting heart valves to those in need and helping entrepreneurs bring their ideas to life. See how . Why crowdsource? In addition to funding, the tools below can engage new supporters, constituents and future advocates.