DataScientistProfession
Can Kaggle make data science a spectator sport? — Data | GigaOM
The Data Scientist Will Be Replaced By Tools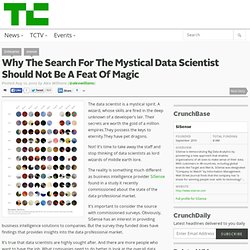 Why The Search For The Mystical Data Scientist Should Not Be A Feat Of Magic
The data scientist is a mystical spirit. A wizard, whose skills are fired in the deep unknown of a developer's lair. Their secrets are worth the gold of a million empires.They possess the keys to eternity.They have pet dragons. Not! It's time to take away the staff and stop thinking of data scientists as lord wizards of middle earth lore. The reality is something much different as business intelligence provider SiSense found in a study it recently commissioned about the state of the data professional market.
Charlotte Prepares Students To Meet Demand For Data Scientists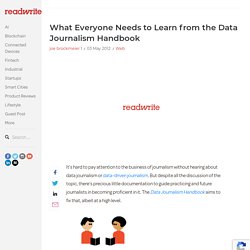 What Everyone Needs to Learn from the Data Journalism Handbook
It's hard to pay attention to the business of journalism without hearing about data journalism or data-driven journalism. But despite all the discussion of the topic, there's precious little documentation to guide practicing and future journalists in becoming proficient in it. The Data Journalism Handbook aims to fix that, albeit at a high level. The Data Journalism Handbook effort started at a workshop at the London MozFest 2011 last November. From there, the handbook represents the work of "an international, collaborative effort involving dozens of data journalism's leading advocates and best practitioners." This includes folks from ProPublica, The Washington Post, the BBC, The New York Times and many others.
Just a few short years ago, the problem of database size scaling to colossal capacities that exceeded the scope of entire network storage units, seemed insurmountable. Today, it's practically under control, with a wealth of open source technology emerging not from database engineers but rather from Internet architects. Hadoop has transformed the very nature of transformation, becoming one of the most readily adopted technologies in the history of the data center. But is it mature? And will businesses have access to the right people with the skill sets necessary to master this new aspect of information management?
IBM VP Anjul Bhambhri on the Era of the Data Scientist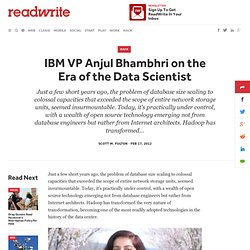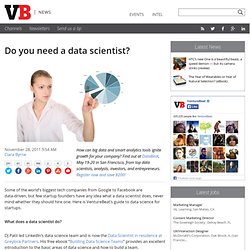 Some of the world's biggest tech companies from Google to Facebook are data-driven, but few startup founders have any idea what a data scientist does, never mind whether they should hire one.
Do you need a data scientist?
EMC Greenplum's Steven Hillion on What Is a Data Scientist?
Amazon's John Rauser on "What Is a Data Scientist?"
Does Science Need More Compelling Stories to Foster Public Trust?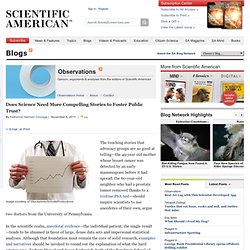 Image courtesy of iStockphoto/SchulteProductions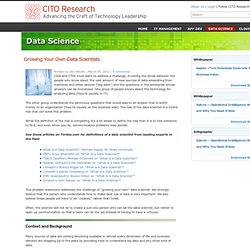 Growing Your Own Data Scientists | CITO Research
CIOs and CTOs must learn to address a challenge, involving the divide between the people who know about the vast amount of new sources of data emanating from machines and other devices ("big data") and the questions in the enterprise whose answers can be monetized. One group of people knows about the technology for analyzing data (they're usually in IT). The other group understands the pernicious questions that would lead to an answer that is worth money to an organization (they're usually on the business side). The role of the data scientist is a hybrid role that can solve this problem. While the definition of the role is compelling, it's a lot easier to define the role than it is to hire someone to fill it, and even when you do, communication problems may persist.
LinkedIn's Daniel Tunkelang On "What Is a Data Scientist?"
Data journalism is huge. I don't mean 'huge' as in fashionable - although it has become that in recent months - but 'huge' as in 'incomprehensibly enormous'. It represents the convergence of a number of fields which are significant in their own right - from investigative research and statistics to design and programming. The idea of combining those skills to tell important stories is powerful - but also intimidating.
Big Data Technology Evaluation Checklist