News Consumption
It's an election year, which means a lot of mud is being slung in various media outlets. Oftentimes, it's hard to find the truth among all of the clutter.
Leaning left or right? This browser plugin looks to bring balance to political news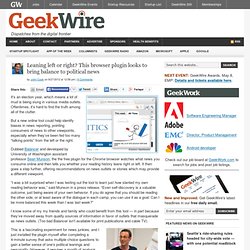 Pew study: News consumption up via mobile, social media | Internet & Media
(Credit: Pew Research Center)
While video lovers have gotten more and more social services that serve up interesting clips from friends, it's still not easy to construct a more comprehensive look at video news by topic.
Newslook iPad app brings order to news video viewing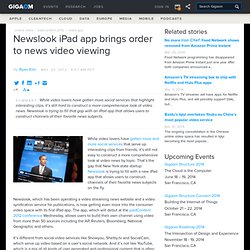 What is the purpose of a newspaper?
Reuters blogger Felix Salmon recently wrote about what he saw as a hypothetical business opportunity for the cash-strapped New York Times: namely, selling early access to news scoops like the paper's expose on Walmart. The idea drew a fair amount of criticism (including some from me), and that critical reaction said a lot about where newspapers find themselves now, as digital pressures require them to look for new revenue opportunities.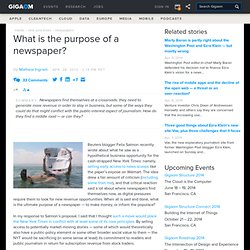 Instagram 'Worth' More Than the NYTimes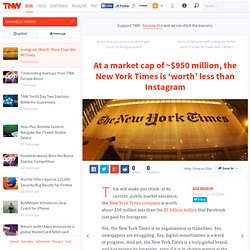 This will make you think: at its current, public market valuation, the New York Times company is worth about $50 million less than the $1 billion dollars that Facebook just paid for Instagram.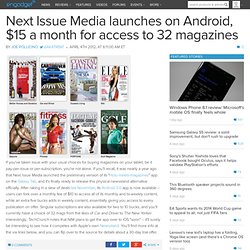 Next Issue Media launches on Android, $15 a month for access to 32 magazines
If you've taken issue with your usual choices for buying magazines on your tablet, be it pay-per-issue or per-subscription, you're not alone. If you'll recall, it was nearly a year ago that Next Issue Media launched the preliminary version of its "Hulu-meets-magazines" app on the Galaxy Tab, and it's finally ready to release this physical newsstand alternative officially.
Less than 10 percent of people rely on Facebook and Twitter for news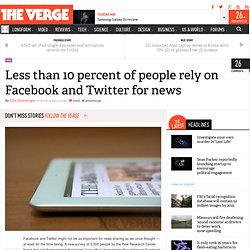 Facebook and Twitter might not be as important for news sharing as we once thought — at least for the time being. A new survey of 3,000 people by the Pew Research Center found that just 9 percent get their news "very often" from people they follow on Facebook and Twitter. 36 percent of people still get news by going directly to news websites themselves, while 32 percent use search engines to find news and 29 percent use news aggregating websites to hunt down articles to read. Within Facebook, Pew found that 70 percent of people turn to family and friends for news, while only 36 percent of people on Twitter do so.
Slate Gets Personal With Customized Newsfeed
Online magazine Slate is giving readers more control over the news discovery process with the Monday launch of MySlate, a personalized newsfeed made up of stories from the topics and authors of their choice.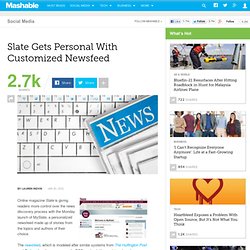 Online Publications Need Better Apps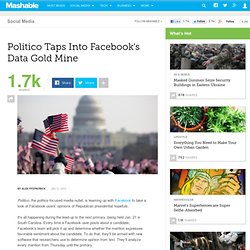 Politico, the politics-focused media outlet, is teaming up with Facebook to take a look at Facebook users' opinions of Republican presidential hopefuls. It's all happening during the lead-up to the next primary, being held Jan. 21 in South Carolina. Every time a Facebook user posts about a candidate, Facebook's team will pick it up and determine whether the mention expresses favorable sentiment about the candidate.
Politico Tapping Into Facebook's Data Gold Mine
Where Are Our Leaders? Blaming and Dividing
The problem is that journalism's true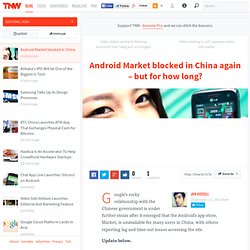 New China blow for Google as Android Marketplace is blocked
Google's rocky relationship with the Chinese government is under further strain after it emerged that the Android's app store, Market, is unavailable for many users in China, with others reporting lag and time-out issues accessing the site.
Has the UN been designed to fail?
One of the most astute critics of the United Nations was a man who worked there for years and worshipped its ambitions. His name was Conor Cruise O'Brien, an Irish diplomat and extraordinary writer who savaged the institution he once adored. "The main thing that endears the United Nations to member governments, and so enables it to survive, is its proven capacity to fail, and to be seen to fail," he wrote.
A new Pew Research Center study shows that the behavior of tablet owners is changing significantly when it comes to consuming news, for good and bad. Several studies have already shown that tablets create a higher level of engagement than a desktop or laptop, most likely because of the physical interaction with content and media.
Pew: Tablet owners consume a crazy amount of news but they won't pay for it
Why won't America embrace the left? - History
The real history of the "war on Christmas"
Don't think of it as a newspaper — it's a data platform
Many newspapers and other traditional media entities still think of themselves as delivering their content in a specific package, although most are trying hard to build an online readership as well, or experiment with iPad and Facebook apps (not to mention paywalls).
Blottr launches in France, Germany to follow
Blottr is the "people-powered news service" that has thus far allowed UK citizen journalists to capture, collaborate and report on news where they live.