News Consumption
Leaning left or right? This browser plugin looks to bring balance to political news. It's an election year, which means a lot of mud is being slung in various media outlets.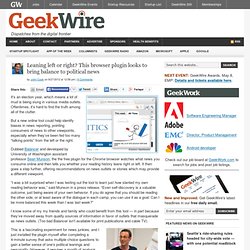 Oftentimes, it's hard to find the truth among all of the clutter. But a new online tool could help identify biases in news reporting, pointing consumers of news to other viewpoints, especially when they've been fed too many "talking points" from the left or the right. Dubbed Balancer and developed by University of Washington assistant professor Sean Munson, the the free plugin for the Chrome browser watches what news you consume online and then tells you whether your reading history leans right or left.
It then goes a step further, offering recommendations on news outlets or stories which may provide a different viewpoint. "I was a bit surprised when I was testing out the tool to learn just how slanted my own reading behavior was," said Munson in a press release. Pew study: News consumption up via mobile, social media | Internet & Media. The Internet is continuing to erode TV, radio, and newspapers as the source of news for Americans.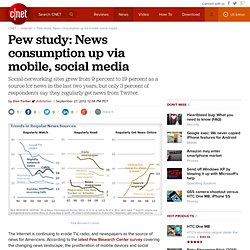 According to the latest Pew Research Center survey covering the changing news landscape, the proliferation of mobile devices and social networks is accelerating the shift to online news consumption. In the survey, 39 percent said that they got their news online, up from 33 percent two years ago. Only TV surpasses online as a news source today. Among 18- to 29-year-olds, one-third watched some TV news, down from 49 percent in 2006. Newslook iPad app brings order to news video viewing. While video lovers have gotten more and more social services that serve up interesting clips from friends, it's still not easy to construct a more comprehensive look at video news by topic.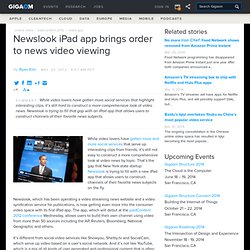 That's the gap that New York state startup Newslook is trying to fill with a new iPad app that allows users to construct channels of their favorite news subjects on the fly. Newslook, which has been operating a video streaming news website and a video syndication service for publications, is now getting even more into the consumer video space with its first iPad app. The app, which will debut at the paidContent 2012 conference Wednesday, allows users to build their own channel using video from more than 50 sources including the AP, Reuters, Bloomberg, National Geographic and others. It's different from social video services like Showyou, Shelby.tv and SocialCam, which serve up video based on a user's social network. What is the purpose of a newspaper? Reuters blogger Felix Salmon recently wrote about what he saw as a hypothetical business opportunity for the cash-strapped New York Times: namely, selling early access to news scoops like the paper's expose on Walmart.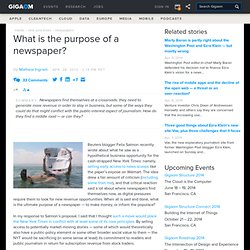 The idea drew a fair amount of criticism (including some from me), and that critical reaction said a lot about where newspapers find themselves now, as digital pressures require them to look for new revenue opportunities. When all is said and done, what is the ultimate purpose of a newspaper — to make money, or inform the populace? In my response to Salmon's proposal, I said that I thought such a move would place the New York Times in conflict with at least some of its core principles.
Instagram 'Worth' More Than the NYTimes. This will make you think: at its current, public market valuation, the New York Times company is worth about $50 million less than the $1 billion dollars that Facebook just paid for Instagram.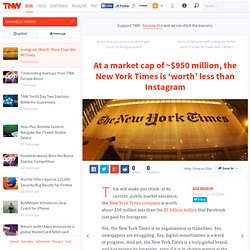 Yes, the New York Times is an organization in transition. Yes, newspapers are struggling. Yes, digital monetization is a work in progress. Next Issue Media launches on Android, $15 a month for access to 32 magazines. If you've taken issue with your usual choices for buying magazines on your tablet, be it pay-per-issue or per-subscription, you're not alone.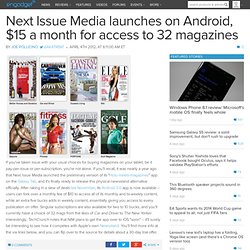 If you'll recall, it was nearly a year ago that Next Issue Media launched the preliminary version of its "Hulu-meets-magazines" app on the Galaxy Tab, and it's finally ready to release this physical newsstand alternative officially. After raking in a slew of deals last November, its Android 3.0 app is now available -- users can fork over a monthly fee of $10 to access all of its monthly and bi-weekly content, while an extra five bucks adds in weekly content, essentially giving you access to every publication on offer.
Singular subscriptions are also available for two to 10 bucks, and you'll currently have a choice of 32 mags from the likes of Car and Driver to The New Yorker. Interestingly, TechCrunch notes that NIM plans to get the app over to iOS "soon" -- it'll surely be interesting to see how it competes with Apple's own Newsstand. Less than 10 percent of people rely on Facebook and Twitter for news. Facebook and Twitter might not be as important for news sharing as we once thought — at least for the time being.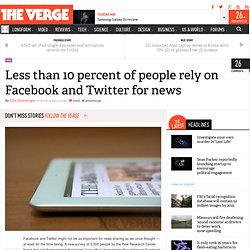 A new survey of 3,000 people by the Pew Research Center found that just 9 percent get their news "very often" from people they follow on Facebook and Twitter. 36 percent of people still get news by going directly to news websites themselves, while 32 percent use search engines to find news and 29 percent use news aggregating websites to hunt down articles to read. Within Facebook, Pew found that 70 percent of people turn to family and friends for news, while only 36 percent of people on Twitter do so. Slate Gets Personal With Customized Newsfeed.
Online magazine Slate is giving readers more control over the news discovery process with the Monday launch of MySlate, a personalized newsfeed made up of stories from the topics and authors of their choice.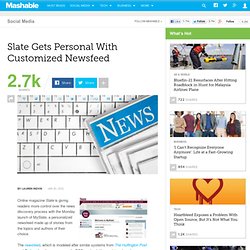 The newsfeed, which is modeled after similar systems from The Huffington Post and Forbes, functions as an on-site RSS reader, letting registered readers subscribe only to the sections, blogs and writers they're interested in. It's both a useful tool and a way for Slate to drive more engagement with its readers, serving them stories they're more likely to click on and alerting them to activity on comments they've left on Slate articles. MySlate is accessible on-site through the top navigation bar on the Slate homepage and via the sharing toolbars on article pages. Online Publications Need Better Apps. Politico Tapping Into Facebook's Data Gold Mine. Politico, the politics-focused media outlet, is teaming up with Facebook to take a look at Facebook users' opinions of Republican presidential hopefuls.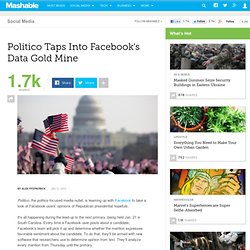 It's all happening during the lead-up to the next primary, being held Jan. 21 in South Carolina. Every time a Facebook user posts about a candidate, Facebook's team will pick it up and determine whether the mention expresses favorable sentiment about the candidate. Where Are Our Leaders? Blaming and Dividing. The problem is that journalism's true. New China blow for Google as Android Marketplace is blocked.
Google's rocky relationship with the Chinese government is under further strain after it emerged that the Android's app store, Market, is unavailable for many users in China, with others reporting lag and time-out issues accessing the site.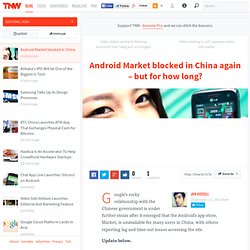 Update below. Blocked In China, a site which tests whether URLs are accessible across five major provinces in the country, confirms a blockage of market.android.com. This isn't the first time that Android Market has been inaccessible in China, mumours of discontent from disgruntled phone owners unable to access the store can be tracked as far back as 2009. As ever in China, despite the issues there are plenty of alternative options as TechRice outlines. Has the UN been designed to fail? One of the most astute critics of the United Nations was a man who worked there for years and worshipped its ambitions.
His name was Conor Cruise O'Brien, an Irish diplomat and extraordinary writer who savaged the institution he once adored. "The main thing that endears the United Nations to member governments, and so enables it to survive, is its proven capacity to fail, and to be seen to fail," he wrote. Pew: Tablet owners consume a crazy amount of news but they won't pay for it. A new Pew Research Center study shows that the behavior of tablet owners is changing significantly when it comes to consuming news, for good and bad. Several studies have already shown that tablets create a higher level of engagement than a desktop or laptop, most likely because of the physical interaction with content and media.
A popular video floating around the web even highlights tablet interactivity versus traditional print media using a baby as a barometer for engagement. But in this Pew study, we see how this tablet engagement translates specifically to news consumption. The Pew study shows that 11 percent of U.S. adults now own tablets like the Apple iPad, Samsung Galaxy Tab or Nook Color. Seventy seven percent of these tablet owners use their devices daily, and the average tablet user spends 1 hour and 35 minutes on their device every day. Why won't America embrace the left? - History. Don't think of it as a newspaper — it's a data platform. Many newspapers and other traditional media entities still think of themselves as delivering their content in a specific package, although most are trying hard to build an online readership as well, or experiment with iPad and Facebook apps (not to mention paywalls).
But few are thinking about their businesses in radically different ways — as content-generating engines with multiple delivery methods, or as platforms for data, around which other things can be built. USA Today appears to be moving in this direction, by opening up its data for others to use and even commercialize, following in the footsteps of The Guardian and its ground-breaking "open platform." USA Today has had an API (an "application programming interface," which allows outside developers and services to access its content) for some time now, as many other newspapers such as the New York Times do. Blottr launches in France, Germany to follow. Blottr is the "people-powered news service" that has thus far allowed UK citizen journalists to capture, collaborate and report on news where they live.
And now, it seems, it's going international. Blottr was the brainchild of London-based entrepreneur Adam Baker, who funded the initial roll-out back in September 2010. And in May this year, the startup secured £1m in investment.
---