Twitter
Where is Twitter's Web Analytics tool? On 13 September 2011, Twitter announced it was going to launch Twitter Web Analytics on its official blog.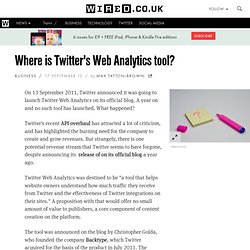 A year on and no such tool has launched. What happened? Our Guide to Twitter's Language. The beauty and challenge of Twitter is stuffing your most sophisticated thoughts and feelings into a measly 140 characters (or less).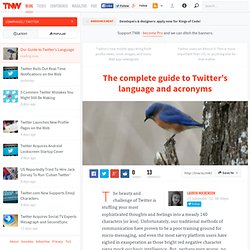 Unfortunately, our traditional methods of communication have proven to be a poor training ground for micro-messaging, and even the most savvy platform users have sighed in exasperation as those bright red negative character signs mock our basic intelligence. But, perhaps even worse, no good tweet is ever going to be 140 characters because it's impossible to share, respond or reference a tweet that's already at it's max. If you want to make a big statement with a small message, you have to trim the fat. Thankfully, a special subset of finite abbreviations and techniques have cropped up to help optimize your own Twitter lingo. These handy snippets of language — some no more than a single symbol — have been instrumental in fostering more sophisticated sharing and discourse simply because they are small. Twitter Possibly Worth More Than $10 Billion. In defense of 140 characters: Why Twitter remains relevant. London's giant Ferris wheel in world's first Twitter-driven light show.
Europe's tallest Ferris wheel, the UK's London Eye, is set to take part in what its sponsors are claiming will be the world's first social media driven light show – controlled by Twitter reactions to the Olympics and Paralympics.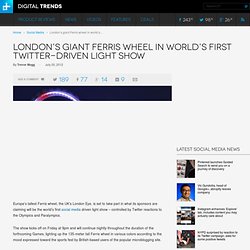 The show kicks off on Friday at 9pm and will continue nightly throughout the duration of the forthcoming Games, lighting up the 135-meter tall Ferris wheel in various colors according to the mood expressed toward the sports fest by British-based users of the popular microblogging site. A Telegraph report explains that if the general feeling of Olympic-related tweets is positive, then the lights on the wheel will glow yellow. If people are tweeting mainly negative comments, it'll be purple coloring the wheel. Why One Couple Turned to Twitter to Adopt a Baby. After almost three years of waiting to adopt a baby, a Michigan couple has turned to Twitter to get their profile across.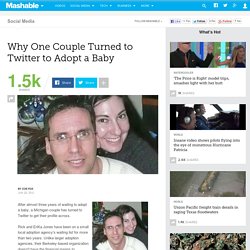 Rick and Erica Jones have been on a small local adoption agency's waiting list for more than two years. Unlike larger adoption agencies, their Berkeley-based organization doesn't have the financial means to extensively market their clients. Nor do Rick and Erika have the money to go through a larger adoption agency. Before turning to Twitter, Rick says they followed the agency's suggestions to use fliers, newspaper ads, business cards and Facebook. Is Twitter's User Growth Slowing Down Already?
11 Top Professionals to Follow on Twitter. Twitter Says It Has 140 Million Users. Twitter celebrated its sixth birthday on Wednesday by dropping an impressive stat: The network now claims 140 million active users.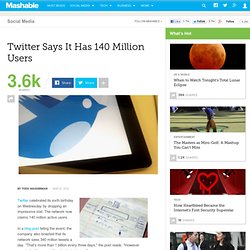 In a blog post feting the event, the company also boasted that its network sees 340 million tweets a day. "That's more than 1 billion every three days," the post reads. "However concisely, it turns out there's plenty to say. " The post also includes a photo of co-founder Jack Dorsey's sketch of the service he envisioned (see picture) The 140 million figure is a 40% increase over the 100 million active users Twitter CEO Dick Costolo claimed in September. What's The Point of Twitter? What's the point of Twitter?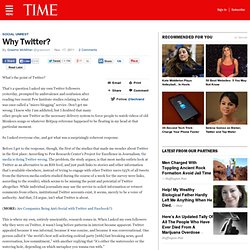 That's a question I asked my own Twitter followers yesterday, prompted by ambivalence and confusion after reading two recent Pew Institute studies relating to what was once called a "micro-blogging" service. Don't get me wrong; I know why I am addicted, but I doubted that many other people saw Twitter as the necessary delivery system to force people to watch videos of old Monkees songs or whatever Britpop reference happened to be floating in my head at that particular moment. So I asked everyone else, and got what was a surprisingly coherent response. Before I get to the response, though, the first of the studies that made me wonder about Twitter in the first place: According to Pew Research Center's Project for Excellence in Journalism, the media is doing Twitter wrong.
Why Writers Should Tweet. The long overly romanticized idea of the writer holed up in a cabin off of Walden Pond, furiously writing by candlelight and drinking warm whiskey until the wee hours is so. freaking. over.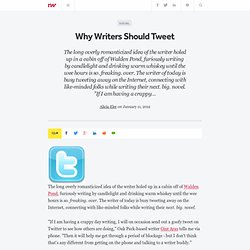 The writer of today is busy tweeting away on the Internet, connecting with like-minded folks while writing their next. big. novel. "If I am having a crappy day writing, I will on occasion send out a goofy tweet on Twitter to see how others are doing," Oak Park-based writer Gint Aras tells me via phone. "Then it will help me get through a period of blockage - but I don't think that's any different from getting on the phone and talking to a writer buddy. " Writers are solitary types. The Top Brands on Twitter in 2011 [INFOGRAPHIC] As longtime Twitter addicts know, there's little that people love to tweet about more than Twitter itself.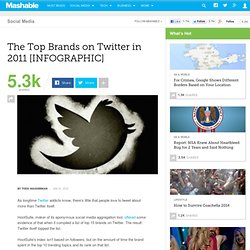 HootSuite, maker of its eponymous social media aggregation tool, offered some evidence of that when it compiled a list of top 15 brands on Twitter. The result: Twitter itself topped the list. HootSuite's index isn't based on followers, but on the amount of time the brand spent in the top 10 trending topics and its rank on that list. SEE ALSO: The Top Brands on Pinterest. 4 Ways the New Twitter Is Taking on Facebook. Twitter's native video- and photo-sharing features may have hinted at its desire to go after Facebook, but the redesign it launched on Thursday stated them loud and clear.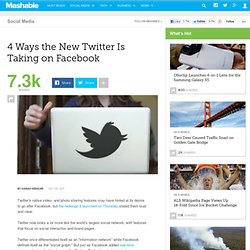 Twitter now looks a lot more like the world's largest social network, with features that focus on social interaction and brand pages. Twitter once differentiated itself as an "information network" while Facebook defined itself as the "social graph. " But just as Facebook added real-time features that make it look more like Twitter, Twitter has inched into its competitor's turf. In June, Twitter's video and photo-sharing tools positioned the network to increase engagement by breaking the mold of its 140-character tweets.
Twitter is a stream, but it's also a reservoir. The idea of a stream of constantly changing real-time information wasn't invented by Twitter, but it's probably one of the closest approximations of that idea for many users.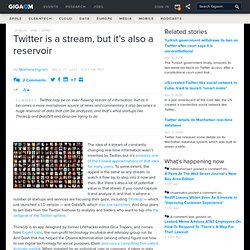 To some extent, the appeal is the same as any stream: to watch it flow by, to step into it now and then. But there's also a lot of potential value in that stream if you could capture it and analyze it, and that 's where a number of startups and services are focusing their gaze, including ThinkUp — which just launched a 1.0 version — and DataSift, which also just launched. How Twitter helps a small bookstore thrive. Omnivore Books in San Francisco looks like a traditional bookstore. Opened three years ago in a former butcher shop, the small, bright room is stocked floor to ceiling with new and vintage cookbooks. Locals and tourists come by to browse, or they're on a mission to buy the latest installment of Canal House or Lucky Peach.
The proprietor, Celia Sack, is the person most often behind the counter. Twitter reaches 3 million tweets per day in South Korea. Twitter is finally showing signs of breaking into the mainstream in South Korea, according to new data published by The Chosunilbo. Usage of the service has leapt up with it now seeing 3 million tweets sent each day from an estimated user base of 3.34 million people in the East Asian country. The latter figure is based on data from the Korean Advertisers Association and Media Research organisation, which found that 8.6 percent of 10,000 people it surveyed used the microblogging service at least once a week. Twitter itself reportedly sees 200 million tweets sent per day across the world, so while 3 million is a small portion of that figure it does show that the service is gaining popularity in Korea despite being an 'outsider' in the country's locally dominated social media space. The service is a hit with young audiences in the country, with over half of all the surveyed users aged between 20 and 40 actively using the service, while none of the 1,195 respondents aged over 60 used it.
A Twitter Client for Budget Shoppers. The Spark of Genius Series highlights a unique feature of startups and is made possible by Microsoft BizSpark. If you would like to have your startup considered for inclusion, please see the details here. Name: Tweetalicious Quick Pitch: A shopping discovery engine built on the Twitter platform. @twitterstories. How Link Placement Affects Clicks on Twitter. When it comes to crafting social status updates to ensure maximum exposure and click-throughs, many of the tried-and-true methods seem somewhat obvious.
Posting at certain times of day, for example, can have a dramatic impact on performance. Makes perfect sense. Sometimes, effective optimization can come from places you didn't expect, and the only way to find out is by analyzing a large set of cold, hard data. That's exactly what Dan Zarrella does for a living. Twitter is buzzing about Timelines and Zuckerberg after Facebook's F8 conference. Can watching Twitter trends help predict the future? 9 Twitter Accounts Every Startup Investor Should Follow. How to Create Credibility and Trust on Twitter.
Digital verbosity: What's in a tweet. Twitter is buzzing about Timelines and Zuckerberg after Facebook's F8 conference. Twitter Turns Out to Be the Best Financial Advisor Around. Ashton Kutcher Endorses His Investments on Twitter, Too. 5 Reasons To Participate In Twitter Chats.
Weibo
---