Socialism / Marxism focus
Socialist History Journal | Journal of the Socialist History Society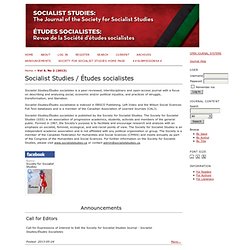 Socialist Studies / Études socialistes
Socialist Studies/Études socialistes is a peer-reviewed, interdisciplinary and open-access journal with a focus on describing and analysing social, economic and/or political injustice, and practices of struggle, transformation, and liberation. Socialist Studies/Études socialistess is indexed in EBSCO Publishing, Left Index and the Wilson Social Sciences Full Text databases and is a member of the Canadian Association of Learned Journals (CALJ). Socialist Studies/Études socialistes is published by the Society for Socialist Studies. The Society for Socialist Studies (SSS) is an association of progressive academics, students, activists and members of the general public. Formed in 1967, the Society's purpose is to facilitate and encourage research and analysis with an emphasis on socialist, feminist, ecological, and anti-racist points of view. The Society for Socialist Studies is an independent academic association and is not affiliated with any political organization or group.
LeftStreamed: Capitalism in the Classroom April 13, 2014 Neoliberalism, Education and Progressive Alternatives. Opening remarks by Carlo Fanelli. Keynote presentation by Dr.
Socialist Project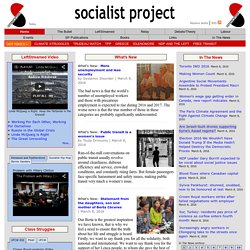 Culture, Society and Praxis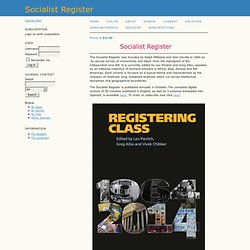 Socialist Register
The Socialist Register was founded by Ralph Miliband and John Saville in 1964 as 'an annual survey of movements and ideas' from the standpoint of the independent new left. It is currently edited by Leo Panitch and Greg Albo, assisted by an editorial collective of eminent scholars in Africa, Asia, Europe and the Americas. Each volume is focused on a topical theme and characterized by the inclusion of relatively long, sustained analyses which cut across intellectual disciplines and geographical boundaries. The Socialist Register is published annually in October. The complete digital archive of 50 volumes published in English, as well as 3 volumes translated into Spanish, is available here. To order or subscribe now click here.
Communism and Class Struggle Theory
Welcome to the website of the Swedish journal riff-raff. Here you can read some of our texts that have been translated into English, French and other languages. Current issue News and updates 30 March 2014Sic no. 2 can now be ordered from us. 14 March 2012 Théorie Communiste is organising a meeting in France this summer dedicated to the journal Sic and to various burning questions.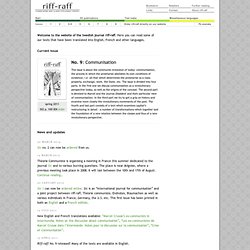 Lena Lavinas: 21st Century Welfare Latin America as laboratory for conditional cash transfers, fast becoming the hegemonic social-protection paradigm for the Global South. In a comparative survey, Lena Lavinas reveals the CCT model as a strategy for the financialization—not abolition—of poverty. Gabriel Piterberg: Euro-Zionism and its Discontents Engagement with the work of Hebrew poet Yitzhak Laor on the origins and function of the new Holocaust remembrance culture in Germany, Italy and France. What relation does this bear to parallel developments in Israel and the United States?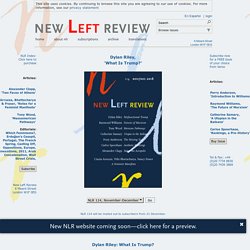 Variant | Archive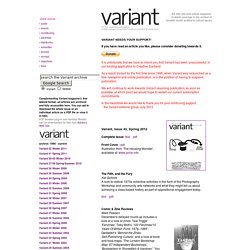 If you have read an article you like, please consider donating towards it. It is unfortunate that we have to inform you that Variant has been 'unsuccessful' in our funding application to Creative Scotland. As a result Variant for the first time since 1996, when Variant was relaunched as a free newsprint and online publication, is in the position of having to suspend publication. We will continue to work towards Variant resuming publication as soon as possible, at which point we would hope to restart our current subscription commitments.
In the face of the growing attack on working peoples we are issuing a special call for submissions on the theme of education and political struggle. From students in Quebec to teachers in British Columbia and across the globe education is a critical site of class struggle -pun intended;). We are looking for full length articles, short commentaries, photo essays - you name it we'll consider it for this special issue. Please submit using our online system by September 15, 2012. Items will be reviewed as they arrive. New Proposals calls for submissions of papers, commentaries, reflections and photo essays that showcase progressive scholarship.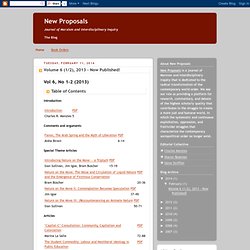 New Proposals