Potentielle Zulieferer
Zirkeltraining™ by Bernd Dörr Recycling Goods ★ Lovely Recycled Vintage Bags ★ Upcycling Deluxe ★ Taschen aus schön gebrauchten Sportgeräte-Leder und Turnmatten
© since 2007 Bernd Dörr Recycling Goods & Kochstrasse™ Agentur für Marken GmbH, MarkusKreykenbohm - Impressum & Haftungsausschluss/Impress & Disclaimer© since 2007 Photographie Maria Brinkop Fotografie – Zirkeltraining™ is a registered Trademark of Bernd Dörr Recycling Goods | All rights reserved. Liebe Sportsfreunde: Unterstützt doch bitte auch die »Förderung des Leistungs- und Behindertensports« der Katarina Witt Stiftung. Zirkeltraining™ freut sich besonders über folgende Veröffentlichungen/Nennungen/Auslobungen/Incentive-Kooperationen/Kontakte und Freunde: Zirkeltraining™ is proudly presenting you our friends, partner and cooperations: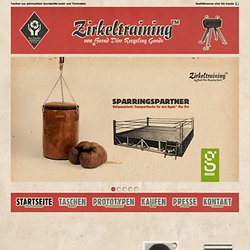 zotter Schokoladen Manufaktur: Startseite
We believe in People We believe in Green Product Solutions We believe in Fairtrade Verkoopweken WISNU gestart op maandag 14 april.Voor de nieuwe Lente en Zomer Collectie 2014 heeft onze designer Max Louhenapessy samen met Benya Art Craft weer een unieke serie aardewerk vazen en schalen ontworpen. Ook van zijn hand is een collectie dierenfiguren van gedraaide stukjes papier. Deze techniek werd al toegepast voor bijvoorbeeld wanddecoraties en fotolijstjes maar vindt
WISNU fairtrade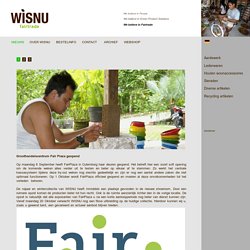 südsinn bietet unverwechselbaren, fair gehandelten Sterling-Silberschmuck nach deutsch-thailändischen Designs (Fair Trade Schmuck). südsinn ist anerkannter Lieferant der Arbeitsgemeinschaft Weltläden Österreich (ARGE) und ist Mitglied im Fair-Band, dem Bundesverband für fairen Import und Vertrieb e.V. Persönlich. Direkt. Fair. Dafür stehen wir.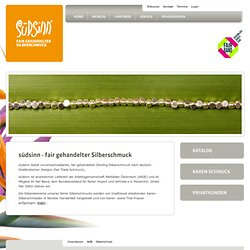 südsinn - fair gehandelter Silberschmuck - fair trade jewellery
re-collect: unique recycled fashion from tyres & inner tubes - home
Attention: open in a new window." Locally sourced inner tubes are recycled to create this unique and feminine handbag. While Imma is an out-and-out ladies' style, she's totally tough, durable and long-lasting in typical KB sustainable fashion. see more bags What goes a-round comes a-round, and that's why we love Lucy. This eco-friendly handbag, hand-crafted from recycled wheelbarrow tubes, epitomizes KB's highly inventive approach to sustainable, ethical design. Each Lucy handbag is bespoke and custom-made, with your choice of zips and fittings. see more bags The Chunky Tread Belt is a spare tyre your waist will love you for. KB tyre belts, as with all our eco-fashion designs and men's accessories, are hand-crafted from recycled materials, and can be custom-made according to your preferred colour and tread. see more belts As we know, it's hip to be square, and the Square Purse artfully melds designer appeal with KB's green, ethical design methods.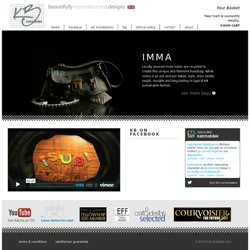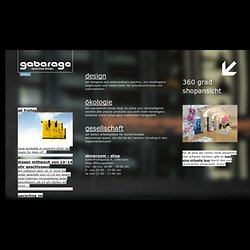 design wir designen aus aktenordnern taschen, aus bowlingpins kegelvasen und vieles mehr. für privatkund/innen und unternehmen. ökologie
upcycling design
Synthesis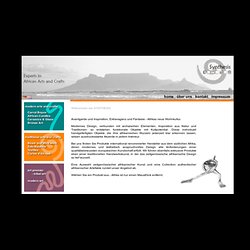 Avantgarde und Inspiration, Extravaganz und Fantasie - Afrikas neue Wohnkultur. Modernes Design, verbunden mit archaischen Elementen, Inspiration aus Natur und Traditionen: so entstehen funktionale Objekte mit Kultpotential. Diese individuell handgefertigten Objekte, die ihre afrikanischen Wurzeln jederzeit klar erkennen lassen, setzen ausdrucksstarke Akzente in jedem Interieur. Bei uns finden Sie Produkte international renommierter Hersteller aus dem südlichen Afrika, deren modernes und ästhetisch anspruchvolles Design alle Anforderungen einer qualitätsbewussten europäischen Kundschaft erfüllt. Wir führen ebenfalls exklusive Produkte eben jener traditionellen Handwerkskunst, in der das zeitgenössische afrikanische Design so tief wurzelt.
Commandez en ligne vos chaussures écologiques El Naturalista ! La boutique de mode éthique Ethic & Chic vous livre vos chaussures et accessoires El Naturalista : large choix et nombreux coloris, prix doux et livraison gratuite, service clientèle à l'écoute et réactif, conseil et suivi sur mesure. Depuis 2005, Ethic & Chic s'engage en faveur du bio et de l'équitable.
ETHIC & CHIC | mode ethique, ecologique & responsable, vetements bio & commerce equitable - Toulouse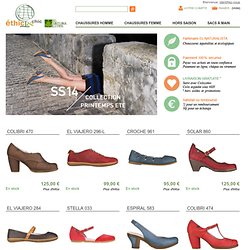 dyrtdesign.com
· · PANGEA ORGANICS · Organic Soap, Bodycare and More · ·
Start - Hängestühle & Hängematten von Mira Art
Banyan Tree Hotels & Resortsclose The Banyan Tree Experience In days gone by, the Banyan tree provided shade and shelter to weary travellers. Symbolising the relief and comfort provided by nature, we adopted the name for our special group of hotels that stretches across the globe and offers rest and relaxation to the world-weary. The leading international operator in the boutique resort, residences and spa industry, Banyan Tree offers a signature blend of romance and travel with a green conscience. The philosophy behind the hotels, resorts, residences, spas, retail galleries and destination club is based on rejuvenation of the body, mind and soul – a Sanctuary for the Senses. With attentive yet discreet staff, Banyan Tree Hotels and Resorts provide naturally-luxurious, ecological, culture-sensitive experiences for the discerning, responsible traveller.They are quite simply, the way things should be.
Luxury Resorts & Hotels - Bali, Maldives, Phuket, China & Mexico | Banyan Tree
DrOldhaver.de: Home
One Thread Fair Trade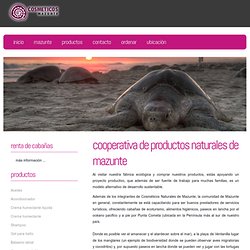 Al visitar nuestra fábrica ecológica y comprar nuestros productos, estás apoyando un proyecto productivo, que además de ser fuente de trabajo para muchas familias, es un modelo alternativo de desarrollo sustentable. Además de los integrantes de Cosméticos Naturales de Mazunte, la comunidad de Mazunte en general, constantemente se está capacitando para ser buenos prestadores de servicios turísticos, ofreciendo cabañas de ecoturismo, alimentos higiénicos, paseos en lancha por el océano pacifico y a pie por Punta Cometa (ubicada en la Península más al sur de nuestro país. Donde es posible ver el amanecer y el atardecer sobre el mar), a la playa de Ventanilla lugar de los manglares (un ejemplo de biodiversidad donde se pueden observar aves migratorias y cocodrilos) y, por supuesto paseos en lancha donde se pueden ver y jugar con las tortugas que Mazunte protege, en su hábitat natural. ¡Te invitamos a que conozcas Mazunte y su gente!
COSMETICOS NATURALES MAZUNTE | Cosmeticos Naturales Mazunte
escape Rockhouse is a boutique hotel stretching across the cliffs of Pristine Cove. Nestled amongst eight acres of tropical lush gardens, thatched roofed villas are perched on the water's edge.
Boutique Hotel and Spa | Luxury Accommodation | Negril Jamaica Caribbean | Rockhouse Hotel | Rockhouse Hotel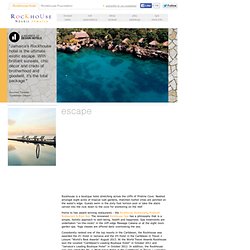 Founded in Botswana in 1983, Wilderness Safaris is widely acclaimed as the continent's foremost ecotourism operator. We give our guests life-changing journeys in some of the most remote and pristine areas in Africa and in so doing help conserve Africa's spectacular biodiversity and share ecotourism's benefits with rural people. We offer private access to more than three million hectares (nearly eight million acres) of Africa's finest wildlife and wilderness areas through more than 50 luxury camps and safaris across nine African countries: Botswana, Congo (Brazzaville), Kenya, Malawi, Namibia, Seychelles, South Africa, Zambia and Zimbabwe.
Wilderness Safaris – Luxury African safaris, accommodation & camps promoting ecotourism and conservation
Magno wooden radio - Eco Design - Distributor for Europe / Importeur
excessories schmucklifestyle & mehr… Silberschmuck, Fashion- und Home & Living Accessoires, Silberschmuck-Vertrieb
Liebevoll ausgesuchte Vintagestoffe, welche nur begrenzt erhältlich sind, werden in einer Werkstatt für angepasstes Arbeiten von Hand produziert. Dem Design sind bei den Vintage-Schmuckstücken keine Grenzen gesetzt: mit kleine Ösen aus 925/- Sterlingsilber zum Anbringen der geliebten Schmuckanhänger, mit Perlmuttanhänger oder Silber-Accessoires. Manche können sowohl als Armband wie auch als Kette getragen werden.
Homepage - Side by Side Design
KonstantinSlawinski.com - Housewarming Objects
Sarana Import Handicrafts
Artecnica
Certified Fair Trade, Handcrafted Shea Butter
The ethical shop of decoration, recycled paper objects, Fashion accessories, bags in natural and recycled materials - Marron Rouge
SMATERIA - CAMBODIA - BAGS AND ACCESSORIES MADE FROM RECYCLED MATERIALS - MOSQUITO NET - TETRAPAK - PLASTIC BAGS - Web Links
ELMOTO – E-Bike – Kleinkraftrad mit Elektroantrieb – urban lifestyle mobility