Social strategy
Blog strategy
Survey: Online Consumers Prefer 'Social' Sign-in. Three out of four consumers who use social networking sites say they would rather leave a site that requires that they register in order to access that site than comply, according to a recent survey.
What's more, 76 percent of consumers said they have purposely given inaccurate or incomplete information when required to register for a site, and 45 percent have left a website rather than reset passwords or answer security questions when they have forgotten their login information. In addition, two-thirds of those polled want sites they visit to support "social sign-in" (SSI), using a single sign-on technology like Microsoft Live ID or Facebook to let consumers use their SSI, to automatically log them into sites.
Going Viral Visualized [INFOGRAPHIC] | Share on LinkedIn. The baby who laughs at ripping paper.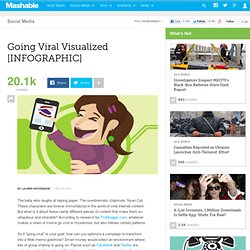 The overdramatic chipmunk. Nyan Cat. Man Uses Internet Memes for Marriage Proposal. Like a boss, a man recently interrupted his girlfriend's dinner to propose to her with Internet memes.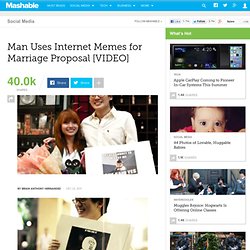 Timothy Tiah Ewe Tiam sneaked up on his long-time love interest Audrey Ooi Feng Ling at Neroteca, a restaurant in Malaysia, and began showing her poster-sized printed memes such as Socially Awkward Penguin, Y U NO Guy, Victory Baby and Impossibru. Her initial reaction as the man she calls "Fatty" flipped through the first few meme posters: "Oh god please don't let this be a break up WTF," she said in an entertaining blog post days after the proposal. At the end of the meme-ridden surprise, he knelt and confessed, "I'm very nervous and terrified about this, but I love you and I think you're my soul mate.
Social design strategy
Going Viral Visualized. Twitter strategy. Google+ strategy. Five Social Media Hang Ups to Avoid Like the Plague in 2012. There is no better time to take a hard look at your social media program than the beginning of the New Year.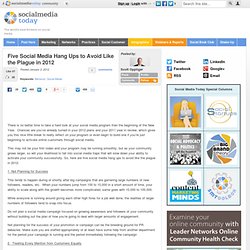 Chances are you've already turned in your 2012 plans and your 2011 year in review, which gives you this nice little break to really reflect on your program or even begin to build one if you're just beginning to activate online customers through social media. This may not be your first rodeo and your program may be running smoothly, but as your community grows larger, so will your likelihood to fall into social media traps that will slow down your ability to activate your community successfully.
Turn Patriots Coach Bill Belichick into a Super Bowl Meme [CONTEST] Before, during or after the Super Bowl game, take a stab at turning Patriots coach Bill Belichick into a meme.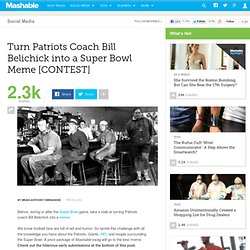 We know football fans are full of wit and humor. So tackle this challenge with all the knowledge you have about the Patriots, Giants, NFL and hoopla surrounding the Super Bowl. A prize package of Mashable swag will go to the best meme.
---