Social
Forget Facebook fans; brands need to target the friends of fans. That's the takeaway of Social Essentials, a new service provided by ComScore, with help from Facebook. The service offers unprecedented insights into the influence of brands through social media, complete with detailed credit card behavior that can link web browsing patterns to purchase decisions. ComScore recently released a white paper based on the data that shows why brands should focus more on the friends of their fans, and engage the most hardcore users with interactions that will ripple throughout their network's newsfeed. The data was collected through a massive survey of privacy-flouting Facebookers who volunteered to have their complete Internet behavior vigorously tracked.
To Spread Your Brand On Facebook, Don't Target Your Fans--Target Their Friends
Hearsay Social Adds Integrated Social Campaigns, $18M in Funding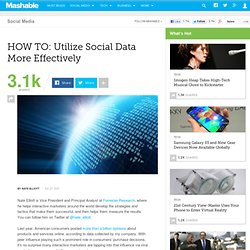 Nate Elliott is Vice President and Principal Analyst at Forrester Research , where he helps interactive marketers around the world develop the strategies and tactics that make them successful, and then helps them measure the results. You can follow him on Twitter at @nate_elliott .
HOW TO: Utilize Social Data More Effectively