Humor
In order to create a , you do not need to be an expert photographer or own expensive photography equipment. You just need to have a standard SLR camera, tripod and a 360-degree panorama software package and of course a good panorama to shoot. Follow these successfully achieving professional results in .
Margaret Thatcher Thinks Sarah Palin Is Nuts, Will Never Meet Her: Pics, Videos, Links, News
The last thing I want to do is hurt you. But it's still on the list.
POPULAR RELIGIONS REFERENCE MANUAL by Tim Saccardo - Artist:...
Some Callers Are Proper Dementor (I have a caller named Victor Krumm in the computer system. I'm a Harry Potter fan.) Me: "Okay, sir, so you're Victor Krumm?"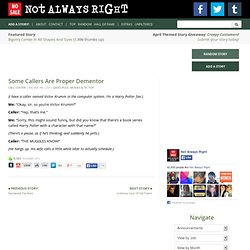 Rain Price will never forget the first day of his sophomore year of high school. On the , packed with classmates from his suburban Utah school, Rain peered out the window, mortified. "The school bus for the first time ever came down our street this year," explains Rain's dad, Dale, to Utah's Daily Herald.
The Price family - Dad plays best prank ever on teenage son on Shine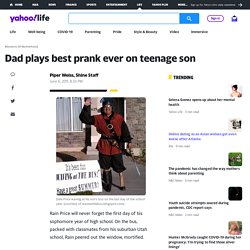 The 7 Most Bizarrely Unlucky People Who Ever Lived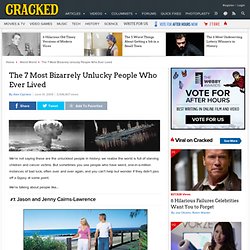 We're not saying these are the unluckiest people in history; we realize the world is full of starving children and cancer victims. But sometimes you see people who have weird, one-in-a-million instances of bad luck, often over and over again, and you can't help but wonder if they didn't piss off a Gypsy at some point. We're talking about people like...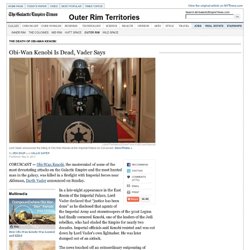 Obi-Wan Kenobi Is Dead, Vader Says - Galactic Empire Times
Lobot/TheGalacticEmpireTimes & Bill Lane/Seduced Lord Vader announced the killing of Obi-Wan Kenobi at the Imperial Palace on Coruscant. More Photos »
You are here: Home / Humor / Top 10 Hilarious Websites Of Human Misery It's seems like people have always been hardwired to laugh at the misfortune of others. It transcends all cultures, nations, and ages.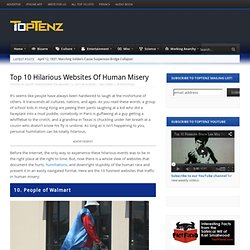 Disney planned William and Kate's wedding! | Eclipse Now
I looked up my old post about LASIK surgery recently so I could give the link to a friend who's considering the procedure. I'm not sure what word best describes the feeling I get when reading old posts, but it's similar to the feeling I get when looking at old yearbook photos . It's some combination of surprised/awkward/insightful/nostalgic. Surprawkinosalgic?
You'll laugh your ass off. (I did.)