Descriptions
Improving Your Social Experience: This Week In Social Media
Welcome to our weekly edition of what's hot in social media news. To help you stay up-to-date with social media, here are some of the news items that caught our attention. What's New This Week? Tumblr Improves Blog Optimization Features: After Blogger upgraded their blogging platform thanks to new technology, it's Tumblr's turn to improve their blogging platform. Tumblr now makes it easy to customize your Tumblr blog and gives you "themes organized by category, realtime previews, and an advanced code editor."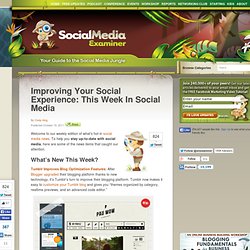 The Ultimate Social Media Guide: 31 Tips for Facebook, Twitter, Google+ And More
More than 30 performance-enhancing tips to energize your online sharing! Sure, you use Facebook, but do you own Facebook? Can you make it do anything you want it to do? And, yes, you tweet. Many tech enthusiasts do.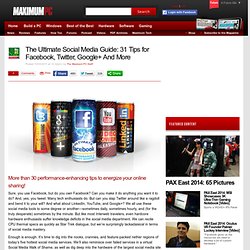 It's not hard to find some general facts and figures about the 5 most popular social media networks. A quick Google search yields a plethora of information thanks to Wikipedia and other related sites. Heck, there's even a movie coming out about the origin of Facebook. But what about the less well-known facts about the social networks we know and love (and hate)? Thanks to Danny Brown , we now know much more about each of the top 5 social networks. The list includes interesting and even mind-boggling facts about Twitter, Facebook, LinkedIn, YouTube, and RSS.
50 Surprising Facts About Social Media
Why every student should be on Twitter
A lot of students turn their nose up at Twitter still, and it baffles me. As a user I am naturally more inclined to be positive about the service. Not necessarily. It's like Marmite. You either love it, or you don't.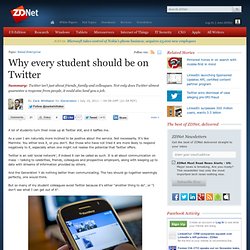 media//Files/Reports/2011/PIP - Social networking sites and our lives.pdf
10 Ways Universities Share Information Using Social Media
Vadim Lavrusik is a new media student at the Columbia University Graduate School of Journalism. He is @lavrusik on Twitter and blogs at Lavrusik.com. Instead of focusing their attention on promoting information to mainstream media, some university public affairs offices are using the power of social media to engage the community directly. In many cases, social media tools like Facebook Pages have given universities an opportunity to speak to audiences on their own, reaching thousands of people interested in keeping up with news at the school and connecting with others on the social network. Universities are constantly exploring new ways to use social media to fulfill their missions of engaging and sharing knowledge with their constituents. Below are just 10 highlights of how universities are using social media for public affairs.