Social work blogs/links
High Speed Internet WebMail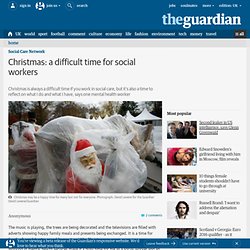 The music is playing, the trees are being decorated and the televisions are filled with adverts showing happy family meals and presents being exchanged. It is a time for family, for celebrations and for parties. I like Christmas. Working in mental health services make it a busy time for me as a social worker and an approved mental health professional (AMHP). For as long as I've worked in social care, which is more years than I'd like to recount, I've worked over Christmas. From end of November onwards, the team, reduced to a skeleton staff over Christmas, begins to feel the lid being released from the pressure cooker and the busy steam of stress escaping in terms of the referrals that come in – though we do have a higher number of emergency referrals.
Christmas: a difficult time for social workers | Social care network | Guardian Professional
Resilience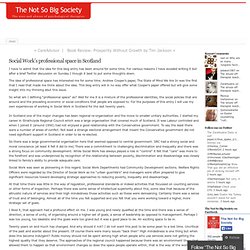 I have to admit that the idea for this blog entry has been around for some time. For various reasons I have avoided writing it but after a brief Twitter discussion on Sunday I though it best to put some thoughts down. The idea of professional space has interested me for some time. Andrew Cooper's paper, The State of Mind We Are In was the first that I read that made me think about the idea. This blog entry will in no way offer what Cooper's paper offered but will give some insight into my thinking abut this issue. So what am I defining "professional space" as?
Social Work's professional space in Scotland
I'm watching twitter, google+ and the web so you don't have to... This post is part of a weekly series, Best Tweets in Mental Health, featuring the best posts of the week, in social work, psychology, mindfulness, non-profit and private practice concerns on Social Work Career Development. Social Work:
Best Tweets in Mental Health (wk of 12/5/2011)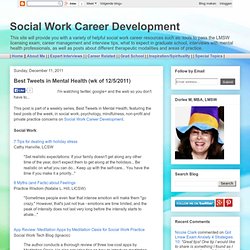 App Review: Meditation Apps by Meditation Oasis for Social Work Practice « Social Work Tech Blog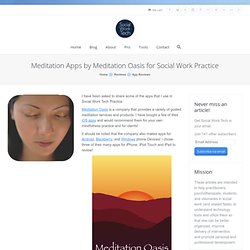 I have been asked to share some of the apps that I use in Social Work Tech Practice. Meditation Oasis is a company that provides a variety of guided meditation services and products. I have bought a few of their iOS apps and would recommend them for your own mindfulness practice and for clients! It should be noted that the company also makes apps for Android, Blackberry, and Windows phone Devices! I chose three of their many apps for iPhone, iPod Touch and iPad to review!
Registration consultation for social workers - 12/7/2011 - Community Care
A Day in the Life of a Prison Social Worker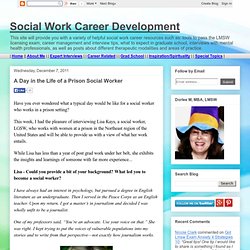 Have you ever wondered what a typical day would be like for a social worker who works in a prison setting? This week, I had the pleasure of interviewing Lisa Kays, a social worker, LGSW, who works with women at a prison in the Northeast region of the United States and will be able to provide us with a view of what her work entails. While Lisa has less than a year of post grad work under her belt, she exhibits the insights and learnings of someone with far more experience... Lisa - Could you provide a bit of your background? What led you to become a social worker? I have always had an interest in psychology, but pursued a degree in English literature as an undergraduate.
Newborn Somerset baby was failed by council - social worker's warnings were ignored
A critique of the potential for notions of preventative work to reinforce the social control functions of social work
conference last week, where I gave a paper based on my persona; reflections on the relationship between consensual social work and neoliberalism. These are my notes: Most people I know, including myself, came into to social work to make a difference. It may sound somewhat trite but we wanted to help people – particularly those experiencing oppression, misery, tyranny and poverty.
Compassion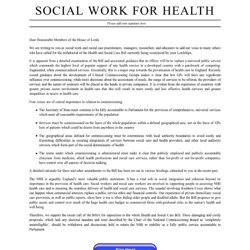 Social Work For Health ›
Dear Honourable Members of the House of Lords We are writing to you as social work and social care practitioners, managers, researchers and educators to add our voice to many others who have called for the withdrawal of the Health and Social Care Bill currently being scrutinised by your Lordships. It is apparent from a detailed examination of the Bill and associated guidance that its effects will be to replace a universal public service which commands the highest level of popular support of any health service in a developed country with a patchwork of competing, fragmented, often commercialised services. Essentially, this is a major step towards the privatisation of health care in England.
Allyson Pollock
The right to the highest attainable standard of health is the internationally agreed objective of national health systems. The right covers universal access to health care and social factors governing the health of populations, such as access to safe and adequate drinking water, sanitation, food, and housing. Prof Allyson Pollock and her colleagues undertake research and teaching intended to assist realisation of these principles of social justice and public health, looking in particular at heath systems research, trade, and pharmaceuticals. A strong emphasis is on developing critical analysis through education and research and through translating research findings into policy at the national and international level. The work is interdisciplinary, including epidemiology, law, statistics, economics, accounting, sociology, and anthropology.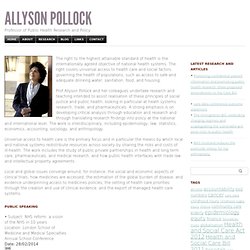 Social Media and the Future of Higher Education
Social media are not going to enhance higher education- they are going to completely transform the relationship between student and teacher and shift the balance of power in the education system.Social media such as Facebook have already changed many of the aspects of how we relate to other people, who we can form relationships with and the types of things we share with them. Many businesses are now using social media to interact with their customers in different ways and use them as brand ambassadors or answer their concerns and complaints in a much more direct way. Entertainers and writers are also using social media to interact with their public in more direct ways. The other day I got a direct tweet from an author whose books I read in repsonse to a tweet I made about the work of another author. That type of interaction would have been highly unlikely a few years ago.The education industry ought to be at the forefront of embracing new technologies.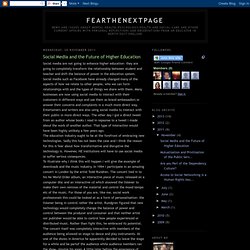 CQC board member calls for chief Cynthia Bower to resign - 11/29/2011 - Community Care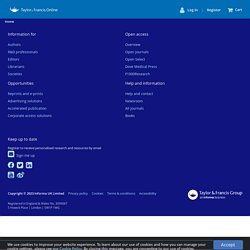 This site uses cookies to improve performance. If your browser does not accept cookies, you cannot view this site. Setting Your Browser to Accept Cookies There are many reasons why a cookie could not be set correctly. Below are the most common reasons:
A series of scandals have exposed a lack of understanding of social care in the ranks of both Ofsted and the Care Quality Commission. The watchdogs need to learn from the wisdom of those delivering the service How the mighty are fallen! There used to be tremendous respect for bankers. Then they got too greedy.
Social care inspectors have lost respect | Public Finance Opinion
Reading Community Care, I saw that NLGN (New Local Government Network) have published a report stating that the 'rush towards personal budgets' must be slowed down. I've tried unsuccessfully to find this report on the NLGN website but haven't been able to do so am reliant on the third party reports from Community Care but I thought it raised a number of issues that are worth pondering. The author of the report, Daria Kutsnetsova says in the article .. in a lot of cases, personal budgets do not mean choice and control for service users because people are not given the choice of direct payments.
Rethinking Personal Budgets in Social Care
Probe launched after social worker revelations - Cardiff news - CardiffOnline
A probe has been launched into revelations that Cardiff council social workers fear a child could die because of staff shortages and high caseloads. The five-week inquiry by the Children's and Young People Scrutiny Committee will hear from frontline social workers, as well as senior managers. Union leaders and other relevant organisations, such as the Care Council for Wales, will also be invited to give evidence at the private hearings. The committee will report back with its findings and recommendations to the Liberal-Democrat/Plaid Cymru executive body on January 10. As reported last week, social workers in the council's Intake and Assessment Team fear "unmanageable" caseloads could result in a child's death.
By Daniel Zayas, on Friday, November 11th, 2011 Christina Risley-Curtiss, a professor at the School of Social Work spoke at the fourth installment of the Fall 2011 Humanities Lecture Series. (Cydney McFarland/DD) Almost 100 percent of Americans consider their pets to be family members. "This means they can be included in family violence," said Christina Risley-Curtiss, a professor at the School of Social Work and an expert on childhood animal cruelty. "The Co-Occurrence of Animal and Human Violence," a lecture at the Downtown campus Thursday night, was the fourth installment of the Fall 2011 Humanities Lecture Series.
Lecture discusses connection between animal cruelty and domestic violence | Downtown Devil
Reflection
What is a Deprivation of Liberty? – Thoughts on Cheshire West and Chester Council v P
Safety nets for mentally ill children are full of holes
Social workers failed to monitor elderly man murdered by son - 11/7/2011 - Community Care
Join the discussion
Carlisle university student set to enjoy high life in Central America
Private Equity in Social Care
Empathy and neuroscience: powerful tools for social workers - 10/31/2011 - Community Care
Sensitivity
Is stigma a useful idea?
Defend Social Worker Norbert Ferencz
Press release: new SWAN website launched on 25th October 2011
5 Concerns for Social Workers using Social Media
Best Tweets in Mental Health (wk of 10/17/2011)
Personalisation , Personal Budgets and Demos
Troubleshooting Families