Social work blogs/links
High Speed Internet WebMail. Christmas: a difficult time for social workers | Social care network | Guardian Professional. The music is playing, the trees are being decorated and the televisions are filled with adverts showing happy family meals and presents being exchanged.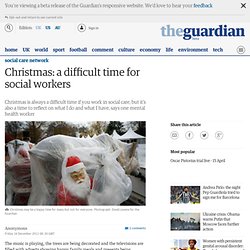 It is a time for family, for celebrations and for parties. I like Christmas. Resilience. Social Work's professional space in Scotland. I have to admit that the idea for this blog entry has been around for some time.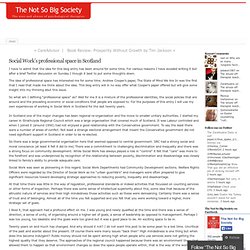 For various reasons I have avoided writing it but after a brief Twitter discussion on Sunday I though it best to put some thoughts down. The idea of professional space has interested me for some time. Andrew Cooper's paper, The State of Mind We Are In was the first that I read that made me think about the idea. This blog entry will in no way offer what Cooper's paper offered but will give some insight into my thinking abut this issue. So what am I defining "professional space" as? Best Tweets in Mental Health (wk of 12/5/2011) I'm watching twitter, google+ and the web so you don't have to...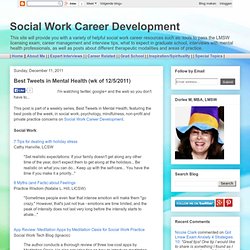 This post is part of a weekly series, Best Tweets in Mental Health, featuring the best posts of the week, in social work, psychology, mindfulness, non-profit and private practice concerns on Social Work Career Development. Social Work: App Review: Meditation Apps by Meditation Oasis for Social Work Practice « Social Work Tech Blog. Registration consultation for social workers - 12/7/2011. The Health Professions Council has today launched a consultation on setting the registration cycle for social workers in England.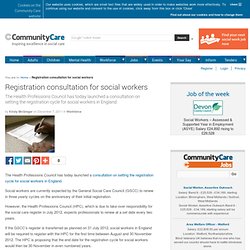 Social workers are currently expected by the General Social Care Council (GSCC) to renew in three yearly cycles on the anniversary of their initial registration. However, the Health Professions Council (HPC), which is due to take over responsibility for the social care register in July 2012, expects professionals to renew at a set date every two years.
A Day in the Life of a Prison Social Worker. Have you ever wondered what a typical day would be like for a social worker who works in a prison setting?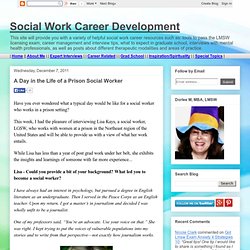 This week, I had the pleasure of interviewing Lisa Kays, a social worker, LGSW, who works with women at a prison in the Northeast region of the United States and will be able to provide us with a view of what her work entails. While Lisa has less than a year of post grad work under her belt, she exhibits the insights and learnings of someone with far more experience... Lisa - Could you provide a bit of your background? What led you to become a social worker? I have always had an interest in psychology, but pursued a degree in English literature as an undergraduate. Newborn Somerset baby was failed by council - social worker's warnings were ignored. A judge has criticised social services at North Somerset Council A judge has criticised social services at a district council for a "grave failure" which resulted in a newborn baby suffering multiple injuries at the hands of her inadequate parents, a court heard.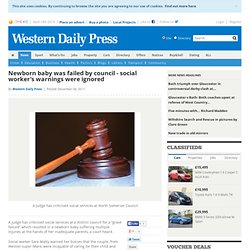 Social worker Sara Matty warned her bosses that the couple, from Weston-super-Mare, were incapable of caring for their child and urged that the baby be placed in a mother and baby residential unit. A critique of the potential for notions of preventative work to reinforce the social control functions of social work. Compassion. Social Work For Health › Allyson Pollock. Social Media and the Future of Higher Education. Social media are not going to enhance higher education- they are going to completely transform the relationship between student and teacher and shift the balance of power in the education system.Social media such as Facebook have already changed many of the aspects of how we relate to other people, who we can form relationships with and the types of things we share with them.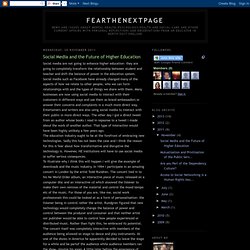 Many businesses are now using social media to interact with their customers in different ways and use them as brand ambassadors or answer their concerns and complaints in a much more direct way. Entertainers and writers are also using social media to interact with their public in more direct ways. The other day I got a direct tweet from an author whose books I read in repsonse to a tweet I made about the work of another author.
That type of interaction would have been highly unlikely a few years ago.The education industry ought to be at the forefront of embracing new technologies. CQC board member calls for chief Cynthia Bower to resign - 11/29/2011. A Care Quality Commission board member has called for the resignation of chief executive Cynthia Bower over a failure of leadership at the regulator.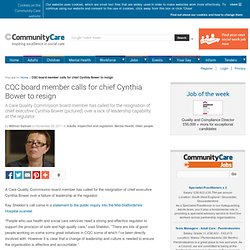 Kay Sheldon's call came in a statement to the public inquiry into the Mid-Staffordshire Hospital scandal. "People who use health and social care services need a strong and effective regulator to support the provision of safe and high quality care," said Sheldon. "There are lots of good people working on some some great initiatives in CQC some of which I've been directly involved with. However it is clear that a change of leadership and culture is needed to ensure the organisation is effective and accountable." As quoted in The Guardian, she said: "I do not see how the organisation can move forward in a robust, coherent or useful way without better leadership. We need a chief executive that can manage the organisation and currently we do not have that." An Error Occurred Setting Your User Cookie. This site uses cookies to improve performance.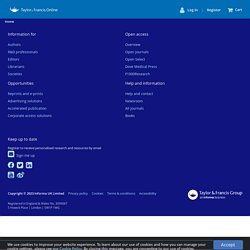 If your browser does not accept cookies, you cannot view this site. Setting Your Browser to Accept Cookies There are many reasons why a cookie could not be set correctly. Below are the most common reasons: Social care inspectors have lost respect. A series of scandals have exposed a lack of understanding of social care in the ranks of both Ofsted and the Care Quality Commission.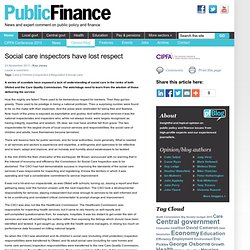 The watchdogs need to learn from the wisdom of those delivering the service How the mighty are fallen! There used to be tremendous respect for bankers. Then they got too greedy. Rethinking Personal Budgets in Social Care. Reading Community Care, I saw that NLGN (New Local Government Network) have published a report stating that the 'rush towards personal budgets' must be slowed down. I've tried unsuccessfully to find this report on the NLGN website but haven't been able to do so am reliant on the third party reports from Community Care but I thought it raised a number of issues that are worth pondering. The author of the report, Daria Kutsnetsova says in the article .. in a lot of cases, personal budgets do not mean choice and control for service users because people are not given the choice of direct payments.
Probe launched after social worker revelations - Cardiff news - CardiffOnline. A probe has been launched into revelations that Cardiff council social workers fear a child could die because of staff shortages and high caseloads. The five-week inquiry by the Children's and Young People Scrutiny Committee will hear from frontline social workers, as well as senior managers. Union leaders and other relevant organisations, such as the Care Council for Wales, will also be invited to give evidence at the private hearings. The committee will report back with its findings and recommendations to the Liberal-Democrat/Plaid Cymru executive body on January 10. As reported last week, social workers in the council's Intake and Assessment Team fear "unmanageable" caseloads could result in a child's death. Lecture discusses connection between animal cruelty and domestic violence | Downtown Devil. By Daniel Zayas, on Friday, November 11th, 2011 Christina Risley-Curtiss, a professor at the School of Social Work spoke at the fourth installment of the Fall 2011 Humanities Lecture Series.
(Cydney McFarland/DD) Almost 100 percent of Americans consider their pets to be family members. "This means they can be included in family violence," said Christina Risley-Curtiss, a professor at the School of Social Work and an expert on childhood animal cruelty. "The Co-Occurrence of Animal and Human Violence," a lecture at the Downtown campus Thursday night, was the fourth installment of the Fall 2011 Humanities Lecture Series. Reflection. November edition of Social Work Matters out now! Opinion: Peter Beresford recommends 'Mad Matters', a new book from Canada for mental health service users, workers and families on how to combine insight and understanding with making change. Practice: Fareena Shaheed discusses research into how 'interactional' supervision can build relationships between social workers and their managers. Interview: Sally Gillen interviews social workers who are helping adults who belatedly find they have mild autism shed light on some of their life experiences and adapt for the future.
What is a Deprivation of Liberty? – Thoughts on Cheshire West and Chester Council v P. I accept that this post is about something of a niche in the corner of health and social care but it's an area I have some interest in as I'm a Best Interests Assessor. This is going to be a long haul of a post so I'll start this time with a glossary. Deprivation of Liberty Safeguards – particular additions to the Mental Capacity Act which were supposed to fix a 'gap' (known as the Bournewood Gap – see below) in UK legislation where people without capacity could be 'deprived of their liberty' in a hospital or care home without leave to appeal.
Safety nets for mentally ill children are full of holes. Social workers failed to monitor elderly man murdered by son - 11/7/2011. Join the discussion. Carlisle university student set to enjoy high life in Central America. Private Equity in Social Care. Empathy and neuroscience: powerful tools for social workers - 10/31/2011. Sensitivity. Is stigma a useful idea? Defend Social Worker Norbert Ferencz. Press release: new SWAN website launched on 25th October 2011. 5 Concerns for Social Workers using Social Media. Best Tweets in Mental Health (wk of 10/17/2011) Personalisation , Personal Budgets and Demos. Troubleshooting Families.
---