SOCIAL TOOLS
How to Find Influencers in Your Industry. No matter what type of business you have, there are likely some people who could be considered influencers in your industry, or one closely related to it.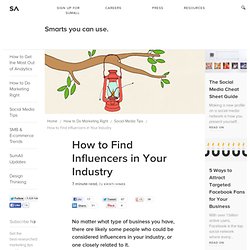 Influencers can help you with your business in many ways, from being a role model/source of inspiration to helping spread the word about your business in order to give you more exposure. If you are looking for influencers within your industry, here are some tools that can help you out. Followerwonk One of the best ways to start engaging with influencers is through Twitter. Why? 29 Social Media Tools Recommended by the Pros. Are you looking for ways to enhance your social media marketing?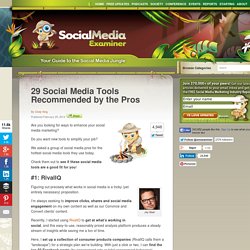 Do you want new tools to simplify your job? We asked a group of social media pros for the hottest social media tools they use today. Giving Thanks: 37 Best and Most Powerful Marketing Tools. 48ers - Realtime Social Search. BlinkList.com - Discover, Blink & Share. Il vino dall'anfora al Barricoccio  by Elisabetta Tosi. Tweet2Cite. 45 Social Media Tools and Tips to Improve Your Marketing. Are you looking for some practical tips and tools to help with your social media marketing?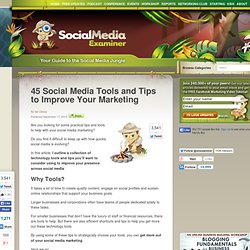 Do you find it difficult to keep up with how quickly social media is evolving? In this article, I outline a collection of technology tools and tips you'll want to consider using to improve your presence across social media. Followerwonk: Twitter analytics, follower segmentation, social graph tracking, & more. Brainstorming and Voting Amazingly Easy. Free Online Tool | tricider. Three Cool and Inexpensive Tools to Track Twitter Hashtags. Judging by the outcry over Tweetchat having to close, due to Twitter's new API restructuring, and the interest shown in replacement platforms, it's fair to say that Twitter chats continue to be popular for both Twitter users and brands alike.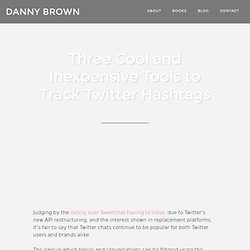 The ease in which topics and conversations can be filtered using the hashtag on Twitter enforces the idea that, when done right, Twitter chats and their attached hashtags are a great way to solicit feedback, user experience, crowdsourcing and more. To make that ease even more effective, here are three cool hashtag trackers that don't need a second mortgage to use. 1. Tagboard The first platform is one I came across just last week, called Tagboard.
Crea un blog gratis - Il blog dei blog - Directory dei blog di OverBlog. 50 Tools per il Social Media Monitoring: come analizzare la nostra comunità online Ma-No Web Design and Development Agenzia di Web Design e Programmazione Web con sede a Maiorca. Per avviare un business di successo nel mondo connesso ed iperconnesso di oggi, abbiamo bisogno di costruire una vera e propria comunità attorno alla nostra azienda, una marca ed un prodotto.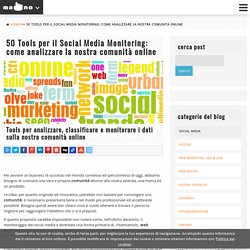 Un'idea, per quanto originale ed innovativa, potrebbe non bastare per coinvolgere una comunità : è necessario presentarla bene e nel modo più professionale ed accattivante possibile. Bisogna quindi avere ben chiaro cosa si vuole ottenere e trovare il percorso migliore per raggiungere l'obiettivo che ci si è preposti. A questo proposito sarebbe impossibile non notare come, nell'ultimo decennio, il monitoraggio dei social media è diventata una forma primaria di, chiamiamolo, web business intelligence , utilizzato per identificare, prevedere e rispondere ai comportamenti dei consumatori e quindi dei potenziali clienti. Followerwonk: Twitter analytics, follower segmentation, social graph tracking, & more. Webinar software. Tackk. ThingLink.
10 Social Media Tools You Need to Stand Out Online. Social media is a prevalent part of our personal and professional lives.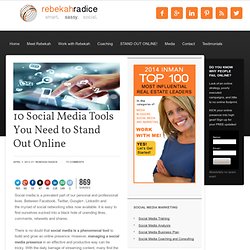 Between Facebook, Twitter, Google+, LinkedIn and the myriad of social networking sites now available. it is easy to find ourselves sucked into a black hole of unending likes, comments, retweets and shares. There is no doubt that social media is a phenomenal tool to build and grow an online presence. However, managing a social media presence in an effective and productive way can be tricky. With the daily barrage of streaming content, many find the overload enough to leave their head spinning and reason enough to run from social media, never looking back.
Yet there's no denying the power of social media marketing and how necessary it is to a business in today's online world. Tagboard. Post better Content. Reach more Fans. Get more Likes. Post Planner. Analyze your Facebook page | Likealyzer.
Crowdbooster: Social Media Marketing Analytics and Optimization. Social Media Management, Monitoring & Analytics Tools: Sendible. Twitter Grader | Get Your Twitter Ranking. Piktochart | Infographic App & Presentation Tool. Get more traffic with VitalViralPro. Welcome to Twitalyzer. The big list of 100 tools, tips and tricks to work more efficiently online. 7.2K Flares Filament.io 7.2K Flares × What does it take to be productive?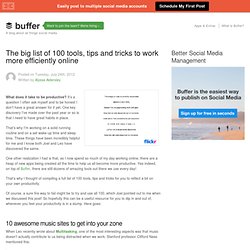 It's a question I often ask myself and to be honest I don't have a great answer for it yet. Teach.
Team manager TRELLO
Twazzup: Realtime News. NodeXL: Network Overview, Discovery and Exploration for Excel. Lista Risorse Utili per Fare un'infografica. Ciao!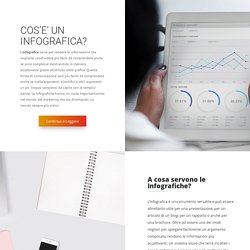 Sembra che tu sia arrivato sul mio blog per la prima volta. Se vuoi rimanere sempre aggiornato sui miei articoli, iscriviti ora ai feed RSS. Draw Diagrams Online using Collaborative Diagram Tools. 30 Creative QR code business cards. There is a lot of buzz around QR codes at the moment, so we thought we would take a look at some of the most creative and stunning QR code business cards on the web.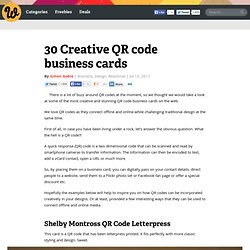 We love QR codes as they connect offline and online while challenging traditional design at the same time. First of all, in case you have been living under a rock, let's answer the obvious question. HOW TO: Set Up and Start Using Twitter in 3 Minutes « Good+Tech. New!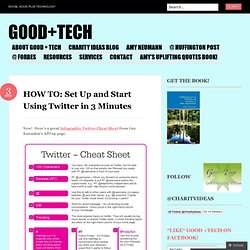 Here's a great Infographic Twitter Cheat Sheet from Guy Kawaskai's AllTop page. Twitter Cheat Sheet Infographic from LexisClick.com 1. QRhacker.com - Pimp your code! HashTracking.com | Twitter Hashtag Tracking and Analytics. Likker - Grow Your Social Network. Get/grow/gain/exchange/boost FREE Facebook likes, Country Targeted Facebook Likes, Facebook Shares, Facebook Photo Likes, Twitter Followers, Retweets, Google Plus Ones (+1), YouTube Views, YouTube Likes, YouTube Favorites, YouTube Subscribes, Linkedin shares, Digg followers, Digg Shares, MySpace Friends, SoundCloud shares, ReverbNation Fans, Free Pinterest Followers and Pins (Pin it), Banner impressions, Reciprocal backlinks, Website views, traffic and earn money while doing it. We allow you to pick and choose who you want to follow, like, friend, view, share, subscribe or visit and skip those who you're not interested in.
With this tool you can also GET MORE REFERRALS on other Social Exchangers FOR FREE. Social+web+monitoring+tools.jpg (528×651) Listorious: Twitter people search and lists directory. Soluzioni di competitive intelligence. Discover. The Hidden Guide to Using Twitter Effectively | CREAVU's Blog. When it comes to social media, there is not that much hidden about how it all works. The issue is that sometimes the information is hard to find in one place. So in this post, we are going to unearth some commonly unanswered questions in standard Twitter how to posts when it comes to getting the most out of your Twitter experience.
What is the New Twitter Activity Stream? You may not have noticed it yet because you spend a lot of time in a Twitter management tool instead of on Twitter itself. But one of the new additions to Twitter is the Activity feed. Twitter alerts via email by Twilert. EdgeRank Checker | Check your Facebook Page's EdgeRank. 15 Free Tools for Web-based Collaboration. No man (or woman) is an island – and this statement can't be any truer if you're a designer or developer.
Though paid/subscription services like Basecamp and Zimbra are great, individuals strapped for cash have a ton of alternatives that provide similar (if not better) features. In this article, you'll find 15 free tools to help you facilitate remote/web-based collaboration. Whether you need basic whiteboarding/brainstorming tools or fully-featured project management applications – you should be able to find a tool or two that's worth checking out. ABC du Mind Mapping - Cours de cartes conceptuelles, cartes heu. Une carte conceptuelle (ou schéma conceptuel, concept map en anglais), dont les variantes sont la mind map, carte des idées ou carte heuristique, est un diagramme qui représente les liens entre différents concepts. Elle peut être également appelée schéma de pensée, carte mentale, arbre à idées ou topogramme.
La différence entre une carte heuristique et une carte conceptuelle est que cette dernière relie un ensemble de concepts entre eux par des lignes orientées et qualifiées (est un composant de.., favorise). De plus, elle prend la forme d' un graphe alors que la carte heuristique est un arbre. Ces cours en diapositives animées, vidéo, ppt, pdf et ces cartes conceptuelles sont distribués sous licence Creative Commons : à condition de me citer et de mettre un lien vers cette page, vous pouvez les réutiliser ou les modifier dans un cadre non-commercial, mais vous devez ensuite les publier aux mêmes conditions. Trailmeme creates retraceable, social Web history | Web Crawler. Real Time Search - Social Mention.
Start 2012 by Taking 2 Minutes to Clean Your Apps Permissions. SEO Analysis, Free SEO Tools, Online Professional SEO Tools. GroupTweet | Helping groups communicate privately via Twitter - Twitter Groups are here! Gremln | Gremln.com - Professional Social Media Tools. Socialbakers ❶ Social media (Facebook, Twitter…) marketing, statistics & monitoring.
Tools to Boost Your Social Media Productivity » SocialOomph.com. SocialBro - Explore your Twitter community. Home | Compete. Informazioni su Meetup. Analyzing the connections between friends and followers. Online survey software - conduct your customer surveys and polls with Polldaddy | Polldaddy.com. Kred - Measurable Influence. The Archivist By Mix Online. Tweetwally - Create a Tweetwall to Organize and Present Tweets.
---