Geography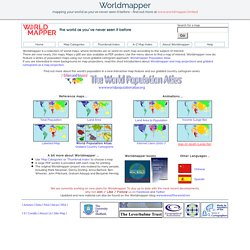 Worldmapper is a collection of world maps, where territories are re-sized on each map according to the subject of interest. There are now nearly 700 maps. Maps 1-366 are also available as PDF posters. Use the menu above to find a map of interest. In 2009 we added a series of maps of the world's population using a gridded cartogram approach: Worldmapper Population Atlas If you are interested in more background on map projections, read the short introductions about Worldmapper and map projections and gridded cartograms as a map projection. Find out more about the world's population in a new interactive map feature and our gridded country cartogram series:
dizzo95's Channel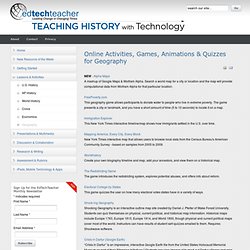 Geography
NEW - Alpha Maps A mashup of Google Maps & Wolfram Alpha. Search a world map for a city or location and the map will provide computational data from Wolfram Alpha for that particular location. FreePoverty.com This geography game allows participants to donate water to people who live in extreme poverty. The game presents a city or landmark, and you have a short amount of time (5 to 10 seconds) to locate it on a map. Immigration Explorer This New York Times interactive timeline/map shows how immigrants settled in the U.S. over time. Mapping America: Every City, Every Block New York Times interactive map that allows users to browse local data from the Census Bureau's American Community Survey --based on samples from 2005 to 2009.
Africa on the Matrix: The Zambezi River
Glen Canyon Dam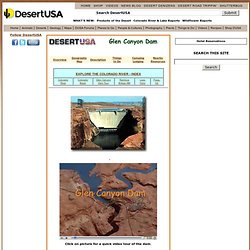 Take a Virtual Tour of the Dam Glen Canyon Dam is the key storage unit in a far-reaching water development plan called the Colorado River Storage Project. When the dam was completed and Lake Powell was formed in 1963, the irregular flows of the Colorado River were brought under control. The now-steady flow from the dam and Lake Powell makes water developments possible throughout the Upper Colorado River Basin and provides a regulated supply of water to meet downstream commitments. The portion of Glen Canyon you can observe downstream from the dam is typical Navajo sandstone, a thick formation that extends downward about 500 feet below the riverbed.
Athena Review: Rivers Seen from Space: Index
free issue back issues subscribe Athena Review Journal of Archaeology, History, and Exploration Rivers Seen from Space: Index Rivers have always been a primary focus of human settlement, and are perhaps the single most consistent natural feature related to the location and discovery of archaeological sites.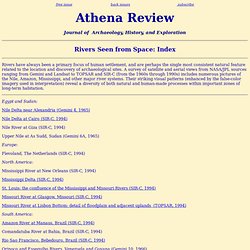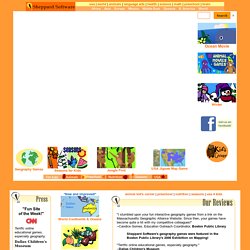 "I stumbled upon your fun interactive geography games from a link on the Massachusetts Geographic Alliance Website. Since then, your games have become quite a hit with my competitive colleagues!" --Candice Gomes, Education Outreach Coordinator, Boston Public Library Sheppard Software's geography games were featured in the Boston Public Library's 2006 Exhibition on Mapping! "Terrific online educational games, especially geography." --Dallas Children's Museum
Earth's physical features
Landforms: Face of the Earth
SOL 2.5 ~ Geography Pop-ups
Explore the Colorado River: Index
desert.htm
Rivers