E-Journals / E-Magazines (full access)
ME_Business & Economics_Journal. Aims & Scope Modern Economy (ME) is an international journal dedicated to the latest advancements in all areas of international economics.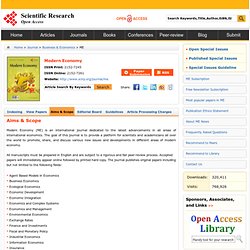 The goal of this journal is to provide a platform for scientists and academicians all over the world to promote, share, and discuss various new issues and developments in different areas of modern economy. All manuscripts must be prepared in English and are subject to a rigorous and fair peer-review process. Accepted papers will immediately appear online followed by printed hard copy. The journal publishes original papers including but not limited to the following fields: Sociologica: Home Page. Computational Culture. HAU: Journal of Ethnographic Theory. Econ Journal Watch: Scholarly Comments on Academic Economics. Interdisciplinary Journal of Research on Religion. Journal of Comparative Fascist Studies. Editor-in-Chief: Nigel Copsey, Teesside University, UK Managing Editor: Marjo Bakker, NIOD Institute for War, Holocaust and Genocide Studies, Amsterdam, NL Consultant Editor: Roger Griffin, Oxford, UK.
Contemporary Issues and Ideas in Social Sciences. COLLeGIUM. Canadian Social Science. Online Submission Email Submission ISSN 1712-8056 [Print] ISSN 1923-6697 [Online]Frequency: BimonthlyLanguage: English; French Founded on May 31th, 2005Release dates:The last day of February, April, June, August, October, DecemberPublisher: Canadian Academy of Oriental and Occidental Culture (CAOOC)E-mail: caooc@hotmail.com; css@cscanada.net; css@cscanada.org Tips for SubmissionManuscripts: The Journal seeks original manuscripts reporting scholarly work on the Humanities and Social Sciences.
Directory of Open Access Journals. Socialism / Marxism focus. Philosophy & Theory in Biology: Welcome. European Journal of Sociology. Interface. Journal of Social Structure. J_spot. Forum Qualitative Sozialforschung / Forum: Qualitative Social Research. The Socjournal. Sociological Research Online. Electronic Journal of Contemporary Japanese Studies. Cybersociology.
---