E-Journals / E-Magazines (full access)
Aims & Scope Modern Economy (ME) is an international journal dedicated to the latest advancements in all areas of international economics. The goal of this journal is to provide a platform for scientists and academicians all over the world to promote, share, and discuss various new issues and developments in different areas of modern economy. All manuscripts must be prepared in English and are subject to a rigorous and fair peer-review process. Accepted papers will immediately appear online followed by printed hard copy. The journal publishes original papers including but not limited to the following fields:
ME_Business & Economics_Journal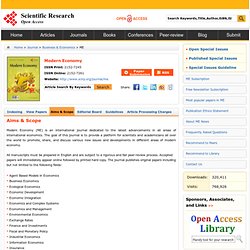 For registered users, discussions on methodological, substantial, and professional issues Qualità della ricerca, equilibri di genere e riforma degli statuti: riportare le università italiane nelle classifiche internazionali. Una proposta Privilegi incorporati e afasie sociologiche Call for papers, conferences, seminars. Deadline for abstract submission: 20th march 2014 ESA 'Youth and Generation Research Network' MidTerm Conference 2014 "Negotiation, navigation, resistance - young people's agency in post-crisis reality in Europe"
Sociologica: Home Page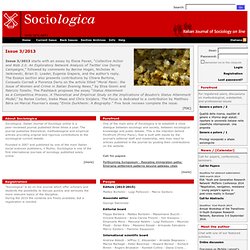 Posted on | November 12, 2013 | Comments Off Editorial for Issue Three Articles Michael Castelle, Relational and Non-Relational Models in the Entextualization of Bureaucracy Evelyn Ruppert, Not just another database: the transactions that enact young offenders Anne Helmond, The Algorithmization of the Hyperlink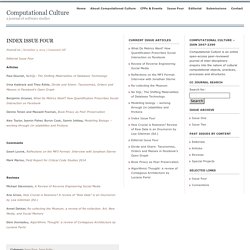 HAU: Journal of Ethnographic Theory
One Swallow Doesn't Make a Summer: In a 2014 AER article, Zacharias Maniadis, Fabio Tufano, and John List grapple with the problem of the credibility of empirical results by presenting a framework for statistical inference. Here Mitesh Kataria discusses some of the assumptions and restrictions of their framework and simulation, suggesting that their results do not, in fact, allow for general recommendations about which inference approach is most appropriate. Maniadis, Tufano, and List reply to Kataria. Should the modernization hypothesis survive the research of Daron Acemoglu, Simon Johnson, James Robinson, and Pierre Yared? New evidence and analysis is provided by Hugo Faria, Hugo Montesinos-Yufa, and Daniel Morales, supporting the hypothesis that there is a long-run positive relation between socio-economic development and political democracy.
Econ Journal Watch: Scholarly Comments on Academic Economics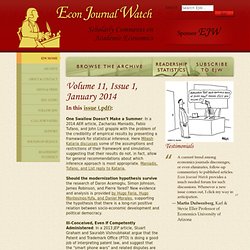 Interdisciplinary Journal of Research on Religion
Journal of Comparative Fascist Studies
Editor-in-Chief: Nigel Copsey, Teesside University, UK Managing Editor: Marjo Bakker, NIOD Institute for War, Holocaust and Genocide Studies, Amsterdam, NL Consultant Editor: Roger Griffin, Oxford, UK
Contemporary Issues and Ideas in Social Sciences
COLLeGIUM
Online Submission Email Submission ISSN 1712-8056 [Print] ISSN 1923-6697 [Online]Frequency: BimonthlyLanguage: English; French Founded on May 31th, 2005Release dates:The last day of February, April, June, August, October, DecemberPublisher: Canadian Academy of Oriental and Occidental Culture (CAOOC)E-mail: caooc@hotmail.com; css@cscanada.net; css@cscanada.org Tips for SubmissionManuscripts: The Journal seeks original manuscripts reporting scholarly work on the Humanities and Social Sciences.
Canadian Social Science
A peer-reviewed open-access online journal that brings together philosophers of science and theoretically inclined biologists to interact across disciplinary boundaries. More... Journal Statistics Acceptance rate: 15% Average time to decision: 4 months
Philosophy & Theory in Biology: Welcome
European Journal of Sociology
Interface
Journal of Social Structure
j_spot
The Socjournal
As far as I am concerned, the sooner Muammar Qaddafi is gone the better. Forty-plus years of his malignant tyranny is more than enough. The only misgivings that I have about deposing Qaddafi is the inordinate time that it took for the global community to unify against him. That said, it is interesting that so few people have elected to use the "W" word in connection with the current US military intervention in Libya. Arguably, given the hostile nature of the US incursion, it seems reasonable to characterize such trespasses as acts of war. However, from the moment that the US began its assault on Libya (as of March 19, 2011), President Obama has worked hard to emphasize that the US is not now, nor will it ever be, at war with Libya.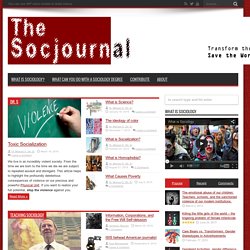 Sociological Research Online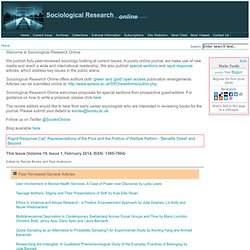 Home Search: Hide Main Tools
Electronic Journal of Contemporary Japanese Studies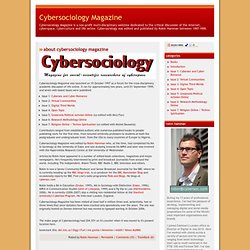 This issue of Cybersociology Magazine was co-edited with Micz Flor from Crash Media Feature Articles The High Tech Gift Economy, by Richard Barbrook, PhD. Richard is the co-ordinator and a founding member of the Hypermedia Research Centre at the University of Westminster. He is co-author with Andy Cameron of "The California Ideology", an important critique of West Coast Neo-Liberalism, and has written a number of books including "Media Freedom" (Pluto, 1995).
Cybersociology