E-Journals / E-Magazines (full access)
Aims & Scope Modern Economy (ME) is an international journal dedicated to the latest advancement of all areas of international economics.
ME_Business & Economics_Journal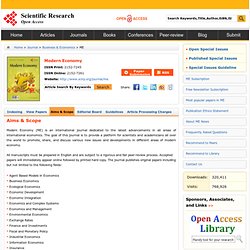 Department of Sociology :: <!-- <iframe src="http://www.facebook.com/plugins/likebox.php?id=107171645888&width=292&connections=10&stream=false&header=true&height=287" scrolling="no" frameborder="0" style="float:right; border:none; overflow:hidden; width:2
We couldn't find the page you asked for. It might have been moved or deleted, or you might have tried the wrong address.