Social Publishing
Bring your passions to life! - Living Junction. TargetAPI - behavioral targeting solution and content personalization technology. Smartr - create and share your personal newspaper. New News360 app for your iPad. The 50+ Best Ways to Curate and Share Your Favorite Social Media and News Content. There's so much information online just begging to be curated: news, social media, images, video, websites… the list goes on.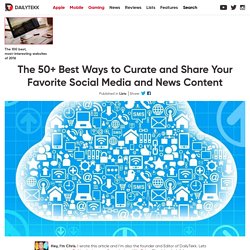 Reading great content from my favorite blogs and websites is one of my favorite down-time activities. It's also an important part of my job as an IT Director because I need to stay on top of the latest trends, announcements and tech news. Just a few years ago, the tools I used to use for reading and consuming content were Google Reader, StumbleUpon, Digg, Delicious… you know all the big names. Flockler. Annotate, capture, organize and share your web search. Ensemba - let great content find you. Netizine. Baker Ebook Framework 3.0. Simplebooklet.com.
Websites That Will Let You Create Digital Magazines and Newspapers. Nowadays, the digital version of print magazines and newspapers are becoming increasingly popular among publishers as they can save printing and postage costs as well as they are able to reach a whole new audience in the online world.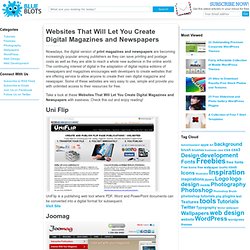 The continuing interest of digital in the adaptation of digital replica editions of newspapers and magazines encourages web developers to create websites that are offering service to allow anyone to create their own digital magazine and newspaper. Some of these websites are very easy to use, simple and provide you with unlimited access to their resources for free. Newsgrape. Livestand from Yahoo! — A personalized living magazine for your iPad ® Créer un e-catalogue, flipbook, pageflip, pdf ... interactif | Zyyne. Zite: Personalized Magazine for iPad. Smore - Design beautiful online flyers and publish instantly. WebTool Mashup. User account - Twournal - Twitter Book of Tweets. Write In Private: Free Online Diary And Personal Journal | Penzu.
Fanpage, storie per il nuovo mondo. Aside. AdJitsu | Go beyond HTML5 with immersive 3D ads. BO.LT | A more interesting way to share. FlipSnack | PDF to Flash page flip - flipping book software. Genieo - A Newspaper Styled Homepage | Start Page | RSS Reader. The Newsmaster Toolkit: Content Curation Tools to Aggregate, Filter, Edit, Curate and Distribute Any Type of Content - updated weekly - Pinterest / Home. Paper.li – Be a publisher. Create stories using social media - storify.com. 3 Social Publishing Apps That Empower Human Curators. Steven Rosenbaum is a curator, author, filmmaker and entrepreneur.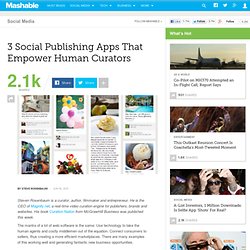 He is the CEO of Magnify.net, a real-time video curation engine for publishers, brands and websites. His book Curation Nation from McGrawHill Business was published this week. The mantra of a lot of web software is the same: Use technology to take the human agents and costly middlemen out of the equation. Connect consumers to sellers, thus creating a more efficient marketplaces. There are many examples of this working well and generating fantastic new business opportunities.
---