Others Social
Kred Story. Via.Me. Friends' Updates on Meebo. Feetbook - Il social network dei piedi. Wunderkit - A new way to organize your life. Forrst is a community for developers and designers. CoupHunter | Social Coupon Meeting. Collaborative Comparison Engine about everything to make decisions easier. Draw Diagrams Online using Collaborative Diagram Tools.
Rebrick. WeRead.com - All about Books, Reviews, Recommendations and Authors. Care2 - largest online community for healthy and green living, human rights and animal welfare. One of the world's largest online social shopping malls connecting sellers with shoppers safely and easily - Multiply. Classmates - Find your school, yearbooks and alumni online. People Search - Find People with MyLife™ CafeMom - Moms Connecting About Pregnancy, Babies, Home, Health, and More. Prevent and reduce headache and neck pain. Mal di testa. Buddies4sport. Scribd. Share Book Recommendations With Your Friends, Join Book Clubs, Answer Trivia.
Issuu - You Publish. aNobii. Find, share & upload documents. Get better grades | wePapers. Docstoc – Documents, Templates, Forms, Ebooks, Papers & Presentations.
Brightkite. Welcome! - WhereBerry. Hello there, Thank you for your interest in WhereBerry.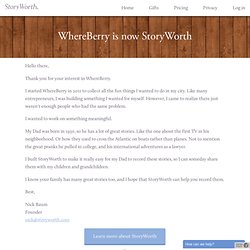 I started WhereBerry in 2011 to collect all the fun things I wanted to do in my city. Like many entrepreneurs, I was building something I wanted for myself. However, I came to realize there just weren't enough people who had the same problem. Www.unthink.com. DIASPORA* ALPHA. Meetifyr | Get Your Friends Together.
The Grove: An online community created to engage and encourage citizens to plant trees and protect the urban tree canopy. Welcome. UP - Urban Profil - Home Page.
---