About Us
Discover Yourself!
A Ruota Libera
svernali
Senior manager with a history of strong team leadership and a passion for delivering important products with a great customer experience. - 11+ years product marketing experience including extensive expertise expanding company / new product launches / product visibility and generating incremental revenue streams in domestic and international markets. - 10+ years Project management & IT experience with excellent leadership and people management and visible success working in cross-functional teams and initiatives Experienced on new European regulation for Payment systems, evolution strategy definition for financial companies and payment institutions according to opportunities and constraints introduced by European Payment Service Directive (PSD) and SEPA.
Devid Jegerson
Salvatore Vernali | LinkedIn
Vernali Web Site - MyHeritage.com
Welcome to YouTube!
Il canale di svernali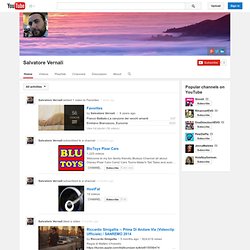 Your Likes | StumbleUpon.com
Salvatore Vernali (svernali) su Twitter
Il tuo album