Webslides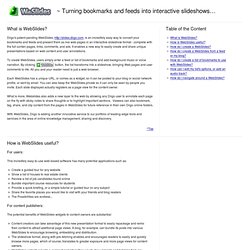 What is WebSlides? Diigo's patent-pending WebSlides, http://slides.diigo.com, is an incredibly easy way to convert your bookmarks and feeds and present them as live web pages in an interactive slideshow format - complete with the full conten pages, links, comments, and ads. It enables a new way to easily create and share unique presentations based on web content and user annotations.
WebSlides - Turning bookmarks and feeds into interactive slideshows…
WebSlides - converting bookmarks to slideshow in mintues!
Teacher Links
Diigo - Improving how we find, share, and save information