Social Networking
Didn't realise this was a competition to see how many hits or visits people could get, to be honest I don't think anyone really cares about hits (I mean legitimate users not the users who are really a small business) I think this web site should be used for saving your bookmarks and links plus to chat and share with like minded people... not to make money off the backs of others trying to make a quick buck.
Just my opinion I think its wrong to reduce people to numbers its so demoralising. by sutt2m Oct 31
put name in front like this maybe: @pranil then your message. Soz if im wrong by sutt2m Jul 4
??? Dun know...lol What chat box??? by sutt2m Jul 4
What do you want a gold star...lol by sutt2m Jul 4
Thats cool sophie thats what its all about a place on the cloud for your bookmarks plus there's this social aspect...! by sutt2m Jul 4
Yeah man full of wierdows... a bit like that bookmarking and micro blogging site called, oh what was it.... thats right Pearltrees... Ha ha by sutt2m May 16
lol... Sorry was having a bad day !!! but really good idea if could be done...As translation is time consuming and most people miss out ! by sutt2m Feb 12
Always do !!! But could save the trouble if its done for me !!! bout time the french don smtn useful...lol ha ha Joke...! by sutt2m Feb 8
I wouldn't go that far but we all are entitled to an opinion, I think FB's success has built resentment in some people plus both sites have employed very different strategies to attract users and can't really be compared. Pearltrees just needs time which FB has had! Quality marketing and promotion are key as the overall idea is more than sound if you ask me and capable of success. (At least I hope so!) by sutt2m Dec 21
Tell us why you like Facebook and how Pearltrees helps you around the web ? by sutt2m Dec 20
Matthew Sutton - like shooters then you can play this game
TwittX Unleashed Twitter Client | The Most Useful Twitter Client
IM + Email + Social Networks
If you build a Facebook Page, will fans come?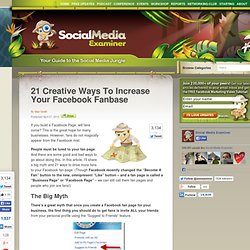 No more FBML! Customize your Facebook Page
Connect With Facebook Features Widgets FAQs Help Desk Partner Program Blog Pricing Free Trial Power your Facebook Page with Promotion Tools like the 'Friend Share Deal Reveal' app from TabSite! Fans must share to access your deal! Check it out!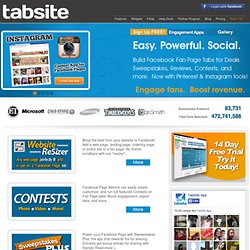 Red White Blue Twitter Background | Twitter Backgrounds
Login
Seesmic has been acquired by HootSuite and as of March 2013, the Seesmic website is no longer supported. But HootSuite welcomes all Seesmic users into our nest! Here's how you can start using HootSuite today.