Twitter
5 Tips to Optimize Your New Twitter Profile Layout
453 Flares Filament.io 453 Flares × Change is coming to your Twitter profile. Big, beautiful change. Twitter is currently rolling out a profile redesign to all users, a redesign that puts an even greater emphasis on the great Twitter content that you share and one that provides some bonus opportunities to make a branding splash. Visual content will get a big boost.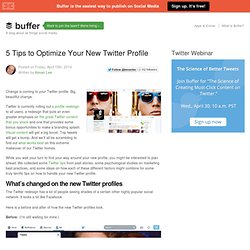 mashable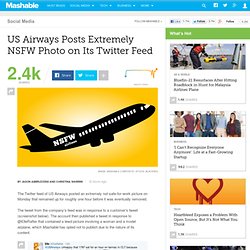 The Twitter feed of US Airways posted an extremely not-safe-for-work picture on Monday that remained up for roughly one hour before it was eventually removed. The tweet from the company's feed was in response to a customer's tweet (screenshot below). The account then published a tweet in response to @ElleRafter that contained a lewd picture involving a woman and a model airplane, which Mashable has opted not to publish due to the nature of its content. Image: Screenshot/Mashable
All eyes were on Outkast at Coachella when André 3000 and Big Boi performed together for the first time in seven years. So it was only fitting that, like caged animals at a zoo, the hip-hop headliners started their set inside a cube that displayed nifty, ever-changing designs. Big Boi and André 3000 also each had time alone onstage to spit out songs from their solo careers. Meanwhile, they sprinkled the set with cameos from Janelle Monae and Future. "This is my favorite group in the entire world and what we are witnessing tonight is history — I am so honored, so I want y'all to scream for Outkast," Monae said after performing "Tightrope" (go to the 37:50 mark to watch) with Big Boi.
mashable
Twitter Rolls Out Real-Time Notifications on the Web
Twitter today announced it has acquired Android lockscreen app startup Cover. The app, which only launched as a beta in October, will remain on Google Play "for now." Cover says there are no plans to kill the app as the team switches its focus to working at Twitter. That being said, the startup didn't rule out "changes down the road" and said it would provide an update accordingly. "Twitter, like Cover, believes in the incredible potential of Android. They share our vision that smartphones can be a lot smarter — more useful and more contextual — and together we're going to make that happen," Cover explained in its acquisition announcement.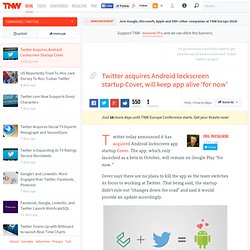 Twitter Acquires Android Lockscreen Startup Cover
mashable
Twitter is quickly becoming the latest and greatest trend for careerists to communicate with people they admire in the workforce. Plenty of professionals boast that it's more personal and directed than LinkedIn, and you can probably learn a lot more about a person from his or her Twitter feed than most places on the web. But of course, one major question comes to mind: What exactly does it mean to "communicate" with someone on Twitter—and how can you do so without coming on too strong? Though a response isn't always guaranteed, there are a couple of things you can do to really get influencers talking. 1. Start Small and Specific
5 Tips for Interacting with People You Admire on Twitter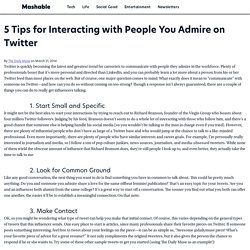 Twitter Teams Up with Billboard to launch Real-Time Charts
Most Marketers Have Yet to Embrace Twitter Advertising [CHART]
1.2 Million Tweets Sent in Turkey, Despite Ban
One Million Kg Challenge launched to get S'poreans to keep fit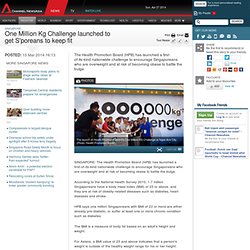 SINGAPORE: The Health Promotion Board (HPB) has launched a first-of-its-kind nationwide challenge to encourage Singaporeans who are overweight and at risk of becoming obese to battle the bulge. According to the National Health Survey 2010, 1.7 million Singaporeans have a body mass index (BMI) of 23 or above, and they are at risk of obesity-related diseases such as diabetes, heart diseases and stroke. HPB says one million Singaporeans with BMI of 23 or more are either already pre-diabetic, or suffer at least one or more chronic condition such as diabetes. The BMI is a measure of body fat based on an adult's height and weight. For Asians, a BMI value of 23 and above indicates that a person's weight is outside of the healthy weight range for his or her height.
Two decades ago, I crossed the United States by train for the first time. I left Portland, Oregon, and the gloomy shadow of my first break-up with my first American girlfriend, went up to Seattle, then crossed a restorative, fluffy-cloud-filled Big Sky to the plains of North Dakota and Minnesota and Wisconsin, where we were briefly halted by a cow on the track. The Empire Builder dropped me at Chicago, then it was on to New York, Boston and the plane that would take me back, unwillingly, to London. The hours flew. But here's the thing I remember above all about that trip: I wrote like a goddamn demon.
Amtrak Writer's Residency is a Dream Made True by Social Media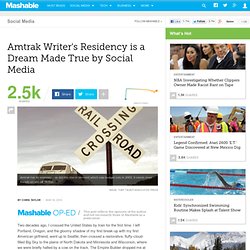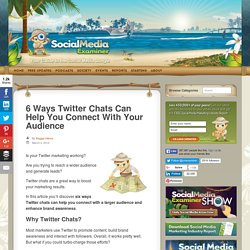 6 Ways Twitter Chats Can Help You Connect With Your Audience
Is your Twitter marketing working? Are you trying to reach a wider audience and generate leads? Twitter chats are a great way to boost your marketing results. In this article you'll discover six ways Twitter chats can help you connect with a larger audience and enhance brand awareness.
Twitter's User Growth Is Tapering Off Very Quickly
Are you familiar with Twitter chats? Wondering how Twitter chats can help market your business? To learn more about Twitter chats and what they can mean for your business, I interview Pam Moore for this episode of the Social Media Marketing podcast.
Twitter Chats, How to Create a Successful Tweet Chat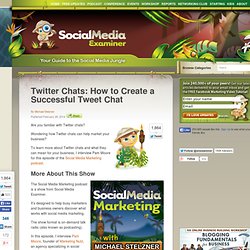 SocialRank Helps Find Brands' Best Twitter Follower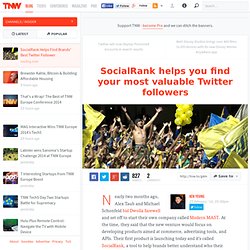 Nearly two months ago, Alex Taub and Michael Schonfeld bid Dwolla farewell and set off to start their own company called Modern MAST. At the time, they said that the new venture would focus on developing products aimed at commerce, advertising tools, and APIs. Their first product is launching today and it's called SocialRank, a tool to help brands better understand who their followers are on Twitter. The idea behind SocialRank started long before Taub and Schonfeld joined Dwolla.
10 Facts You Didn't Know About Twitter [VIDEO]
Your Twitter Conversations Fall Into One of These Six Categories
VO5 and BRIT Awards: First UK Brands to Use Twitter Amplify
Twitter Testing Major Redesign That Looks a Lot Like Facebook
Twitter Highlights the Top-Tweeted Olympic Photos From Sochi
Twitter Passes 241 Million Monthly Active Users
'American Idol' Runner-Up Clay Aiken Tweets Bid for Congress [VIDEO]
J.C. Penney Is Having a Little Too Much Fun at the Super Bowl
Twitter Account Helps Sports Noobs Sound Smart During Super Bowl
Katy Perry, Queen of Twitter, Is First to Hit 50 Million Followers
How Twitter Can Prevent a Massive User Exodus in Asia
Twitter.com gets new search filters for news, photos, and people you follow
How to Network with Influential People Using Twitter
Tweeting Pro Tips: 5 Types of Tweets to Keep Your Followers Engaged
Most Top Brands Still Don't Engage With Twitter Followers
Twitter Increases its Focus on Asia
Twitter's Redesigned Homepage Keeps Mobile in Mind
Twitter Launches Vine for the Web
Twitter Tests 'Recommended Accounts' Feature
Twitter to Launch Search and Download Tool for Your Old Tweets
MashTags: 25 Funniest #FailedTechBands
Twitter Says Farewell To Adam "MCA" Yauch
42 Things To Do On Twitter Besides Tweet Spam & Coupons
How to Make Your Tweets More Trustworthy [STUDY]
Are You Addicted to Twitter? [INFOGRAPHIC]
Twitter Makes It Easier for Musicians to Get 'Verified'
10 Top Twitter Tools Suggested By the Pros