Twitter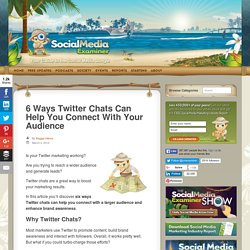 6 Ways Twitter Chats Can Help You Connect With Your Audience
Is your Twitter marketing working?
Twitter's User Growth Is Tapering Off Very Quickly
Are you familiar with Twitter chats? Wondering how Twitter chats can help market your business? To learn more about Twitter chats and what they can mean for your business, I interview Pam Moore for this episode of the Social Media Marketing podcast.
Twitter Chats, How to Create a Successful Tweet Chat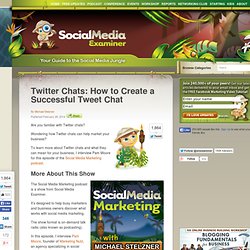 SocialRank Helps Find Brands' Best Twitter Follower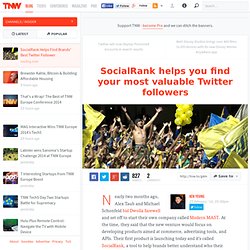 Nearly two months ago, Alex Taub and Michael Schonfeld bid Dwolla farewell and set off to start their own company called Modern MAST.
10 Facts You Didn't Know About Twitter [VIDEO]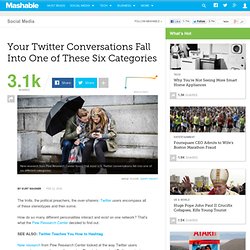 The trolls, the political preachers, the over-sharers: Twitter users encompass all of these stereotypes and then some. How do so many different personalities interact and exist on one network? That's what the Pew Research Center decided to find out.
Your Twitter Conversations Fall Into One of These Six Categories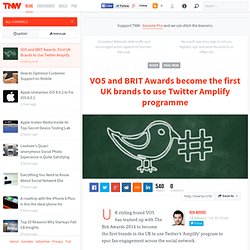 UK styling brand VO5 has teamed up with The Brit Awards 2014 to become the first brands in the UK to use Twitter's 'Amplify' program to spur fan engagement across the social network.
VO5 and BRIT Awards: First UK Brands to Use Twitter Amplify
Twitter Testing Major Redesign That Looks a Lot Like Facebook
Twitter Highlights the Top-Tweeted Olympic Photos From Sochi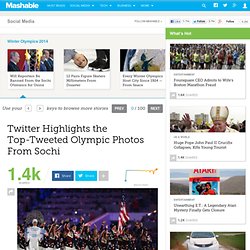 From the 1968 "black power salute" to Derek Redmond limping across the finish line in his father's arms at the 1992 Barcelona games, some Olympic images live on forever.
Twitter Passes 241 Million Monthly Active Users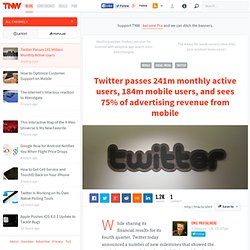 While sharing its financial results for its fourth quarter, Twitter today announced a number of new milestones that showed the service's user growth has slowed while its mobile advertising share has grown. The social network has now passed 241 million monthly active users, 184 million of which were monthly active mobile users as well. The company also revealed that it generated $242.7 million in revenues, $220 million of which came from advertising.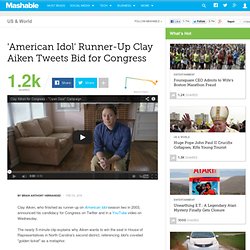 Clay Aiken, who finished as runner-up on American Idol season two in 2003, announced his candidacy for Congress on Twitter and in a YouTube video on Wednesday.
'American Idol' Runner-Up Clay Aiken Tweets Bid for Congress [VIDEO]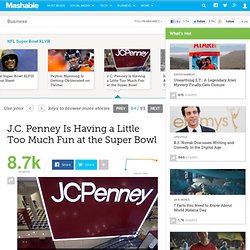 J.C. Penney Is Having a Little Too Much Fun at the Super Bowl
If you wondered which department store could party hardest, your question has finally been answered.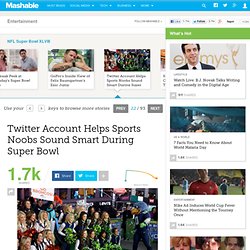 Non-sports fans: If you're going to a Super Bowl party on Sunday, and have no clue how to join your friends' football banter, have no fear because Logo TV wants to help you. Throughout the game, the channel's Twitter account (@LogoTV) is planning a "real-time survival guide" that will offer tweeted tips on what you should say to sound smart wherever you're watching the game. The tweets kick off at 6:30 p.m.
Twitter Account Helps Sports Noobs Sound Smart During Super Bowl
Katy Perry, Queen of Twitter, Is First to Hit 50 Million Followers
Thomas Clayton is the CEO of Bubbly, a social media startup backed by Sequoia Capital, SingTel Innov8, and JAFCO.
How Twitter Can Prevent a Massive User Exodus in Asia
Twitter.com gets new search filters for news, photos, and people you follow
Do you want to use Twitter to promote your business?
How to Network with Influential People Using Twitter
1.2K Flares Filament.io 1.2K Flares ×
Tweeting Pro Tips: 5 Types of Tweets to Keep Your Followers Engaged
Most Top Brands Still Don't Engage With Twitter Followers
Twitter Increases its Focus on Asia
Twitter's Redesigned Homepage Keeps Mobile in Mind
Twitter Launches Vine for the Web
Twitter Tests 'Recommended Accounts' Feature
Twitter to Launch Search and Download Tool for Your Old Tweets
MashTags: 25 Funniest #FailedTechBands
Twitter Says Farewell To Adam "MCA" Yauch
42 Things To Do On Twitter Besides Tweet Spam & Coupons
How to Make Your Tweets More Trustworthy [STUDY]
Are You Addicted to Twitter? [INFOGRAPHIC]
Twitter Makes It Easier for Musicians to Get 'Verified'
10 Top Twitter Tools Suggested By the Pros