Twitter
Twitter's Tweet Activity Dashboard Is Coming to All Users. Twitter Launches Promoted Video Ads in Beta. Twitter today introduced Promoted Video ads in beta.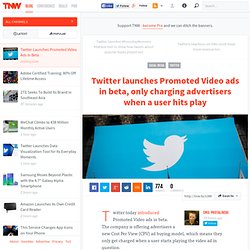 The company is offering advertisers a new Cost Per View (CPV) ad buying model, which means they only get charged when a user starts playing the video ad in question. The beta launch expands on the company's Twitter Amplify program, giving brands a new set of video tools for uploading and distributing video on Twitter. They can also measure the reach and effectiveness of their content with new video analytics, including completion percentage and a breakout of organic versus paid video views. Promoted Video ads follows the Twitter Video Card tests the company started experimenting with earlier this year. Unsurprisingly, Twitter found that tweets containing native Twitter video generate better engagement and more views. Embedded Tweets Now Visibile on Twitter.com.
Twitter's iOS and Android mobile apps began to embed tweets that have been linked in a tweet last month, and now the feature (which prompts us to make Inception-related jokes) has rolled out to Twitter.com.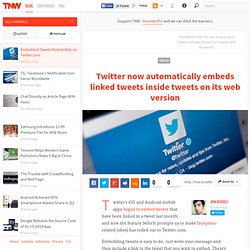 Embedding tweets is easy to do, just write your message and then include a link to the tweet that you wish to embed. There's no feature that automates the process at this point. New Twitter Acquisition Increases Focus on Photos. Mashable. Tessa Wegert | July 24, 2014 | 0 Comments inShare11 A look at a selection of brands that are embracing the new capabilities of Twitter and using the platform to its full marketing potential, along with tips for ways you as a marketer can do the same for your own business.
Twitter users: have you noticed a trend? Why Facebook and Twitter Are Embracing Ecommerce. Likes and retweets are fine, but the new buzz word at Facebook and Twitter seems to be "buy."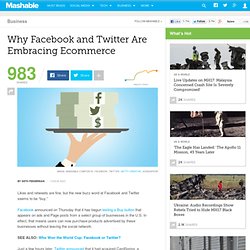 Facebook announced on Thursday that it has begun testing a Buy button that appears on ads and Page posts from a select group of businesses in the U.S. In effect, that means users can now purchase products advertised by these businesses without leaving the social network. Brazil-Chile Becomes Most Tweeted Sporting Event Ever. The FIFA World Cup has just reached the knockout stages.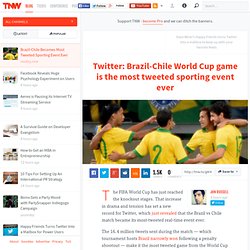 That increase in drama and tension has set a new record for Twitter, which just revealed that the Brazil vs Chile match became its most-tweeted real-time event ever. The 16.4 million tweets sent during the match — which tournament hosts Brazil narrowly won following a penalty shootout — make it the most tweeted game from the World Cup so far. The company says the moment that Chilean defender Gonzalo Jara missed the crucial penalty triggered 389,000 tweets per minute — that beats Superbowl 48 (382,000 tweets per minute) as the most tweeted sporting event to date. The data looks good for Twitter — which has long positioned itself as the home of real-time discussions and TV's second screen — and its efforts to attract advertisers. It seems almost certain that these records will be broken again as the tournament progresses, but I suspect that it may take the World Cup final to do that, such was the drama and suspense of Brazil-Chile.
How to Make Twitter In-Stream Images Stand Out. Are you sharing pictures in your Twitter updates?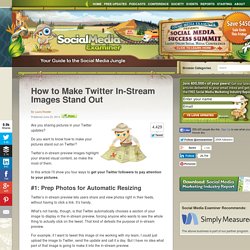 Do you want to know how to make your pictures stand out on Twitter? Twitter's in-stream preview images highlight your shared visual content, so make the most of them. In this article I'll show you four ways to get your Twitter followers to pay attention to your pictures. #1: Prep Photos for Automatic Resizing. Brands GIF All Over Themselves on Twitter. Twitter Adds Animated GIF Support on Web, Android and iOS. Twitter Adds Animated GIF Support on Web, Android and iOS. How to Use Twitter Advanced Search Queries for Leads. Do you struggle to find leads on Twitter?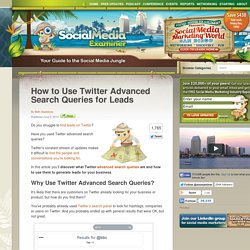 Have you used Twitter advanced search queries? Twitter's constant stream of updates makes it difficult to find the people and conversations you're looking for. 8 Types of Twitter Cards Businesses Are Using. Do you know what a Twitter card is?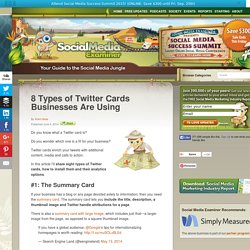 Do you wonder which one is a fit for your business? Twitter cards enrich your tweets with additional content, media and calls to action. In this article I'll share eight types of Twitter cards, how to install them and their analytics options. #1: The Summary Card If your business has a blog or any page devoted solely to information, then you need the summary card. Mashable. In San Francisco, one Twitter account is watching over your bikes.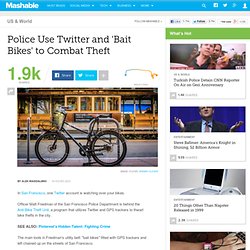 Officer Matt Friedman of the San Francisco Police Department is behind the Anti-Bike Theft Unit, a program that utilizes Twitter and GPS trackers to thwart bike thefts in the city. The main tools in Friedman's utility belt: "bait bikes" fitted with GPS trackers and left chained up on the streets of San Francisco. The GPS-enabled bait lets Officer Friedman and the Anti-Bike Theft Unit track bike thefts in real-time — and ultimately nab the thief. After a bait bike is stolen, the Anti-Bike Theft Unit tracks down the thief, arrests them and then posts a picture of the thief to their Twitter account, @SFPDBikeTheft:
Twitter Changes Fonts from Helvetica Neue to Gotham. Report: Twitter Will Have Nearly 400 Million Users by 2018. Mashable. Twitter Introduces Mute Feature on Android, iPhone, and Web. Twitter today introduced a mute feature on its Android and iPhone apps, as well as Twitter.com.
As its name implies, the new option lets you silence other users on the service. If you want to mute someone from their profile page on Android, iOS, or Web, simply tap the gear icon on the page and choose "mute @username." To do the same directly from a tweet, tap "more" and then "mute @username." These options may take a while to show up, as they're rolling out gradually, but you should see them soon enough.
As Twitter explains it, mute gives you more control over the content you see on the service by letting you remove some of it. Mashable. Twitter Adds Language Targeting for Promoted Tweets, Accounts. Mashable. 5 Tips to Optimize Your New Twitter Profile Layout. Mashable. Mashable. Twitter Rolls Out Real-Time Notifications on the Web. Twitter Acquires Android Lockscreen Startup Cover. Mashable. 5 Tips for Interacting with People You Admire on Twitter. Twitter Teams Up with Billboard to launch Real-Time Charts.
Most Marketers Have Yet to Embrace Twitter Advertising [CHART] 1.2 Million Tweets Sent in Turkey, Despite Ban. One Million Kg Challenge launched to get S'poreans to keep fit. Amtrak Writer's Residency is a Dream Made True by Social Media. 6 Ways Twitter Chats Can Help You Connect With Your Audience. Twitter's User Growth Is Tapering Off Very Quickly. Twitter Chats, How to Create a Successful Tweet Chat. SocialRank Helps Find Brands' Best Twitter Follower. 10 Facts You Didn't Know About Twitter. Your Twitter Conversations Fall Into One of These Six Categories. VO5 and BRIT Awards: First UK Brands to Use Twitter Amplify.
Twitter Testing Major Redesign That Looks a Lot Like Facebook. Twitter Highlights the Top-Tweeted Olympic Photos From Sochi. Twitter Passes 241 Million Monthly Active Users. 'American Idol' Runner-Up Clay Aiken Tweets Bid for Congress. J.C. Penney Is Having a Little Too Much Fun at the Super Bowl. Twitter Account Helps Sports Noobs Sound Smart During Super Bowl. Katy Perry, Queen of Twitter, Is First to Hit 50 Million Followers. How Twitter Can Prevent a Massive User Exodus in Asia. Twitter.com gets new search filters for news, photos, and people you follow. How to Network with Influential People Using Twitter. Tweeting Pro Tips: 5 Types of Tweets to Keep Your Followers Engaged. Most Top Brands Still Don't Engage With Twitter Followers. Twitter Increases its Focus on Asia. Twitter's Redesigned Homepage Keeps Mobile in Mind. Twitter Launches Vine for the Web.
Twitter Tests 'Recommended Accounts' Feature. Twitter to Launch Search and Download Tool for Your Old Tweets. MashTags: 25 Funniest #FailedTechBands. Twitter Says Farewell To Adam "MCA" Yauch. 42 Things To Do On Twitter Besides Tweet Spam & Coupons. How to Make Your Tweets More Trustworthy [STUDY] Are You Addicted to Twitter? [INFOGRAPHIC] Twitter Makes It Easier for Musicians to Get 'Verified' 10 Top Twitter Tools Suggested By the Pros.
---