Twitter
Twitter to Launch Search and Download Tool for Your Old Tweets
Twitter's CEO told a group of reporters and editors at The New York Times yesterday that the service would soon allow users to download 'a file' of all of their Tweets, reports Jenna Wortham . This ability was touted by CEO Dick Costolo: "We're working on a tool to let users export all of their tweets," Mr. Costolo said in a meeting with reporters and editors at The New York Times on Monday.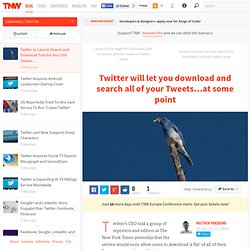 MashTags: 25 Funniest #FailedTechBands
Twitter Says Farewell To Adam "MCA" Yauch
One of the number one social media questions I hear from business leaders is "what should I tweet?" It's funny because most business owners start a business because they have a passion for something or at minimum have an interest in it enough they believe they can make some money providing such a service or product. However, when it comes to sending a 140 character tweet they struggle with it. Many are use to the days of the long corporate brochures and matching websites where they can hire a writer to craft every word to perfection. However, times have changed. Conversations are now real time.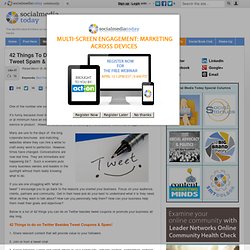 42 Things To Do On Twitter Besides Tweet Spam & Coupons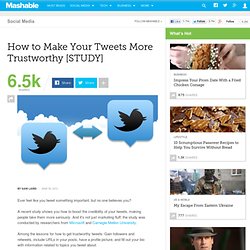 Ever feel like you tweet something important, but no one believes you? A recent study shows you how to boost the credibility of your tweets, making people take them more seriously. And it's not just marketing fluff; the study was conducted by researchers from Microsoft and Carnegie Mellon University .
Are You Addicted to Twitter? [INFOGRAPHIC]
Twitter Makes It Easier for Musicians to Get 'Verified'
10 Top Twitter Tools Suggested By the Pros
Yes, there are a ton of great Twitter Tools out there for you, but which ones should you pick ? I thought one of the best ways to narrow your choice down is to get in touch with the real Social Media experts. I sent them an email and asked them about their recommended Tools for you . So here are the top 10 responses from the Twitter Pros out there.