Tools
actu.blogduwebdesign.com
Ressource: Facebook Timeline GUI PSD - photoshop
SquadMail erlaubt es Anwendern, einzelne Verzeichnisse und darin enthaltene Inhalte ihres E-Mail-Kontos mit anderen zu teilen. Das Berliner Startup will der E-Mail so zu aus dem Social Web bekannten Sharing-Fähigkeiten verhelfen. Internetnutzer haben ein gespaltenes Verhältnis zur E-Mail.
Ordner mit anderen Nutzern teilen: SquadMail bringt Sharing-Funktionen zur E-Mail
50 Fun, Useful, and Totally Random Resources for Nonprofits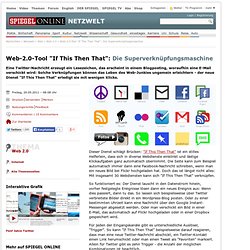 Dieser Dienst schlägt Brücken: "If This Then That" ist ein stilles Helferlein, dass sich in diverse Webdienste einklinkt und lästige Klickaufgaben ganz automatisch übernimmt. Die Seite kann zum Beispiel automatisch immer dann eine Facebook-Nachricht schreiben, wenn man ein neues Bild bei Flickr hochgeladen hat. Doch das ist längst nicht alles: Mit insgesamt 30 Webdiensten kann sich "If This Then That" verknüpfen. So funktioniert es: Der Dienst lauscht in den Datenstrom hinein, vorher festgelegte Ereignisse lösen dann ein neues Ereignis aus: Wenn dies passiert, dann tu das. So lassen sich beispielsweise über Twitter verbreitete Bilder direkt in ein Wordpress-Blog posten.
Web-2.0-Tool"If This Then That": Die Superverknüpfungsmaschine - SPIEGEL ONLINE - Nachrichten - Netzwelt
Ping.fm / Update all of your social networks at once!