Tools, Guide, Lisrt of Top Social Media
Get flash to fully experience Pearltrees
The server encountered an internal error or misconfiguration and was unable to complete your request.
Social media is media designed to be disseminated through social interaction, created using highly accessible and scalable publishing techniques.
This series is supported by the MarketingProfs B2B Forum , where you'll learn the ins-and-outs of social media as part of your overall B2B marketing mix.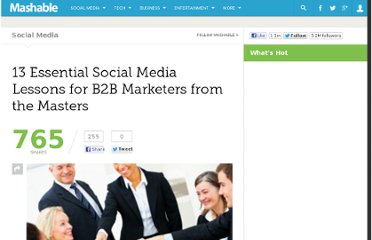 By Merle Social media websites such as Facebook and Twitter make it easy for people to come together and share opinions, experiences and thoughts on a number of topics. Smart companies
The standard approach to interface design is to craft a channel that allows you to easily and efficiently control hardware or software; it's all about the interaction between people and computers. But today, the two entities on each side of the user interface are changing: it's no longer about people interacting with computers, but rather about people interacting with people through computers. This is the nature of the social Web. Social news websites, message boards, social networks, online stores and blogs all have some sort of user interaction going on, whether it's comments on a blog post or social games on Facebook. The critical issue here is that people are not interacting directly with other people; rather the interaction occurs through a user interface .
"Streams of Content, Limited Attention: The Flow of Information through Social Media" danah boyd Web2.0 Expo New York, NY 17 November 2009
Another busy week at Mashable HQ has yielded another mega list of tools and resources for your reading pleasure. Check out our Social Media section for tips on how turn any video viral, find out why the web loves cats so much, or simply determine what kind of geek you are.
It's happened again. Another week, jam-packed with expert insights, has flown by.
Maria Ogneva is the Director of Social Media at Attensity , a social media engagement and voice-of-customer platform that helps the social enterprise serve and collaborate with the social customer. You can follow her on Twitter at @themaria or @attensity360 , or find her musings on her personal blog and her company's blog . Recently I wrote about the differences in social media monitoring and measurement, as well as the importance of doing both.
Social Media Networking really important for people who share interests and activities, or who are interested in exploring the interests and activities of others. Most social network services are web based and provide a variety of ways for users to interact, such as e-mail, blogging, instant messaging, photo sharing and gaming services.