InHouseCommunication
SocialRiver - Social Networking Software. 6 Promising And Open Source Social Networking Softwares To Create Your Own. There are lots of social networks from small to huge ones like Facebook or MySpace. Although trying to create the next Facebook may not be a good idea, you may want to create a niche network or empower & add new features to the network you already have. Here are 6 open source social networking applications which are developed continiously, well-documented & offer impressive functions. Elgg Elgg is a mature social networking framework which offers: advanced user management and administrationsocial networkingcross-site taggingpowerful access control listsinternationalisation supportmultiple view support (eg cell phones, iPhone)an advanced templating enginea widget framework and more. Erfolgsfaktoren für Wikis 3: Unternehmenskulturelle Widerstände.
This blog post is also available in English.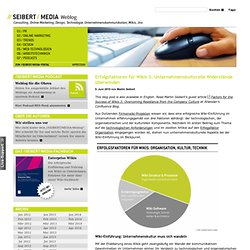 Read Martin Seibert's guest article Factors for the Success of Wikis 3: Overcoming Resistance from the Company Culture at Atlassian's Confluence Blog. Aus Dutzenden Firmenwiki-Projekten wissen wir, dass eine erfolgreiche Wiki-Einführung im Unternehmen erfahrungsgemäß von drei Faktoren abhängt: der technologischen, der organisatorischen und der kulturellen Komponente. Nachdem im ersten Beitrag zum Thema auf die technologischen Anforderungen und im zweiten Artikel auf den Erfolgsfaktor Organisation eingegangen worden ist, stehen nun unternehmenskulturelle Aspekte bei der Wiki-Einführung im Blickpunkt. Wiki-Einführung: Unternehmenskultur muss sich wandeln Mit der Etablierung eines Wikis geht zwangsläufig ein Wandel der kommunikativen Gewohnheiten im Unternehmen einher.
How to Support Knowledge Sharing in Your Organization? | bSix12. The number and volume of information resources on the Internet and our corporate intranets is enormous and growing exponentially.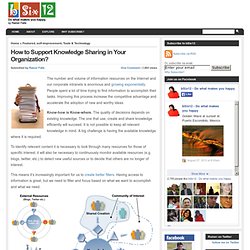 People spent a lot of time trying to find information to accomplish their tasks. Improving this process increase the competitive advantage and accelerate the adoption of new and worthy ideas. What to Consider When Building an In-House Social Media Team. The Social Media Marketing Series is supported by Webtrends Apps, which lets you quickly create and publish Facebook, iPhone, iPad and Android apps.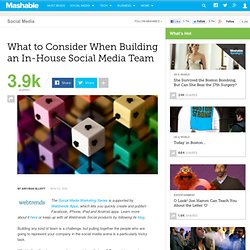 Learn more about it here or keep up with all Webtrends Social products by following its blog. Building any kind of team is a challenge, but pulling together the people who are going to represent your company in the social media arena is a particularly tricky task. What is the ultimate purpose of your social media team? Do you hire experts from outside the company or utilize existing employees?
---