Social Media
QR-Code-Generator - QR-Codes erstellen (kostenlos) [Logo, T-Shirt, Visitenkarte, vCard, Print, kommerziell] - goQR.me. INFOGRAPHIC : The Internet In 2020. The Internet is progressing at such a blistering pace that by 2020, we are probably going to see a lot of changes, hopefully for the better.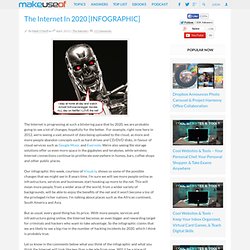 For example, right now here in 2012, we're seeing a vast amount of data being uploaded to the cloud, as more and more people abandon concepts such as hard drives and CD/DVD disks, in favour of cloud services such as Google Music and Evernote. We're also seeing file storage solutions offer us even more space in the gigabytes and terabytes, while wireless Internet connections continue to proliferate everywhere in homes, bars, coffee shops and other public places. Social Media Richtlinien von 1936! « Social Media. Schaut man sich die von bekannten Anbietern veröffentlichten Social Media Richtlinien so an, enthalten diese oftmals nicht viel mehr als einige allgemeingültige Regeln des menschlichen Umgangs.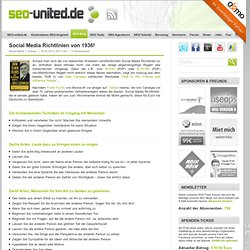 Dass die z.B. vom BVDW (PDF) oder BITKOM (PDF) ver-öffentlichten Regeln nicht wirklich etwas Neues beinhalten, zeigt ein Auszug aus dem bereits 1936 (!) Von Dale Carnegie verfassten Bestseller `How to Win Friends and Influence People´… Nachdem Frank Fuchs von Microsoft vor einiger auf Twitter meinte, die von Carnegie vor über 70 Jahren proklamierten Verhaltensregeln wären die besten `Social Media Richtlinien´ die er jemals gelesen habe, haben wir uns zum Wochenende einmal die Mühe gemacht, diese für Euch ins Deutsche zu übersetzen: Wp-content/uploads/2012/01/digiges_wie_das_internet_funktioniert.pdf. Auf dem Weg durch die ferne Stadt. Fachleute sprechen von der Dritten industriellen Revolution, wenn sie darauf aufmerksam machen wollen, welche kolossale Bedeutung das Computerzeitalter hat.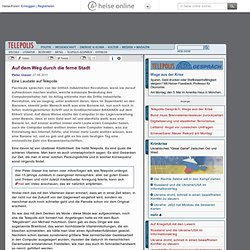 Im Alltag erkannte man die Dritte industrielle Revolution, als es losging, unter anderem daran, dass im Supermarkt an den Bananen, obwohl jeder Mensch weiß was eine Banane ist, nun auch noch in fetter, matrixgerasterter Schrift und in Großbuchstaben BANANEN auf dem Etikett stand. Auf diese Weise stellte der Computer in der Lagerverwaltung unter Beweis, dass er sein Geld wert ist und ebenfalls weiß, was eine Banane ist. Social Media. MySALTO.
About! Applications. Searching. Strategy. Non-Profits & Social Media. Monitoring.
---